"The way to a man's heart is through his stomach"
.
Do you know the origin of this theory? It is said that the American statesman John Adams wrote in a letter some where in early 19th century, "
The shortest road to men's hearts is down their throats
" and that's how this theory or statement was originated. So my question is how many of you believe in this theory? Does this statement hold true in your life?
When I think of 19th century I get these black and white images of that era flashing in front of my eyes where many men looked for good wife who would be a good mother to his children and take care of his family affairs. The fact that she could cook well was a good indication to her role of being a nurturer. Unlike our time where we have an option of marrying a person whom we know and eventually fall in love with them, it may have been the best way to please his stomach and work your way up in winning his heart in that period of time! Steaming pot of delicious food may make someone feel cared for by triggering their childhood memories of food served by their loving mother. I wonder if this feeling of satisfaction after been served a good food is mistaken for love!

Cooking is not just chopping, grinding or mashing and throwing everything into a pot and stirring. Any good cook will be able to tell you how much work is involved when it comes to cooking food for someone you care. The person who cooks for you at home knows what food you like, how you like it and when you like to have it. When I cook for someone I make sure that they will remember the food I cooked for long time, a very long time indeed! I choose the best of ingredients with care and use them in such a way that they leave lasting impression. Even everyday simple food served to my man is cooked with utmost care and love. There are no food games in my kitchen as the food should not only taste good it should also be good for you. Well, don't we all agree that the food cooked with care and love not only will taste good, it will also make them feel cared for and make them feel at home?

We can also argue that food alone is not enough in making the relationship work between two individuals who think differently and have different opinions. There are few restaurants that serve the best food I have ever tasted. Does that mean I will fall in love with chefs just because he/she cooked one of the best meals I have had? I know for sure that the food is prepared with utmost care and to a very high standard. After all I am paying very high price for that plate of meal. In an end it is my man who cooks simple everyday Rasam and Dal whom I love. He may not be the best cook around but he has many qualities that made me fall in ultimate love trap :) It's definitely not our cooking skills that made us love each other. Any relationship to go strong needs many other qualities in each other and not just our cooking skill. But yeah, we can't rule out the fact that ability to cook good food will definitely help in nurturing the relationship. Remember, it's just one of the things that can take you close to man's heart! Not the ultimate one…

This is a good topic for discussion/debate and I have participated in many such discussions. Sometimes I agree with this theory and there are times when I have gone against it. We will continue to argue on this topic as long as there are people who love to cook and eat good food. So I can't just come to a conclusion as whether I agree with it or not. But it would be great to hear from you as what do you think of it? So let's hear from you guys…
While we are on this topic, let me share one of the ultimate food seductions. We have
Malai Kofta
in our menu today. Spicy dumpling of Indian Cottage cheese that is deep fried and served in delicious, creamy and spicy gravy of fresh cream and onion-tomato paste is nothing short of sinful indulgence. Try cooking it once and see your taste buds falling head over heels in love with this tempting
Malai Kofta
. Yes, Malai Kofta is a temptress, a seductress and highly addictive! ;) I am sending this to Lavi who is guest hosting this month's
RCI-Lucknow
, a wonderful event started by dear
Lakshmi
of Veggie Cuisine.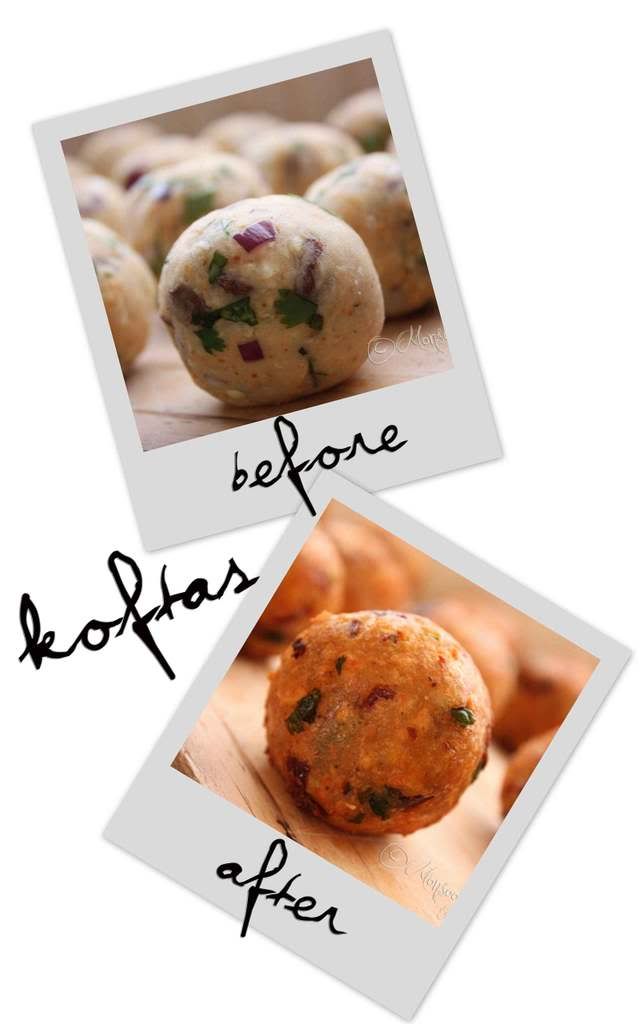 Koftas, Before & After Deep Frying

Print This Recipe
---
Malai Kofta

(Deep fried spiced Indian Cottage Cheese dumplings in creamy Onion & Tomato gravy)
Prep Time: 15 mins
Cooking Time: 45-60 mins
Serves: 6-8
Recipe Level: Intermediate to Difficult
Spice Level: Medium
Serving Suggestion: With any Indian flat bread or flavoured/steam cooked rice
---
Ingredients:




For Kofta:


1½ cups Grated Paneer
2 large Potatoes, cooked, peeled and well mashed
1 medium Onion, very finely chopped
2 tbsp Coriander Leaves, very finely chopped
2-3 Green Chillies, very finely chopped (Optional, adjust acc to taste)
1½-2 tbsp Gulab Jamun Mix/Milk Powder (Optional but recommend)
¼ cup Bread Crumbs
2-3 tbsp Corn Flour (Acts as a binding agent while deep frying)
1 tsp Garam Masala
½ tsp Amchur/Dry Mango Powder (Optional, for little tangy flavour)
6-8 Cashew Nuts, cut into small pieces (Optional but recommend)
1-2 tbsp Raisins (Optional but recommend)
Salt to taste
Oil for Deep Frying



For Gravy:




For Onion Paste:


2 large Onions, peeled and quartered
1 inch Ginger, peeled
3-4 cloves Garlic
1 inch Cinnamon Stick
3 cloves
3 Green Cardamoms



Other Ingredients for Gravy:


4-5 large Tomatoes, pureed
1 tbsp Cashew/Almond Paste
¼-1/2 cup Fresh Cream (I used low fat single cream)
1-2 tsp Garam Masala (Adjust acc to taste)
1 tsp Kitchen King Masala (Optional)
½ tsp Turmeric
½-1 tsp Kashmiri Chilli Powder (Optional)
1 tbsp Kasuri Methi/Sun dried Fenugreek Leaves
½ tbsp Sugar
1 tbsp Oil
1 tsp Cumin Seeds
A pinch of Hing/Asafoetida
Salt to taste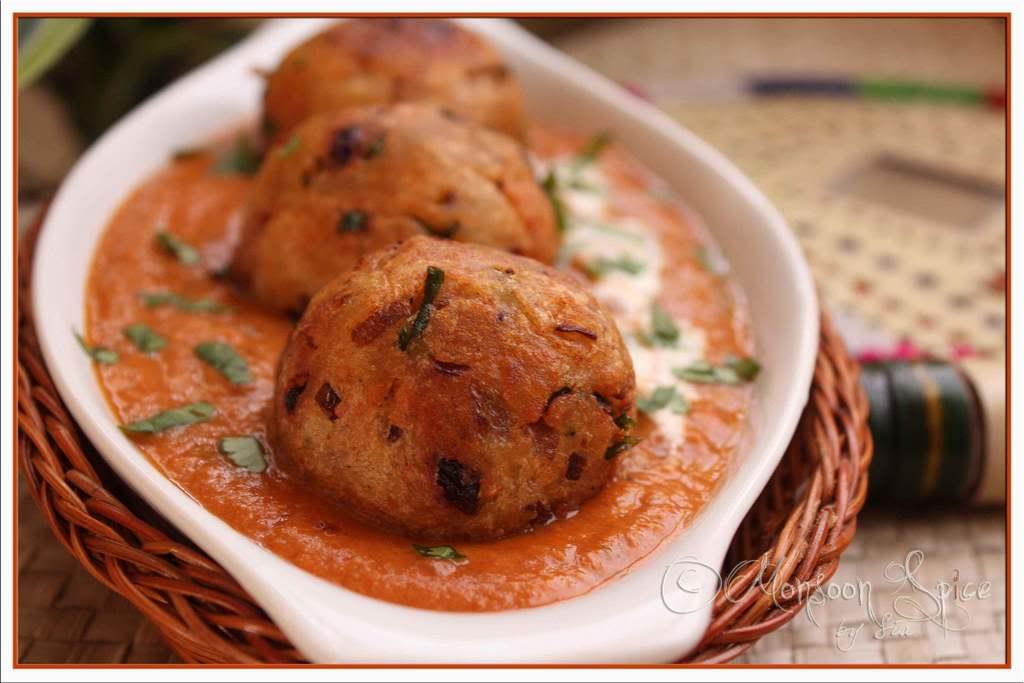 For Gravy:
Heat oil in a pan and add cumin seeds and hing. Add onion paste that you had prepared just when cumin starts to sizzle and turn golden red. Stir it continuously for 5-7 minutes till the paste turn golden brown and the raw smell of onion disappears. This is the very important step as you don't want to rush and end up having bitter tasting gravy. So be patient!
Once the onion paste is cooked thoroughly add kasuri methi and sugar. Saute for a minute or two. Next add tomato puree and stir well. Cover and cook for about 5 minutes.
Next add garam masala, kitchen king masala, turmeric powder, Kashmiri chilli powder and salt to taste and mix well. Bring this whole gravy to gentle boil, about 5 minutes.
Mix in cashew/almond paste, fresh cream and ½-1 cup of water (depending how thick you prefer the gravy) and cook for another 5-7 minutes on low flame.
Adjust the seasoning and add little more water if the gravy is too thick and cook for another 2-3 minutes. Switch off the flame and mix in finely chopped coriander leaves.
For Koftas:
First, mix paneer with mashed potatoes, onions, coriander leaves and chillies. Make sure that the paneer and potatoes as lump free as possible. Then add gulab jamun mix/milk powder, salt to taste, garam masala, amchur powder, broken cashews, raisins, bread crumbs and corn flour to the vegetable-paneer mix and mix them well. Use hands when mixing all these ingredients and make sure that all the ingredients are mixed properly. The consistency whole mixture should be as that of chapatti dough and you should be able to make lemon sized balls without breaking them.
Next heat oil for deep frying and reduce the heat to medium to low flame. Make small lemon/golf sized balls and deep fry them in batches of 3-4 balls at time. If the koftas start to break, add 1-2 tbsp of corn flour to the mixture, mix them well and make small lemon sized balls. Fry them till they turn golden brown and crisp and place them in a bowl lined with kitchen towel to absorb excess oil.
Alternatively you can bake them in an oven at 175 deg centigrade for about 20-30 minutes or fry them in Appam Pan with little oil till they turn golden brown.
To Assemble and Serve:
Heat the gravy for few minutes and then transfer it to serving dish. Arrange the koftas in gravy and top it with finely chopped coriander levaes. Malai Kofta tastes best when served with any Indian flat bread (I prefer Naan) or flavoured rice like Saffron rice or Jeera Rice with slices of Onion and lemon wedges.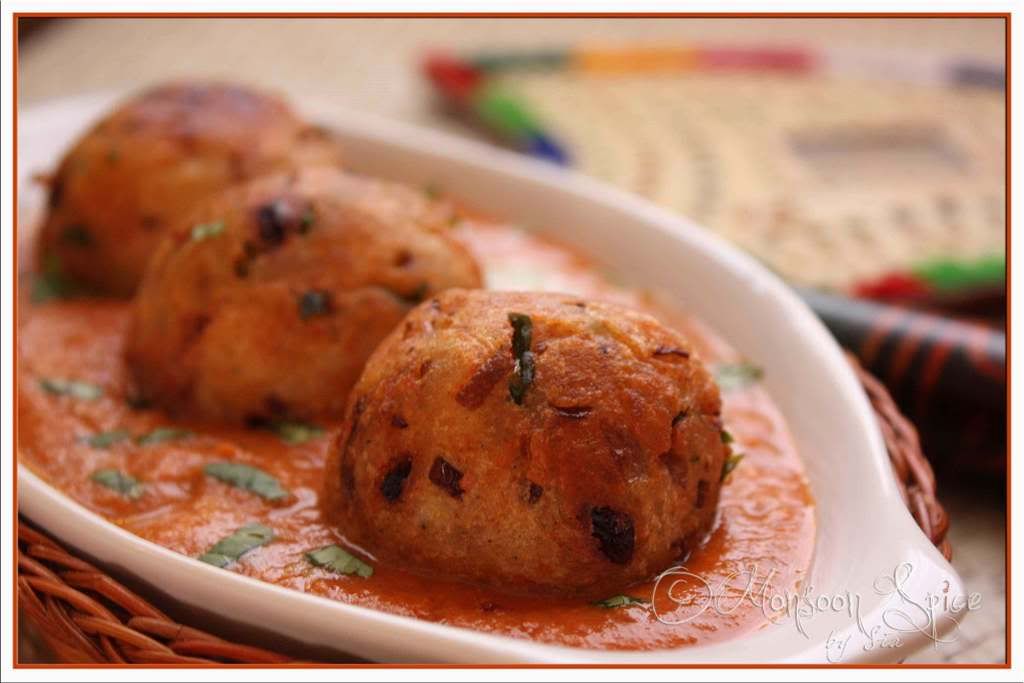 ---
When you deep fry the koftas, first make sure that the oil is hot enough before you place them for deep frying.
Place one kofta at a time in a pan when deep frying. If the Kofta starts to break or crumble add about 1-2 tbsp of corn flour and mix well. Corn flour acts as the binding agent and will prevent the koftas from breaking when deep frying.
Always fry the koftas in low-medium flame so that they are cooked well and get lovely golden brown colour.