You know what fascinates me? Life! Life as an individual's journey on this planet, that begins with birth and ends with death. And according to Hinduism there is one more life, its life after death! Sometimes, I could be too philosophical with some random thoughts surfacing on idle days. I don't want to go too philosophical today. But sometime I am called crazy for muttering my thoughts loud in front of my family and friends! Let us not go into that part now and concentrate on my today's musings ;)
Regular readers of my blog will know my love for Black eyed peas. Last week while washing the beans for another batch of Chavli Amti, I suddenly thought of sprouting them and using it in curries. I am among those people who can't rest until they finish the job that they set in their mind. While the beans were sprouting nicely, I couldn't help but compare them to the whole process of Life-Death-Life after death! Sounds silly or crazy or both? Didn't I warn you in the beginning itself?
But think about it, all these beans and lentils usually go though two transformations. First one is when they are young and fresh. All those bouncy and fresh ones jumping and running around with high energy. That's their first life as child, adolescent and grown-up. And then there is a dried bean, all hard and tough skinned, as if it is dead and can't feel anything that happens to it. When you soak this same bean in water, it re-hydrates and as a result it's all round and plumps up. Take these same beans and sprout them and what you see is another life formation! Plant these sprouts in soil and with in few days you will see small plants sprouting and growing and producing new batch of crops. Isn't it a fascinating process? Give it a thought sometimes and you will know why I said life fascinates me :) Now, do you see the connection between my theory and the theory of Life-Death-Life after Death? If not, just forget it and jump to the recipe part.
There is no denying the fact that all Beans, Lentils or Legumes are good for us as they are. But sprout the same and they become one hot favourite thing to cook and eat at our household. Last week, I sprouted a cup of dried black-eyed peas and cooked this delicious

Lauki-Lobia Curry

. I chose bottle gourd because it easily absorbs all the flavours and doesn't over powder the nutty taste of black eyed bean sprouts. But if you are not too fond of bottle gourd, simply substitute it with potatoes or any other veggies of your choice and enjoy its goodness. Cooked with very few ingredients, this

Lauki-Lobia Curry

is one delightful side dish with steam cooked rice or roties. And not to forget the fact that this

Lauki-Lobia Curry

is packed with nutrition and flavour! Lauki-Lobia Curry is my contribution for this month's My Legume Love Affair- Ninth Helping hosted by Laurie of Mediterranean Cooking in Alaska. MLLA is a lovely event strated by dear Susan of the wonderful blog The Well Seasoned Cook.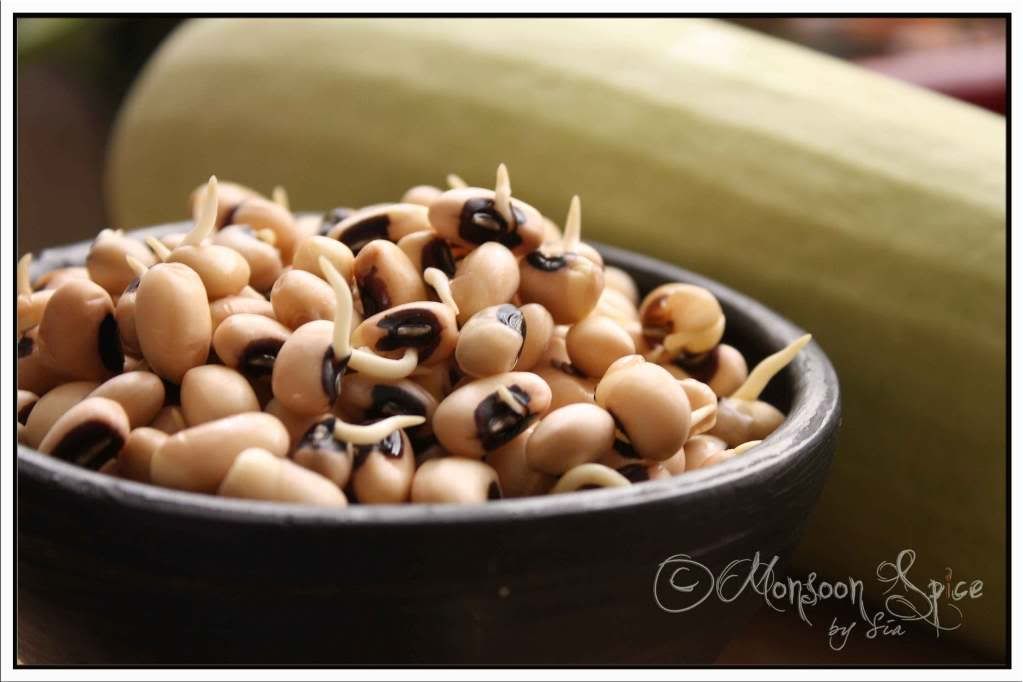 Print This Recipe
---
Lauki-Lobia Curry

(Silky Bottle Gourd and Black Eyed Peas Sprouts cooked in mildly spiced Gravy)
Prep Time: 10 mins
Cooking Time: 30 mins
Serves: 5-6
Recipe Level: Basic/Beginner to Medium
Spice Level: Medium
Serving Suggestion: With any Indian flat breads or with flavoured/steam cooked Rice

---
Ingredients:


1 medium Bottle gourd, peeled, cored and cut into ½ inch cubes
1 cup dry Black Eyed Beans/AlasanDe KaLu, soaked in water overnight, and sprouted (Sprouting is optional, you can directly cook black eyed peas in pressure cooker)
1 large Onion, finely chopped
3-4 large Tomatoes, finely chopped
½ tsp Cumin-Coriander Powder
½ tsp Turmeric Powder
1 tsp Red Chilli Powder (Adjust acc to taste)
1 tsp Garam Masala
½-1tsp Amchur/Dry Mango Powder (adjust acc to taste)
½ tbsp Jaggery/Cane Sugar
Salt to taste



For Tadka/Tempering:


1 tsp Jeera/Cumin Seeds
1 tsp Mustard Seeds
A big Pinch of Hing/Asafoetida
2 Springs fresh Curry Leaves
1 tbsp Oil
Lauki-Lobia Curry served with Steam Cooked Rice & Salad
Cook black eyed bean sprouts in a pressure cooker or on stove top till it turns tender. The beans should retain their shape and make sure that you don't over cook it. Drain water (that can be used in making dough for chapatti/roti as it has high nutritional content) and keep it aside till needed.
Heat oil in a pan and add mustard seeds to it. When mustard starts to pop and splutter, add cumin seeds, hing and curry leaves. Saute till cumin turns golden red in colour. Mix in finely chopped onion and sauté till it turn golden red, about 3-4 mins. Add chopped tomatoes and cook till it turns pulpy and releases its juice, about 4-5 mins.
Now add all the spice powders (cumin-coriander, turmeric, chilli, garam masala and dry mango powder) along with jaggery, salt to taste and ½ cup of water. Bring the whole mixture to gentle boil and add cubed bottle gourds to it. Cook covered till bottle gourd is tender, about 5-7 minutes, stirring in between to make sure that the curry doesn't stick to the pan.
Mix in cooked bean sprouts and adjust the seasonings. Add little more water if needed and cook uncovered for another 5 minutes till the bottle gourd is cooked thoroughly and all the flavours blend well.
Garnish with finely chopped coriander leaves and serve this delicious Lauki-Lobia Curry with Roti or Rice and enjoy.
---
Not too fond of bottle gourds? Simply substitute bottle gourd with potatoes and enjoy this curry.
Similarly you can chose not to sprout the black eyed peas and go ahead and cook this curry. Or use any other sprouted beans and enjoy this flavoursome curry.
You can also replace Garam Masala with any other curry powder (Sambar, Aamti etc).