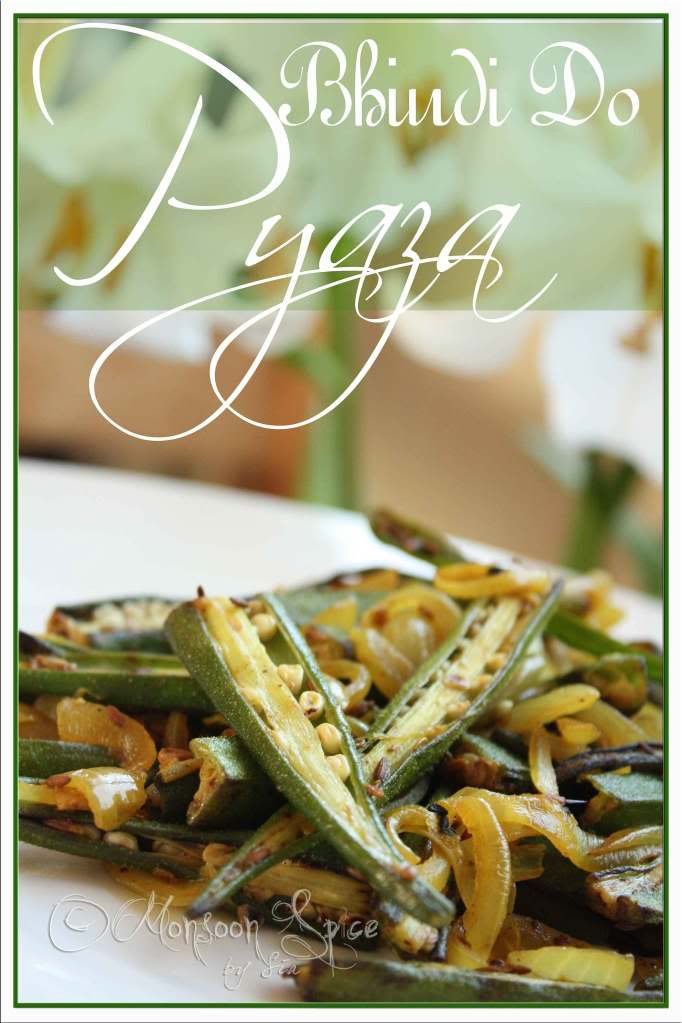 What happens when you balance laptop in one hand, cloths basket in another hand, two coffee mugs dangling from fingers?
Well, nothing!
And imagine same scenario and you are climbing down the stairs, looking back and chatting away to glory?
Now we are talking!!! The result of such silly and stupid thing is you end up tumbling down from top stairs to bottom and then end up either with broken bones or severe back pain! That's what happens when you are not watching your steps!!! Thankfully I didn't end up with broken bones but suffered enough from back pain and bruises for few days! Never in my life had I felt good about those excess fat around hips ;) That's the only reason I am walking (hopping/jumping is the right word in my case) without clutches or wheelchair today!
Since I was strictly kept away from kitchen or even getting up from bed/sofa (how boring!), TH was in charge of cooking. So here is my Sous chef, totally in control of everything and cooking one delicious dish after another, not only impressed me immensely with his cooking skill but also giving some tough challenge in kitchen. Looking at the way he's been cooking storms in kitchen, I am having serious doubt about him starting his own food blog ;) Don't you believe me? Then how about these crispy and delicious

Bhindi Do Pyaza

cooked by my much better half?
Bhindi Do Pyaza

is a simple stir fry of Okras and Onions with just few spices. It's one of the simple dishes which can give very tough competition to any complex dish. Flavour wise, the combination of crunchy okras and sweet onions can blow you away when cooked right! Only thing that you need to do is stir fry the okras in very high heat, adding right amount of oil and you will be surprised to see how crisp they turns out! So are you ready to say good bye to gooey, mushy okras and welcome this queen of vegetables with a very big hand? Shall we start the party?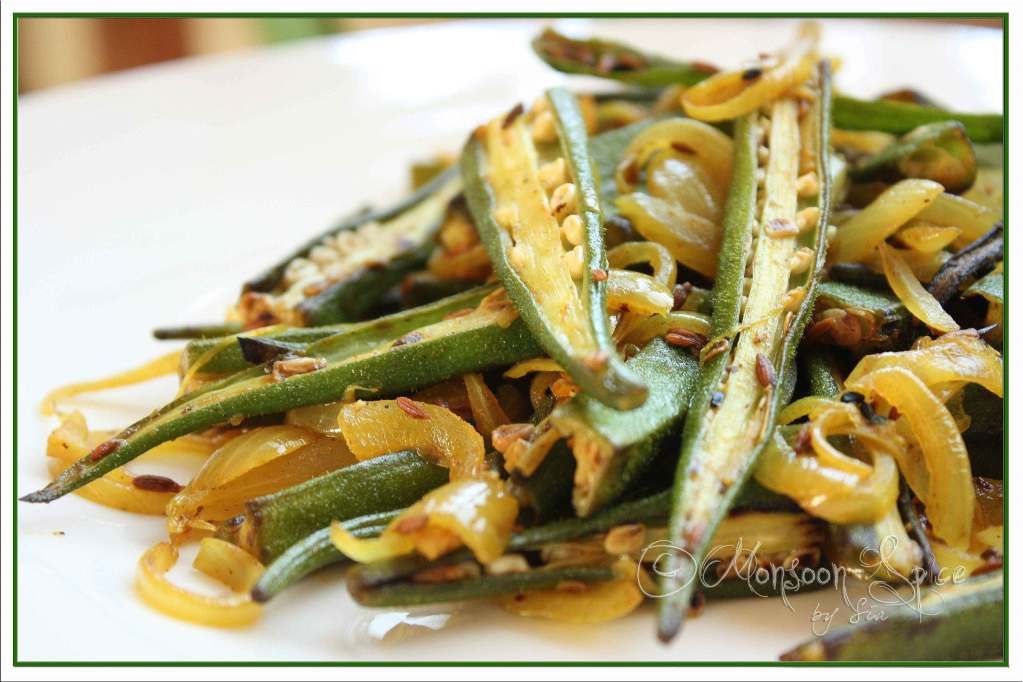 Print This Recipe
---
Bhindi Do Pyaza

(Simple yet delicious crispy stir fried slivers of Okra and Onion)
Prep Time: 10 mins
Cooking Time: 10 mins
Serves: 4-6
Recipe Level: Basic/Beginner
Spice Level: Low to Medium
Serving Suggestion: With any Indian flat bread or flavoured/steam cooked rice

---
Ingredients:

25-30 Okras, washed, dried and slit vertically and cut into 2 inch pieces

2 medium Onions, thinly sliced

2-4 Green Chillies, slit (adjust acc to taste)

1 inch Ginger, finely chopped or grated

½ tsp Turmeric Powder

1 tbsp Lime/Lemon Juice

1 tsp Jeera/Cumin seeds

½ tsp Kalonji/Nigella Seeds (Optional)

2+1 tbsp Oil

Salt to taste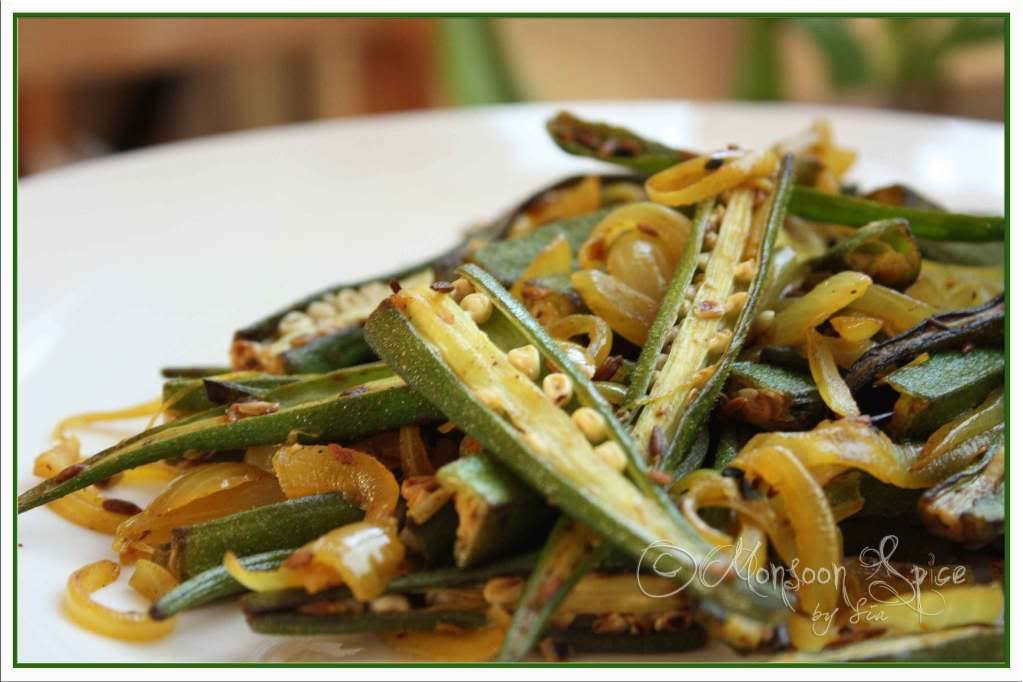 Heat 2 tbsp of oil in a pan and add sliced okra to it. Stir fry on high flame till brown spots start to appear on sliced okra and its sliminess is reduced. It will take good 4-5 minutes for the okra to cook through yet retaining its colour and crispiness. Transfer the stir fried okra to dry plate lined with kitchen/paper towel.
Heat tbsp oil in a same pan and add kalonji and jeera seeds. When jeera starts to sizzle and turn golden red in colour, add sliced onions, green chillies and finely chopped ginger and stir fry till onions turns translucent. Add turmeric powder and stir fry till onions turn golden brown.
Mix in okra, lime juice and salt to taste and continue to stir fry for another 2-3 minutes for all the flavours to blend well.
Serve this delicious Bhindi Do Pyaza with some curry/dal and rice/chapatti and enjoy.
---
Few tips for those who find it difficult to cut, and cook those slimy Okras.
Always choose young and tender okras. The best ones are the ones that get easily snapped when you bend the tail end of the pod.
Make sure that you dry the Okra completely after washing them in water. Either spread them on kitchen towel in single layer and leave it for few hours or pat them dry with dry kitchen papers/towels. It is a must that the okras are dried properly if you don't like them go slimy.
Next while chopping them; make sure that you have dry chopping board and knife. Keep dry kitchen paper next to you and clean the slime from knife using it whenever needed.
I have tried stir frying the okra with very little oil and ended up with really slimy okras. So then onwards I usually use little more oil than normal and cook it on a very high heat. This way the okras not only get cooked fast and retain their crispiness, but also any moisture in them disappears at high heat. And you will be surprised to see how the sliminess is reduced in short period of time.