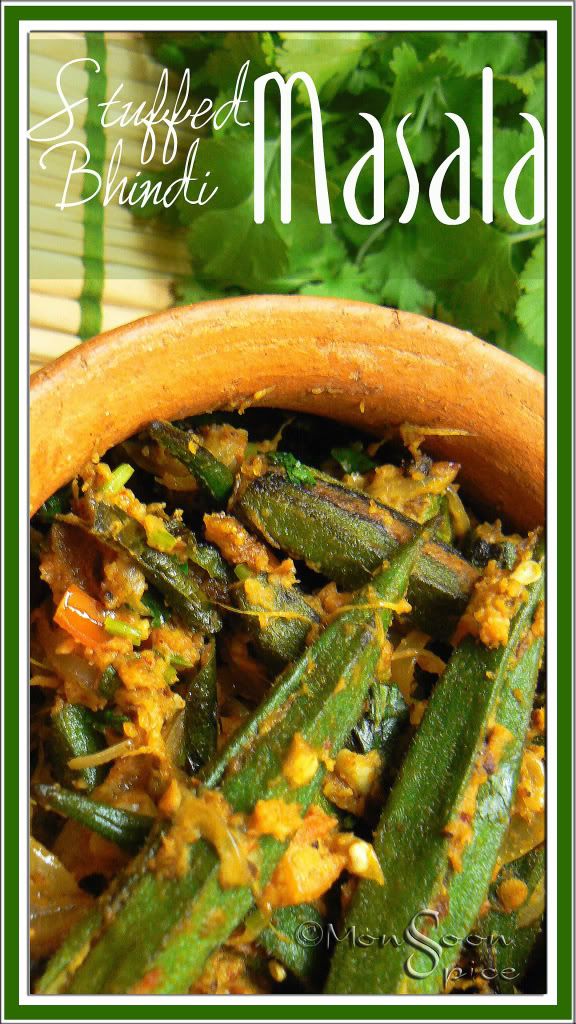 Stuffed Bhindi Masala
Remember me?
It's great to see you after all these years.
Can we be friends?
Your profile is so cute. I would love to add you as friends.
Are you so-and-so?
Aren't you so-and-so's cousin or friend?

Wondering what's this all about? Well, these are the friendship requests I get on social networking sites. Some are from old friends whom I have almost forgotten and some from total strangers and some simply wanting to increase the number of friends in their profiles and some from lonely guys and girls seeking 'real fun' (Duh?!). Having it said, these social networking sites are really cool as I got to meet my long lost (not at your usual
Kumbh ka Mela
;) friends all around the world. I always believed I had just few friends until I saw my friends list crossing 3 digits and then hitting close to three centuries. Now who would have thunk I made so many friends over all these years.
Well, meeting all these friends also means travelling back in time and remembering and sometime painfully reminding all those funny and embarrassing moments. Most of my recent friends think me to be a no-nonsense, serious kind of person to walk on this planet. Imagine their shock when they read my primary school friend's message with bold letter flashing on my scrapbook asking me if I still play pranks on my boss or colleagues as I used to do with my teachers by placing the duster or the most common trick of spilling ink on their chair and snatch my colleagues lunch box as I did to my juniors and classmates. And an enthusiastic scrap left by my close friend about hitting that pimple faced boy with my metal compass box for teasing me for wearing gaudy pink lipstick and matching nail polish in my high school was enough to shake the foundation of my sophisticated image that I had built (but not completely succeeded is another matter all together). And one friend decides to write a long testimonial on how smart I was to mix hair remover solution and face bleach cream with shampoo to teach a unforgettable lesson to our hostel warden for stealing my favourite shampoo and that piece of information was enough to make me turn from serious working girl into a total prankster! My close friends are hell bent on spoiling all my reputation. ~sighs~ I say friends can also be your worst enemies (I can prove it, may be in another post) but they are the kind whom you cherish.
When people compare marriage to chewing gum, I couldn't help but compare friendship to Okra. I know it sounds weird but I can be weird sometime! ;) You see my theory comes from the fact that Okra can be annoyingly slimy yet it tastes delicious when cooked right. Similarly friends can be annoyingly irritating yet they are the best part of your life. ~clap, clap or slap, slap~ Whoosh… Ok, I made that all up as today we have this lovely Okra or Bhindi recipe. So no need to break your head on the weird comparison of Okra and friendship. Without much delay (!!??) let us go to the recipe bit.
By now the regular reader of my blog would have realised how much I love Bhindi. This time I am posting a recipe of
Stuffed Bhindi Masala
which I cooked last night without following any recipe in particular. I used the ingredients which I thought would enhance the flavour of Bhindi and pleasantly they did. By the time I finished stuffing and sautéing, one quarter of the stuffed okras were stuffed in our mouths. Since I had already sliced the onions and chopped the tomatoes I had to use them in cooking. May be next time I will just stuff the okras and simply stir fry them or bake them. The stuffing used is roasted peanuts and few spices which gave pleasantly nutty flavour with touch of spiciness to sweet okras. While onions add more crunch and sweet note, tomatoes lends lovely tangy flavour to the dish. Try this recipe when you have time and see how okra can beat any vegetables hands down when cooked right.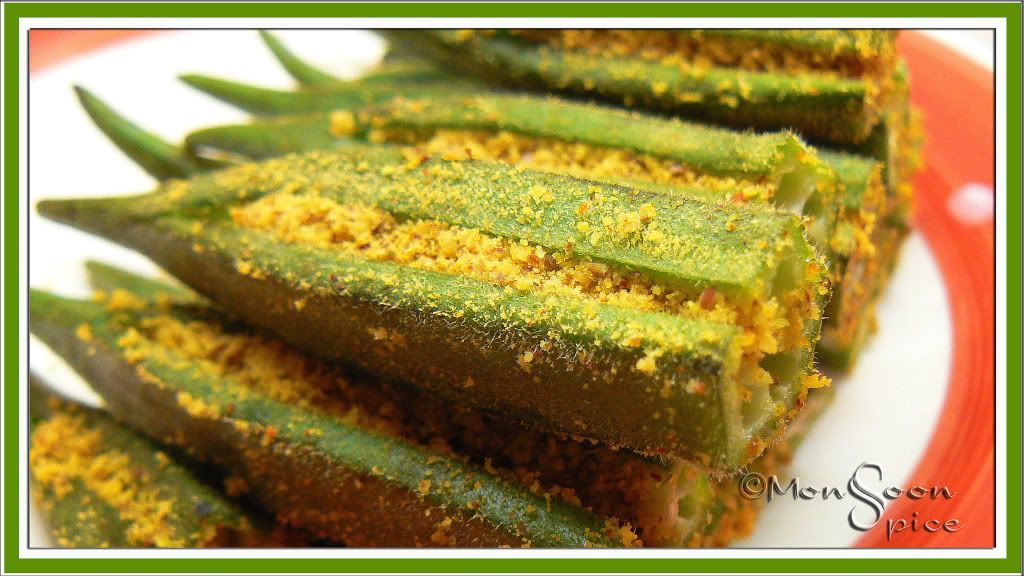 Print This Recipe
---
Stuffed Bhindi Masala

(Okra stuffed with roasted Peanut and Spice powder and cooked with sweet Onions and tangy Tomatoes)
Prep Time: 15-20 mins
Cooking Time: 20-25 mins
Serves: 4-5
---
Ingredients:


24-30 tender baby Okra/Bhindi (1 and half to 2 inches long) or 18-24 tender Okra, tips removed and cut into 2 inch pieces
1 large Onion, halved and thinly sliced
2 large Tomatoes, finely chopped
3-4 Garlic cloves, finely chopped
2 Green Chillies, slit (Adjust acc to taste)
1 tsp Jeera/Cumin Seeds
Few Curry Leaves
1 tbsp Lime Juice (Optional)
2 tbsp Fresh Coriander Leaves, finely chopped
2-3 tbsp Oil



For Stuffing/Filling:


¼ cup Roasted Peanuts
1 tbsp Channa Dal/Split Chickpeas
1 tsp Jeera/Cumin Seeds
½ tbsp Coriander Seeds
4-5 Dry Red Chillies (adjust acc to taste)
¼ tsp Hing/Asafoetida
1 tsp Amchur/Dry Mango Powder
½ tsp Turmeric Powder
Salt to taste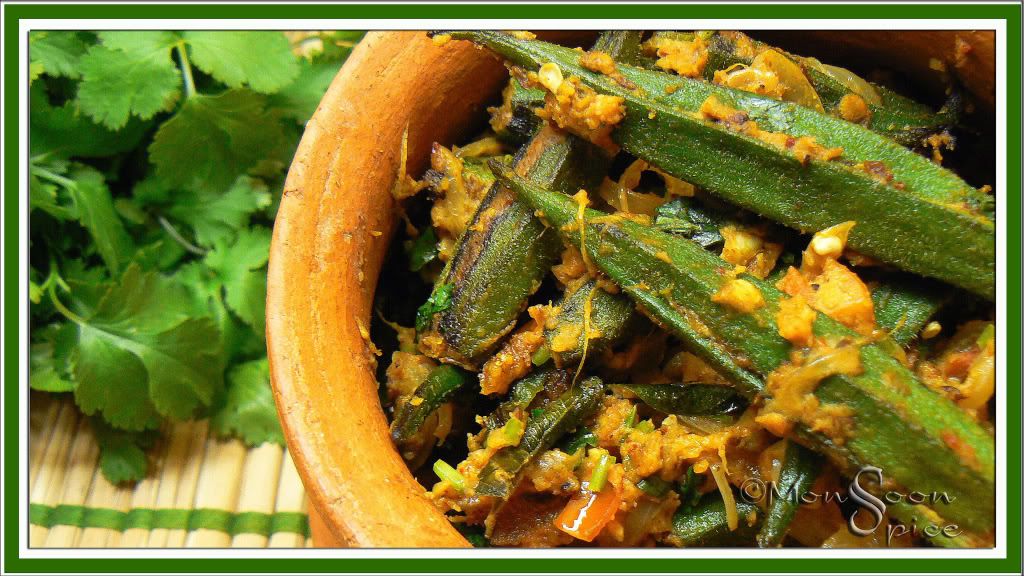 Wash okras and spread them on dry kitchen towels to remove excess water or simply pat them dry with kitchen towel.
While the okras are drying, heat a pan and dry roast channa dal, dry red chillies, hing, jeera and coriander seeds till they turn golden red and fragrant. Let them cool completely before you powder them. Add these roasted spices with roasted peanut, turmeric, amchur and salt to taste and grind them to coarse powder.
Now trim the okra ends and carefully make a slit on one side and stuff it with ¼-½ tsp of spice powder. Don't worry if you are left with excess spice powder as it will be used later.
Heat about tbsp of oil in a pan and sauté stuffed okras on high flame, if required in batches, for about 4-5 minutes till brown spots start to appear and it is half cooked. Place them on paper towel till needed.
Now heat another tbsp of oil in a pan and add cumin seeds to it. When jeera starts to sizzle and turn light shade of brown, add curry leaves, finely chopped garlic and slit green chillies. Sauté till garlic turns light shade of brown, about one minute.
Add thinly sliced onion and sauté on medium flame till it turns golden brown, about 3 mins. Mix in finely chopped tomatoes and remaining spice powder and cook till tomatoes release it juice and turns pulpy, about 3 minutes.
Now add stuffed okras and sauté for 5-7 mins on medium flame till the okra is cooked through and the flavours blend well.