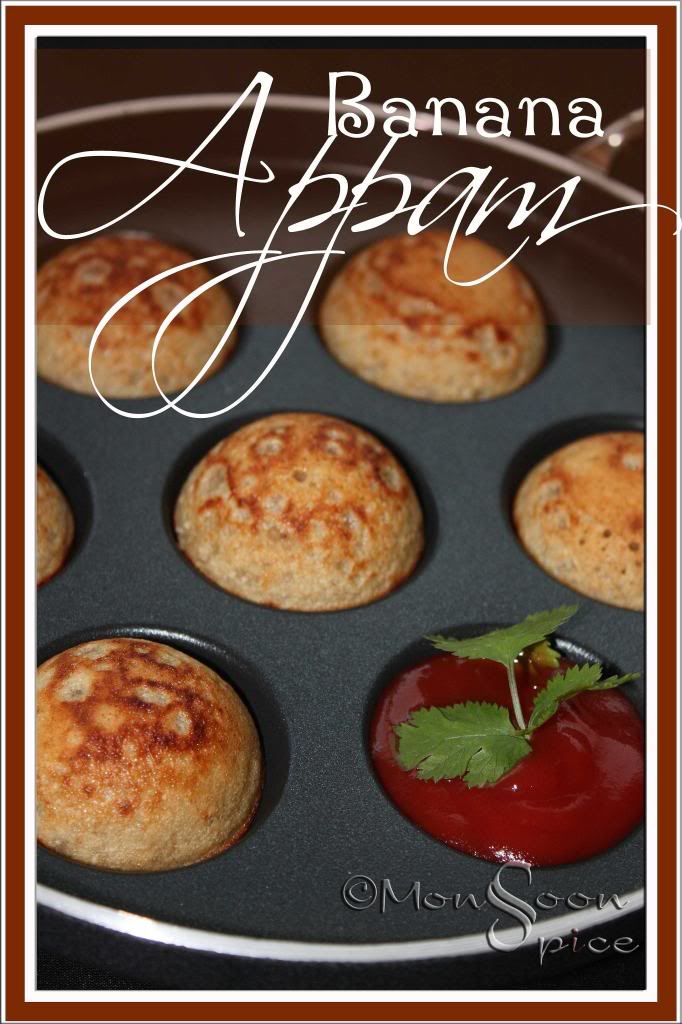 First and foremost,
Wishing you all a very happy Deepavali.
May this festival of lights bring happiness and prosperity to you and your loved ones.
I hope you all are having a wonderful time celebrating Diwali with your friends and family. As for us, it's another working day with deadlines to meet and usual grind. So we are enjoying quite Diwali with long day at office and simple dal and rice for lunch and dinner :) These days by the time I reach home I feel physically and emotionally drained after staring long and hard at the jumble of codes on screen and breaking my head in trying to figure out that small bit of code responsible for creating havoc in the main system. No wonder I prefer to snuggle under the blanket with warm bowl of soup and toast than actually stand in front of stove for hours together cooking an elaborate meals for the festival. Ahem, it's not like I used to cook elaborate meals before ;) No wonder weekends have become real luxuries for us and are spent either reading books or watching some movies and sleeping till noon. When it comes to kitchen part, we have been cooking very simple food these days and we have been cooking everything in bulk which lasts for 3-4 days. It helps a lot when you come home exhausted and want to eat some home cooked food immediately.
I had no plans of cooking anything for Diwali this time. But somehow I got caught with the festival spirit while I talked to my Amma, Atte and sister who were busy making their menu for this festival of lights. I made up my mind to make something as long as it doesn't exceed half an hour of cooking time and first thing that came to my mind was the sweet Appams that my mother makes. Last summer during our short trip to India, I had purchased the non-stick Appam pan which I had tucked on top shelf and it has been acquiring dust since then. With in a minute I washed and soaked two cups of rice in water for an hour and went on to finish few chapters from the novel I was reading. Then it was just the matter of using two poor looking bananas which were on the last stage of their life, a cup of powdered jaggery, few pinches of cardamoms to ground rice paste and voila, the smooth batter for Banana Appams was ready with in few minutes. With small ladle of batter poured on every hole of appam pan with a touch of Ghee for flavour, I was left with two dozens of small, sweet Banana Appams to enjoy for this Diwali. The aroma of sweet jaggery, bananas and cardamom wafting from my kitchen sure made me feel festive and transported me back to my home back in India. And off this goes to four events,
Sweet Vegan
hosted by Vaishali where Ghee can be substituted with oil,
JFI-Festival Treats
guest hosted by dear Valli,
Sweet Celebrations
at Aparna's space where she is celebrating her first blog anniversary and
WYF-Party Foods
hosted by EC.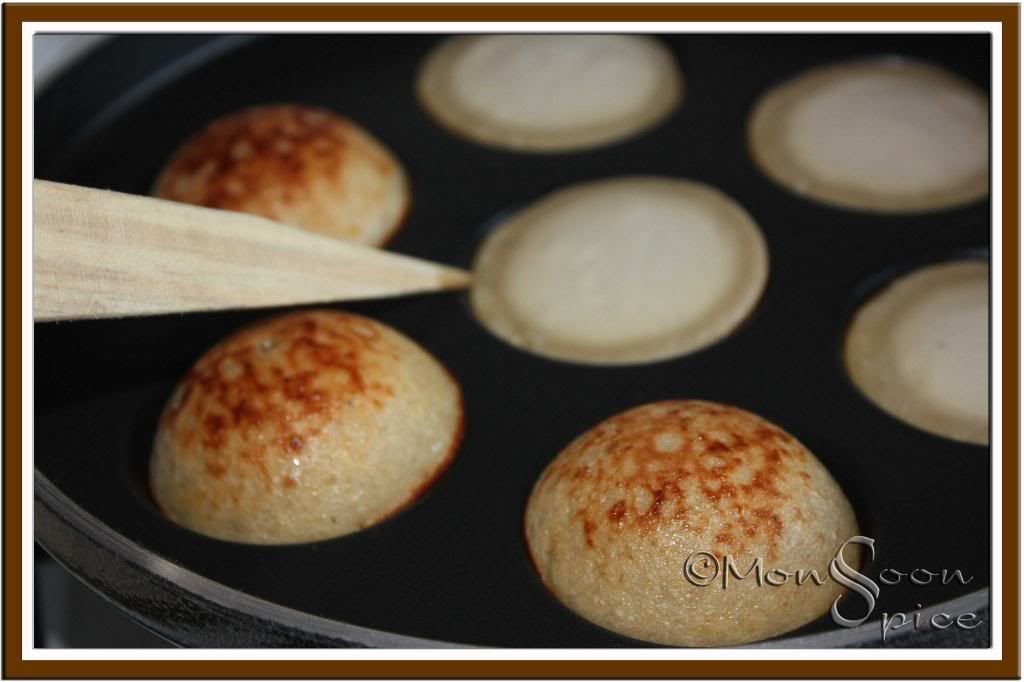 Print This Recipe
---
Banana Appams

(Sweet Rice Cakes with Banana, Jaggery and Cardamom)
Prep Time: 5-10 mins
Cooking Time: 15-20 mins
Makes: 20-25 small Appams
---
Ingredients:


2 cups Rice, washed and soaked in water for 1-2 hours
1 cup Jaggery (Adjust acc to taste)
½ cup fresh/frozen Coconut
½ tsp Green Cardamom Powder
2 very ripe Bananas, peeled and roughly chopped
A pinch of Salt
Little Oil or Ghee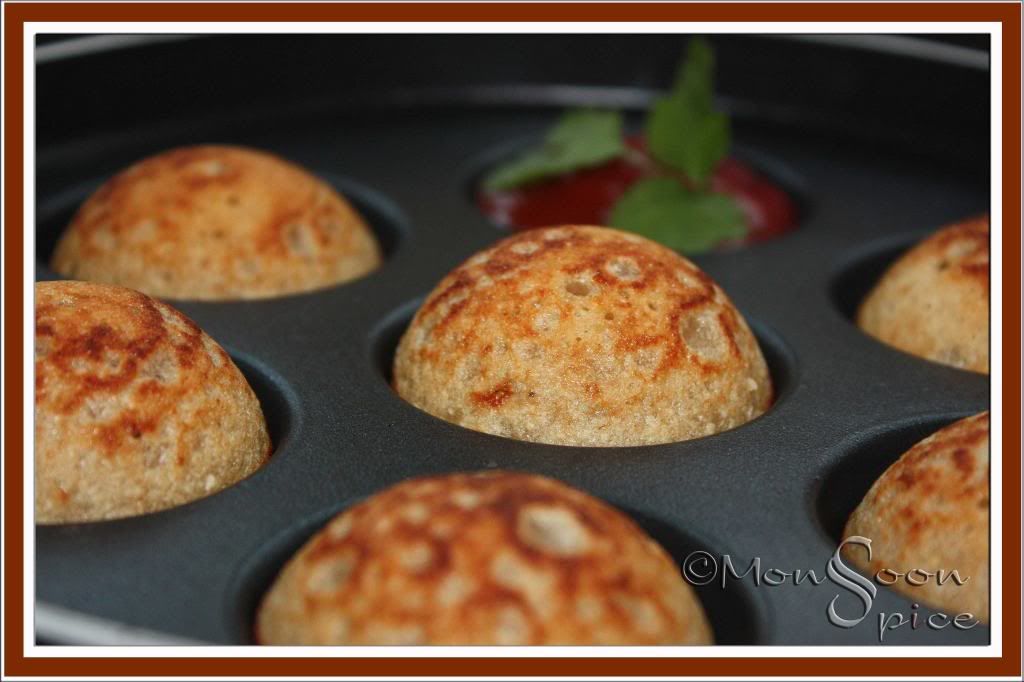 Grind rice to smooth paste adding very little water in which it is soaked. Now add jaggery, grated coconut, bananas and cardamom powder, pinch of salt and pulse the mixer till all the ingredients blend well.
Let this batter rest for at least 15 minutes for all the flavours to blend well before you proceed to next step.
Now either you can deep fry or use Appam pan to make these Banana Appams. If using Appam pan, grease the Appam pan with little ghee and heat it on medium flame.
Pour the batter into each hole and cover the pan with a lid and let it cook on low-medium heat on both sides till it turns golden brown and cooked through.
Serve it hot with any spicy Chutney or hot Tomato Ketchup or as it is and enjoy.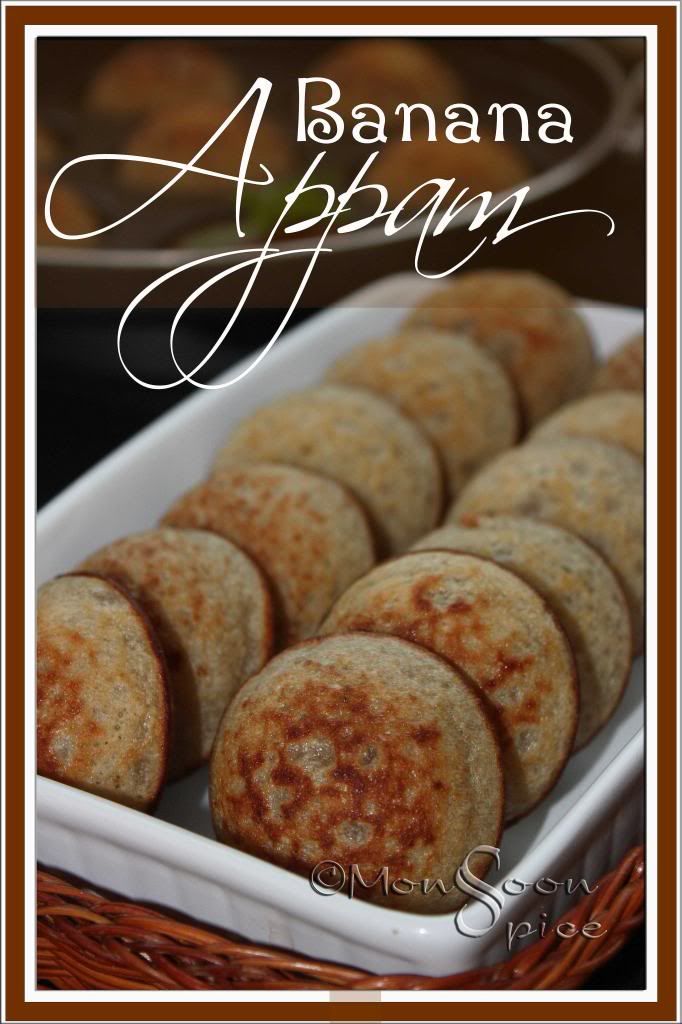 ---
If deep frying, make sure the paste is thicker. And if using Appam pan, the batter can be little thinner, of pancake consistency.
I used non-stick Appam pan and it hardly required any oil of ghee due to coconut used which releases its natural oil when cooked. If using iron pan, make sure that you grease it properly.