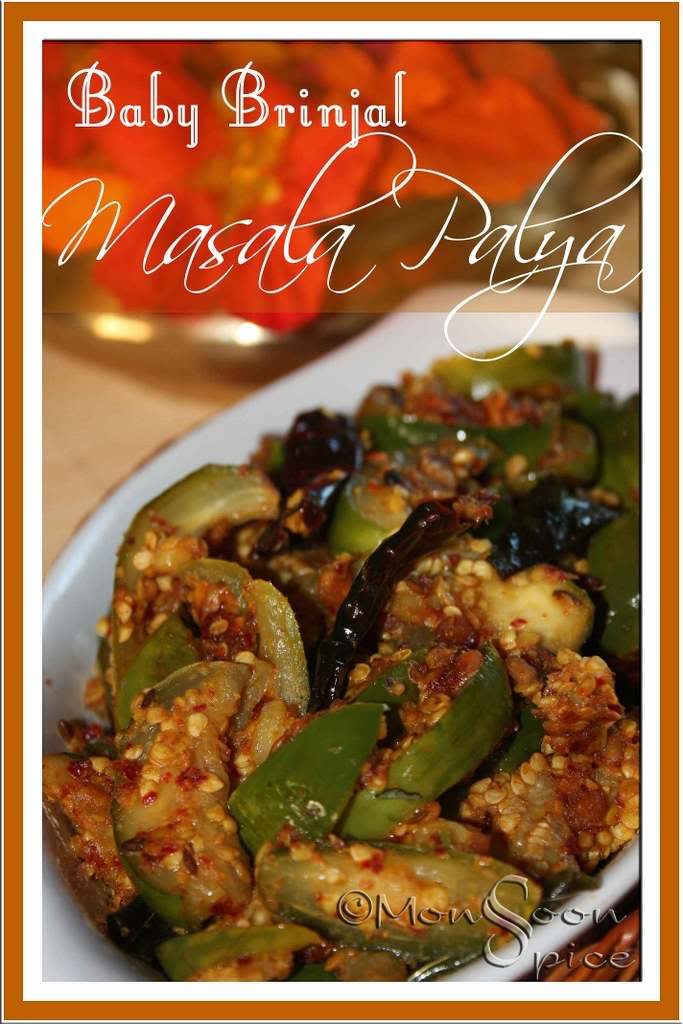 Baby Brinjal Masala Palya
What happens when someone hosts 3 blog events back to back, creating a hatrick!!!
She checks her mail box religiously every morning as soon as she gets up only to realise it's all over… At last!!!

Not that I have had any second thoughts about hosting the events. In fact I loved being a gracious, ahem, hostess and making sure all my guests were enjoying the party. Well, they were the best parties I have ever hosted, I think! But in the end I did have this small voice in my head shouting I might have over done it this time. I kind of mixed up with the dates and committed myself to host events before I could realise I was about to host three much loved blog events back to back. With ever increasing workload with two new and very important projects to work on, I was literally walking on a tight rope balancing work on my left hand, home on right hand and blog events on my head ;) So no more parties for few more months but you are very welcome to come here and have some home food :)
Talking of home food, I have been cooking some simple foods these days. Not many ingredients and no complex techniques. I have been experimenting with few spices, tweaking here and there till I am satisfied with the end result. One such recipe is
Stir Fried Baby Green Brinjals
or
Baby Geen Brinjal Masala Palya
. Recent trip to down south, I bought few lovely green baby brinjals which are otherwise not available in my neck of woods. The speciality of these brinjals is that they have thin lovely green skin with lots of seeds within. They take very little time to cook compared to the purple baby eggplants and taste oh-so-wonderful. I didn't want them to over cook so the option of stuffing them was out of the window. After thinking for a while I opted to slice them and stir fry with just few spices which would bring out the flavour of these green beauties.
The recipe is inspired by recent post of
Dondakaya Vepudu
but with my own twist. I have used same ingredients for the spice blend but also added few other ingredients to give it little smoky and complex flavours. Addition to cumin, dry red chillies and roasted peanuts, I also added garlic, tamarind and little jaggery. The result was simply delicious where I ended up eating half the content right from the pan. The pungent garlic, sweet jaggery, sour tamarind and smoky dry red chillies were pure pleasure to be experienced. And the best part was hubby dear is allergic to eggplants, so I had it all for myself;) You can try same spice blend with other vegetables like Ivy Gourd/Tindora or even purple eggplants and I am sure it will taste equally good.

Print This Recipe
---
Green Brinjal Masala Palya

(Baby Green Brinjal/Eggplants stir fried with roasted spices)
Prep Time: 10 mins
Cooking Time: 15 mins
Serves: 3-4
---
Ingredients:


6-8 Baby Green Brinjals, washed and towel dried
2-3 Garlic Flakes, finely sliced
½ tsp Turmeric Powder
Salt to taste



For Tempering/Tadka:


1-1½ tbsp Oil
½ tsp Mustard Seeds
¾ tsp Jeera/Cumin Seeds
½ tbsp Channa Dal/Split Bengal Gram
½ tbsp Urad Dal/Split Black Gram
2 Dry Red Chillies
Big pinch of Hing/Asafoetida
Few Curry Leaves



To be Roasted & Ground to Fine Powder:


1 tsp Jeera/Cumin Seeds
5-6 Dry Red Chillies, stems removed and halved (Adjust acc to taste. I used Byadagi Chillies)
2 cloves of Garlic, finely chopped
1½ -2 tbsp Roasted Peanuts, skins removed or leave it as it is
1 small marble sized Tamarind Pulp/½ tsp Tamarind Paste
1 tsp Jaggery/Brown sugar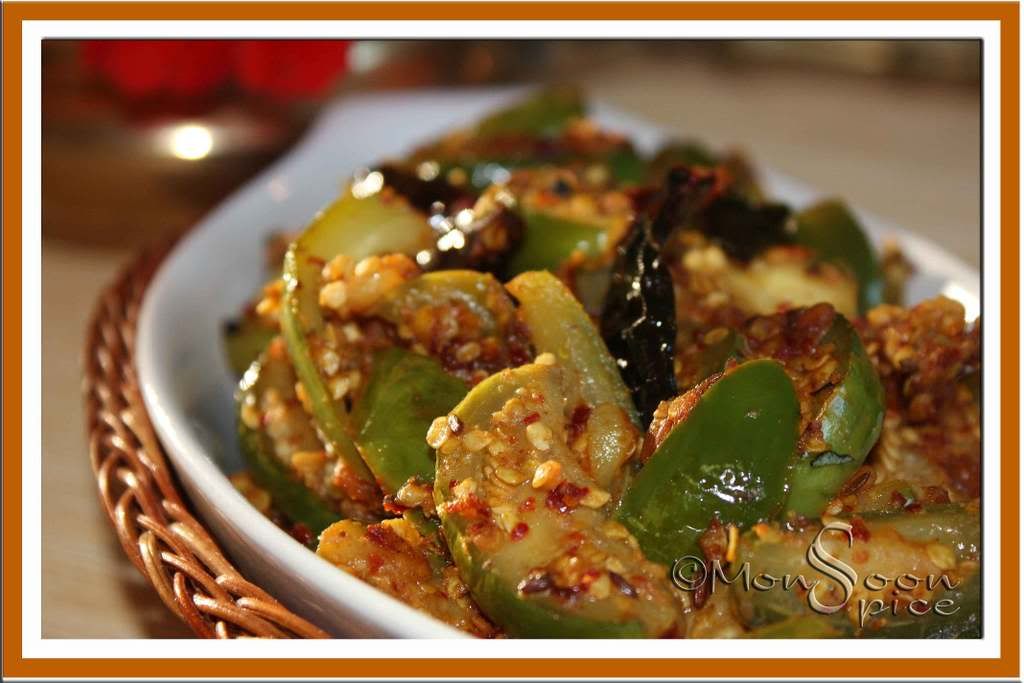 Baby Brinjal Masala Palya
Method:
Remove the stems of baby brinjals and cut it vertically in the middle. Slice each halves into 1 cm slices. Place the sliced brinjals in a vessel filled with cold water till required. Immersing brinjals in cold water helps in preventing discolouration.
To make spice powder, heat few drops of oil in a pan and add cumin seeds, halved chilles and finely chopped garlic. Roast them in low heat for a minute till garlic turns light brown and cumin seeds too turn light brown. Let it cool down a bit before you proceed to next step.
Place them in a mixer along with roasted peanuts, tamarind pulp and jaggery and grind into fine powder without adding any water. Keep this aside till needed.
Heat oil in a same pan and add channa dal, urad dal, mustard, dry red chillies and hing. Sauté it on medium flame till mustard starts to pop and splutter.
Now add cumin seeds, sliced garlic and curry leaves and sauté till cumin, dal and garlic turns light golden brown.
Drain water from sliced brinjal pieces and add them to the pan. Increase the heat and stir fry them continously for about 5 mins. Add turmeric powder and salt to taste and give it a good stir for another 5 mins.
Mix spice blend and stir fry for another 3-5 mins till all the flavours blend well and brinjal pieces are cooked to tender.
Serve this delicious stir fry with steaming bowl of Rice/Chapatti and Rasam/Dal/Plain Yogurt and enjoy.