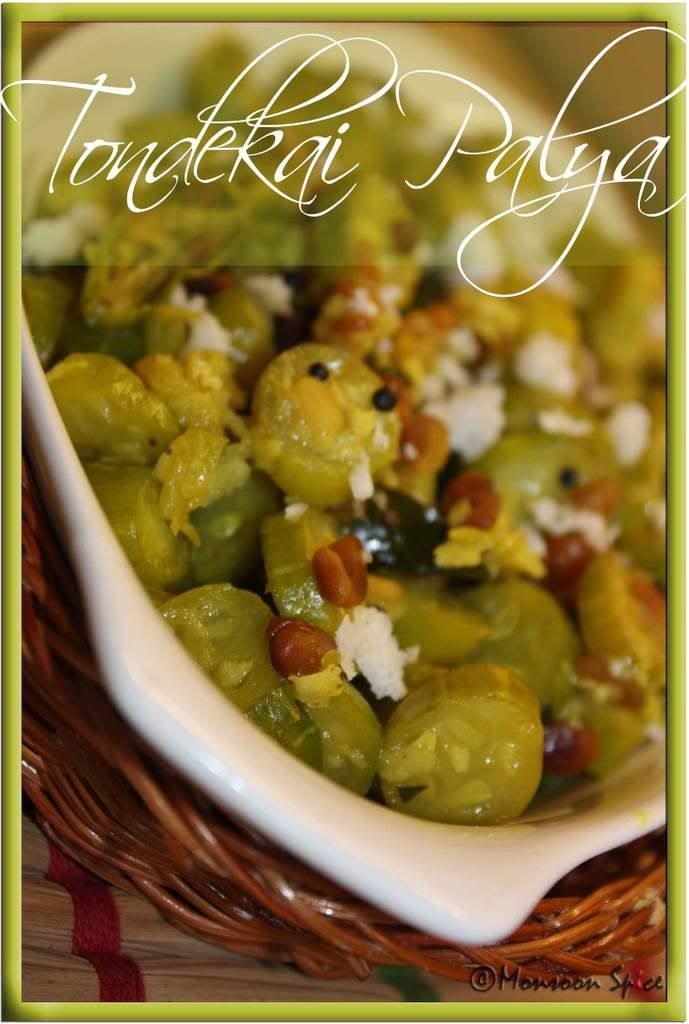 Tondekai Palya


Did I mention I am way too busy these days? If not, now you know;) I have been extremely busy these days. What with new project I started working on which takes most of my time and attention, it feels like I am walking on some tight rope balancing home in one hand and office in another! And strangely I am quite enjoying myself! Oh, I can be wild and crazy sometimes and I do surprise myself many a times.
The main reason for posting today is to share the reason for my infrequent blog hopping these days. As much as I love to visit your blogs and leave my very "valuable" feedback(he he he;), I am simply not able to do it because of my heavy work schedule. You see, my boss is not likely to get impressed when he comes to know I am spending more time by reading blogs instead of working on meeting my deadlines. And with this shooting inflation and dwindling job market scenario, I don't think it is wise on my part to blog-hop and then en up job-hopping ;) And another reason was I wanted to quickly reach another milestone of making 200th post. I had to choose between either spending time writing long comments or making my 200th post and selfish me opted for the latter. And horrors of horrors I just realised that I had crossed my 200th post without knowing!!! Now you know how busy I have been. In fact this is my 204th post!!! Now raise your glass and toast for reaching 200 mark ;) Thank you, Thank you...
Ok, I won't bore you with my rants. As much as I like to rant and ramble, I know I should stick to main agenda of this blog which happens to be food! Today, I am posting one simple recipe from my home town. Yes, another Palya or stir-fry recipe which is one of my favourite. This time it is

Tondekai Palya

or

Ivy Gourd/Tindora Stir Fry

. Crunchy Ivy Gourd is stir fried with fresh Coconut and very few spices. What you end up having is one delicious stir fry of crunchy tindora with light note of spices used in tempering and sweet touch of coconut. I usually like to have it with Rosematta Ganji/Kanji with a dollop of Ghee (Indian clarified butter). You can also serve this Palya with Chapatti and Dal or just warp it in Chapatti for picnics and light meal. Less fattening, less time to cook and tastes delicious, what more we can ask for!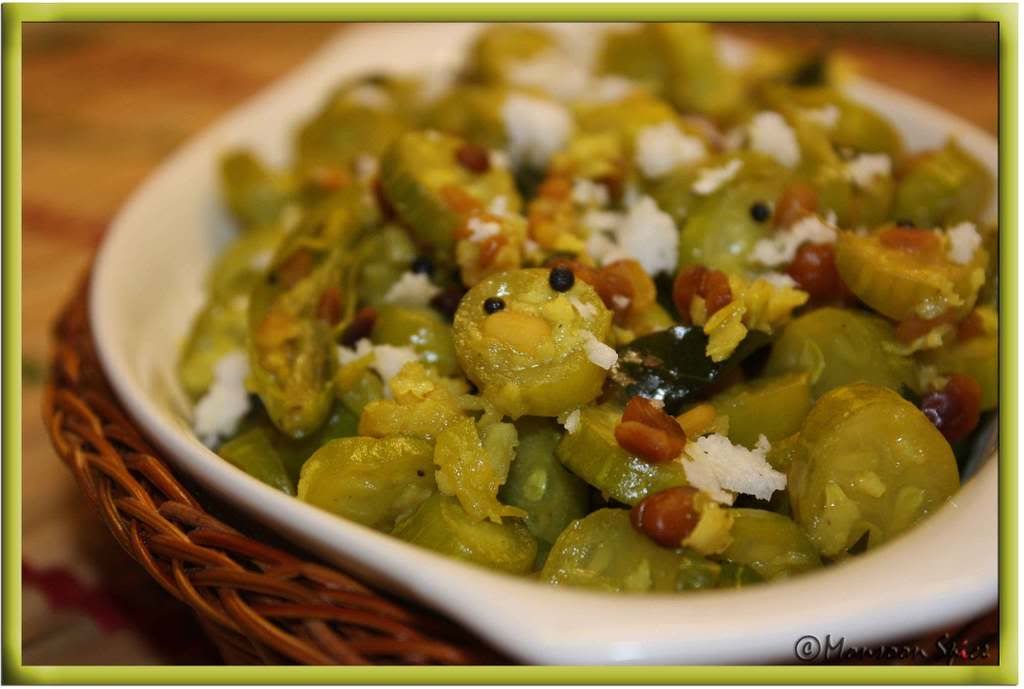 Print This Recipe
---
---
Todekayi/Tindla Palya (Simple and quick stir fried ivy gourds with few spices and garnished with sweet grated coconut)
Prep Time: 10 mins
Cooking Time: 12-15 mins
Recipe Level: Easy/Beginner
Spice Level: Low
Serves: 4-6 people
Shelf Life: 3-4 days in fridge and up to a month in freezer
Serving Suggestion: With plain or Rosematta rice or with chapatti or as a stuffing to warps
---
Ingredients:


20-24 Tondekayi/Tindla/Ivy Gourd, cut into ½ cm thin rounds




2 Green Chillies, slit (Adjust acc to taste)




¼-½ tbsp Jaggary (Optional, adjust acc to taste)




½ tsp Turmeric Powder




¼ cup grated Coconut, fresh/frozen (more the merrier!)




Salt to taste





For Tadka/Tempering:


1 tsp Mustard Seeds




½ tbsp Urad Dal




1-2 Dry Red Chillies, broken




Pinch of Hing/Asafoetida




A sprig of Curry Leaves




1 tbsp Oil, preferably Coconut Oil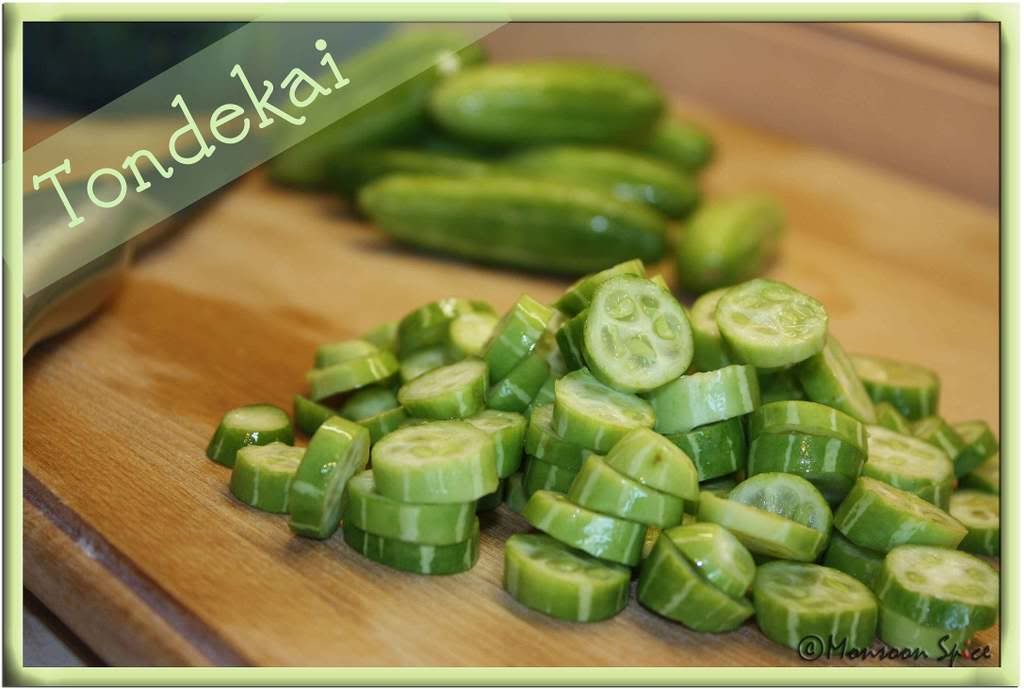 Tondekai/Tindora/Ivy Gourd
Method:
Heat oil in a pan or wok and add mustard seeds. When it starts to pop and splutter, add urad dal, halved dry red chilli, hing and curry leaves. Sauté till urad dal turns golden brown in colour, about 1-2 mins.
Mix in tindora, turmeric powder, slit green chillies and jaggery. Stir fry it on medium flame for 3-5 mins till tindora starts to turn light brown on edge.
Now add salt to taste and about ½ - ¾ cups of water and mix well. Cover and cook for another 3-5 mins till tindora is almost cooked. Open the lid and let it cook for another minute or two till all the water is absorbed and tindora is cooked but retains its crunch.
Switch off the flame and mix grated coconut. Serve this delicious Tondekayi/Tindla Palya hot with Chapatti, Rosematta rice or any other rice or your choice and enjoy.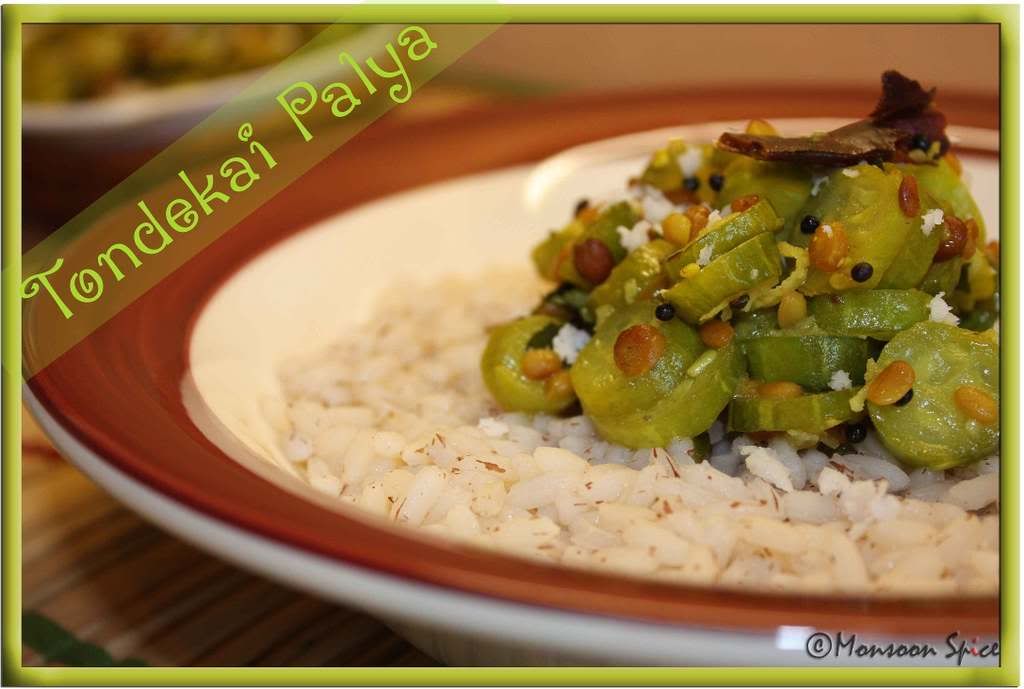 Tondekai Palya with Rosematta Rice
---
Note:


Other Palya recipes blogged so far can be found HERE.
Other Tindora recipes blogged so far on Monsoon Spice

---
Reminder: WBB-Summer Feast
For this edition of WBB, your challenge is to cook anything with summer fruits and vegetables. Yes, the theme is
WBB-Summer Feast
. Go to your town/city's Farmer's Market and pick fresh season's produce and make your favourite breakfast or brunch and join in the Summer Feast.
Deadline: 31st July, 2008
Please go through the guidelines and include all the required information in your post and mail when sending me your entry. Don't forget to add Your Name, Your Blog Name, Name of the Dish you cooked, Perm Link of the entry along with the gorgeous Photo of final dish.
Click Here
or on the logo to find out more information on this event.