Jihva for Ingredients
a.k.a.
JFI
is the brainchild of
Indira of Mahanandi
. Indira started this event to showcase the natural ingredients every month and undoubtedly it is one of the most popular food blogging events among the food bloggers. I am honored to host this month's JFI edition on
Monsoon Spice
and I sincerely
thank Indira for this wonderful opportunity. I invite you all to celebrate Jihva for Ingredients with this month's theme
JFI-Soya
.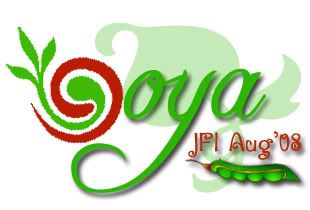 The

soy bean

(

Glycine max

) is a species of legume native to East Asia. The majority of Soya protein is a relatively heat-stable storage protein. This heat stability enables Soya food products requiring high temperature cooking, such as tofu, soymilk and textured vegetable protein (Soya flour) to be made.
Soya is an excellent source of high quality protein, is low in saturated fats and is cholesterol free. Recent research has indicated soya has several beneficial effects on health in addition to its nutritional benefits. Soya beans contain high concentrations of several compounds which have demonstrated anti-carcinogenic activity. These include isoflavonoids, protease inhibitors and phytic acid.


(Source: Wiki)
Choice of Soya products, the recipe, ingredients, method etc is entirely left to you. I would greatly appreciate if you can send me any Vegan or Vegetarian recipes but I leave it to your choice. Soya foods include tofu, tempeh, textured vegetable protein (chunks, mince etc), miso, soya sauces, soya oil and margarine, and soya dairy alternatives.
Textured Vegetable Protein:

Textured vegetable protein is basically defatted soya flour which has been processed and dried to give a substance with a sponge-like texture which may be flavoured to resemble meat.


Tofu:

Tofu is soya bean curd made from coagulated soya milk.


Tempeh:

Tempeh is a fermented soya bean paste made by inoculating cooked soya beans with the mould

Rhizopus oligosporous

.


Miso:

Miso is a fermented condiment made from soya beans, grain (rice or barley), salt and water.


Soya Sauce:

True soya sauce, called

shoyu

, is made by fermenting soya beans with cracked roasted wheat, salt and water.


Soya Dairy Alternatives:

Soya milk is an alternative to dairy milk and is widely available in supermarkets and health food stores. It is most commonly made by soaking soya beans in water which are then strained to remove the fibre.


Other Soya Products:

Soya oil and margarine are widely used and are high in polyunsaturated fats and low in saturated fats. Other less easily available soya foods include soya sprouts, soya nuts (roasted and seasoned soya beans), natto (fermented soya beans made with a bacteria,

Bacillus subtilis

), yuba (the skin formed on heated soya milk), soya flakes, soya flour, and high protein soya isolates and concentrates


(Source: vegsoc.org)
So what are you waiting for? Prepare any dish using Soya Products and mail it to me. Put your imaginations to work and get creative. And most important thing to remember is have lots of fun. Cook, post and mail me your favourite Soya recipe. Don't forget to go through the following guidelines. I will eagerly look forward to your creative contributions.



Some Guidelines to Follow:


1. Prepare a dish that features

Soya or Soya Products

as one of the main ingredients and post it in your blog in a month of

August, 2008

. It would be lovely if you can send me a

Vegan or Vegetarian dish

with Soya or Soya product featuring a central role.
2. If you already have appropriate entry archived, please make sure to repost it with a link back to this announcement page. But it will be great if you are to cook a special dish for this event.
3. Provide a

link back

to this announcement page and feel free to use the logo.
4. Email your entry to

sia[at]monsoonspice[dot]com

, with

JFI-Soya

in the subject line with following details

Your Name
Blog Name
Blog URL

Type of a Dish

(For example, Snack, Starter, Main, Side Dish, Dessert etc)
Recipe Name

Recipe URL
Photograph of final dish.
5. The deadline for this event is
August 31st, 2008
. Please remember that
no late entries will be entertained
.
6. There is
no limit
to the number of entries. If you don't have a blog but wish to participate in this event, send your entries with a picture, your name and recipe to sia[at]monsoonspice[dot]com before the deadline. I will post the recipes with your picture in my blog and include it in the round-up.
Simply copy and paste the below code to your post to use this logo.

JFI-Soya: