Blogging has its own advantage. I was used to cooking same food with same ingredients before I started blogging. I must admit that the time I am referring goes back to the era of me being a novice cook and I was not in a position to identify and differentiate one ingredient from other, especially when it came to lentils and flours. There were times when I mistook channa dal for toor dal and ended up using fine rice flour in place of maida to make Naan. And horrors of horror when I ended up using all that expensive Basmati rice in preparing Dosa batter, fit for one small army to feed, back in India. It's a different story that I use Basmati rice quite often to make Dosa batter as they are much cheaper than Idli and Dosa rice we get here.
It's since I started posting recipes in my blog that I learnt numerous recipes from different part of the world and discovered new ingredients which were unheard of while growing up. My Amma is an exceptional cook who even today fascinates me with her innovative recipes using rarest of ingredients. Fortunately I am like her when it comes to experimenting with ingredients and learning new recipes., just moving little away from comfort zone. Food blog world is one such place where you get to see and learn something unique every single day. Everyday I go through fascinating and adventurous journey of innovation in cooking with rare ingredients and I must say I am enjoying it thoroughly.
But there are sometimes when I get recipe requests from readers of Monsoon Spice with few ingredients which I have never tried or tasted. Some time back I received a recipe request from one of the readers to post Phool Makahni aka Puffed Lotus Seeds recipe. Till then I was not that familier with lotus seeds and I had no idea that there was puffed lotus seeds just like puffed rice or pop corns. Yes, they do look like pop corns and I felt to some extent they did taste like one especially when they are deep fried. Before I knew, I ended up eating half a cup of fried phool makhani sprinkled with little chilli powder and salt and had to fry little more for the curry. I had to stop myself from popping few more puffed lotus seeds and proceed into making this delicious

Phool Makhani Curry

.
This is a recipe I put together from various recipes found all over the web world. Most of the recipes had three things in common, coconut, cashews and poppy seeds. And all the recipes asked I deep fry these Phool Makhani before adding it to base gravy. But next time I am going to pan fry these puffed lotus seeds with little oil till they turn golden to reduce little amount of fat and calorie. And one more thing lesson I learnt is to buy extra pack of these puffed lotus seeds just to eat with little sprinkle of salt and pepper ;) In the end we had this delicious tasting bowl of curry which was creamy from addition of coconut, poppy seeds and cashews with touch of little spice notes to it from aromatic whole spices and spice powder used. Fried Phool Makhani, which is quite crisp when deep fried, transforms into melt-in-mouth creamy delight when added to the base gravy is one whole new experience we really enjoyed. This is my entry for Kayln's WHB guest hosted by Joanna.

Print This Recipe
---
Phool Makhani Curry

(Puffed Lotus Seeds Cooked in a Spiced and Creamy Coconut Gravy)
Prep Time: 10 mins

Cooking Time: 20 mins

Serves: 4-5
---
2-3 cups Phool Makhani/Puffed Lotus Seeds

1 large Onion, finely chopped

2 large Tomatoes, finely chopped

1 tsp Jeera/Cumin Seeds

1 tsp Garam Masala

½ tsp Kitchen King Masala (Optional)

1-2 tbsp Sugar (Adjust acc to taste)

Small bunch of Coriander Leaves, finely chopped

1 tbsp Oil + Oil for Deep Frying

Salt to taste

Ground to Smooth Paste:

½-¾ cup Coconut, fresh/frozen

1 tbsp Cashews

1 tbsp Poppy Seeds/Khus-Khus, dry roasted till light golden

1 inch Cinnamon Stick

3 Cloves

3 Green Cardamoms

1 inch Ginger, peeled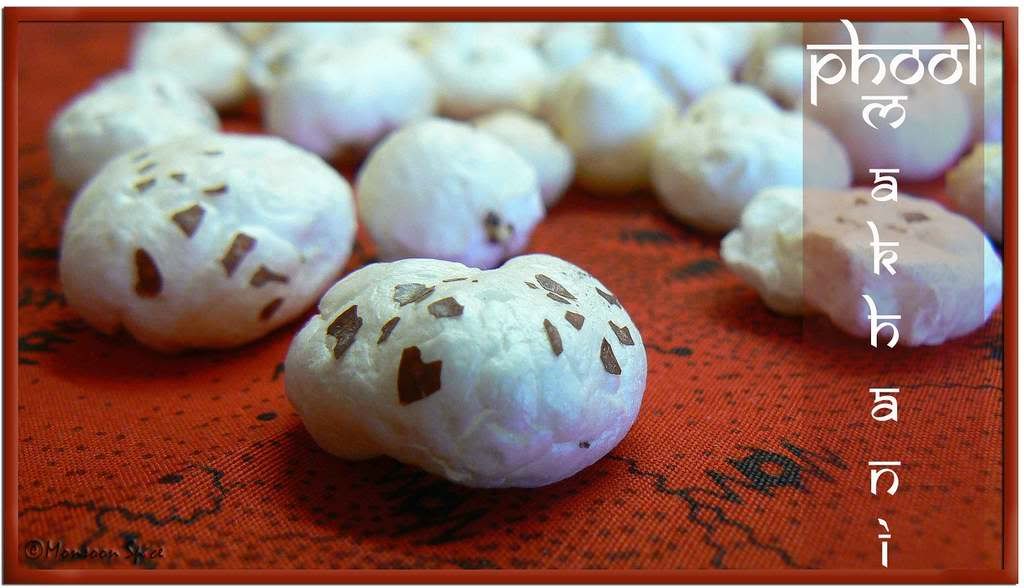 Phool Makhani/Puffed Lotus Seeds
Deep fry phool makhani in heated oil till it turns light golden brown in colour and place them on paper towel to drain excess oil.
Grind cashews, roasted poppy seeds, cardamom, cinnamon, cloves, ginger and coconut to smooth paste adding little water at time.
Heat oil in a pan and add cumin seeds. When they start to sizzle, add finely chopped onion and sauté till they turn golden brown.
Mix in ground paste and keep stirring for about 4-5 minutes till the masala paste turns light brown in colour and becomes dry.
Now add finely chopped tomatoes, garam malasa, kitchen king masala, sugar and give it a good stir till tomatoes turn pulpy, about 2-3 minutes.
Add around 1½-2 cups of water and mix in salt to taste. Cook this gravy on medium-low heat for about 10 mins, stirring in between.
Now add fried phool makhani and mix well. You can add little more water if needed depending on required consistency of the gravy. Cook on low heat for another 3-5 minutes. Mix in finely chopped coriander leaves and serve this delicious Phool Makhani Curry with roti, chapatti or rice of your choice.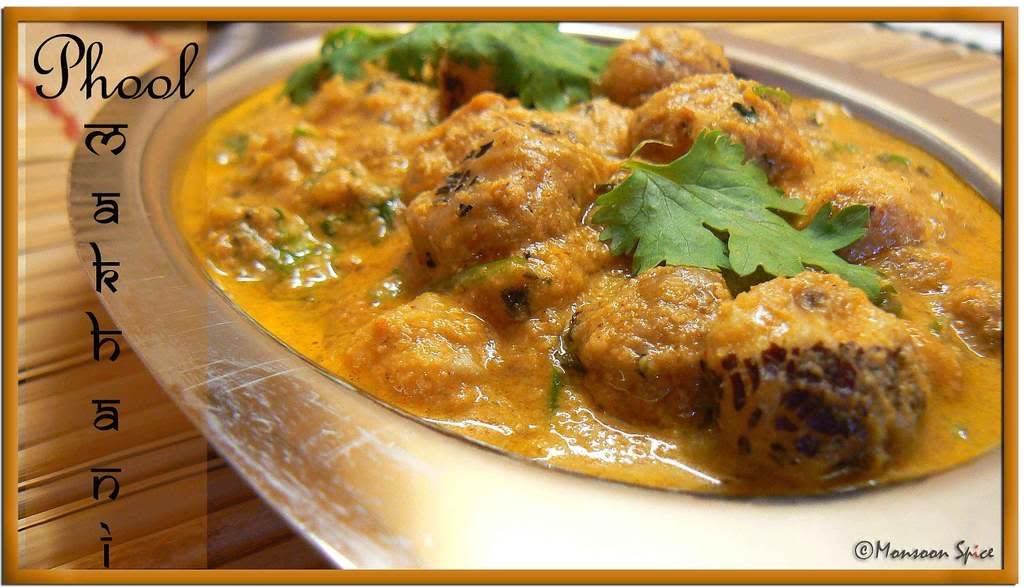 ---
Phool Makhani takes very few minutes to absorb all that gravy and turns into creamy delight. So add it to the gravy just five minutes before you switch off the gravy.
Although this time I deep fried these puffed lotus seeds I would suggest you to try pan frying them in batches with very little oil till it turns light golden if you want to restrict fat and calorie content.
You can also serve these fried Puffed lotus seeds with little sprinkle of salt and chilli powder.
---
Reminder (Just 6 more days remaining):
MBP-Street Food
ends on 24th of June, 2008. Start patrolling the blogs and cook your favourite Street Food that your tummy begs and heart desires and spread link love.
Deadline: 24th June, 2008
Please go through the guidelines and include all the required information in your post and mail when sending me your entry. Don't forget to add Your Name, Your Blog Name, Name of the Dish you cooked, Perm Link of the entry, Perm Link of original recipe along with the gorgeous Photo of final dish.
Click Here
or on the logo to find out more information on this event.