Spicy & Tangy Mushroom Chettinad
Aunt S: Are you sure this is what you want to eat.
Me: Absolutely. This looks like a spicy dish. This is exactly what I want to eat. I am tired of eating tasteless hostel food.
Aunt S: This one is really spicy. Do you think you can handle it?
Me: That's what my taste buds are begging for after eating bland food all these days. Please Aunt S. Cook this one for me.
Aunt S: Ok, as you wish. Then don't blame me later for not warning you.
Me: ~chuckles~ I am not a kid anymore. In two year's time even our government will give me my voter's card!!!
Aunt S: ~smiling~ As you wish dear niece.

It's Lunch time & lunch is served.
Aunt S: Sia, are you OK? Your nose just turned red.
Me: Of course Aunt S. It's just that I have little cold!
Aunt S: ~trying to hide her smile~ Oh, then why are you crying?
Me: ~wiping her eyes~ He he… I am not crying. It's just that I miss Amma and just realised how you both look alike and cook in a same way.
Aunt S: ~trying hard not to laugh~ That's very sweet of you. Let me serve you little more of this dish you like so much.
Me: I read some where that too much of spicy food is not good for our health. Don't you think everything should be eaten in moderate? Can I have another glass of water please?
Aunt S: ~chuckles~ That's right. Spicy food is not good for kids. But you just said that you are not a kid any more and grown ups can handle this kind of spicy food.
Me: Oh yes, I looooooooove Spicy food. I am just worried about uncle as he is missing such a wonderful dish. I don't want to end up licking the dish clean and disappoint him!
Aunt S: ~laughs out loud~ OK dear, we don't want to disappoint uncle. Is there anything you would like to eat?
Me: How about that ice cream you said you bought for me? And also your special Shrikhand?
That was the day I was introduced to fiery, hot and spicy
Chettinad Cuisine
by my Aunt S. That day she made spicy Garlic Kulumbu on my request and it was like fire exploding in my mouth and then in my tummy. The flavours just hit you hard and you are left with smoke coming out of your mouth! First it hits your tongue and then you can feel it sharply spreading to your stomach. I would be lying if say it was love at first bite. It took me quite few years to actually enjoy this fiery hot Chettinad Cuisine. Little high dose of red chillies, peppercorns with tamarind gives it very unique flavour.
Although predominantly Chettinad cuisine is famous for its non-veg fair, it has good collection of Vegetarian menu to choose from. With a spice blend of ginger, garlic, mint, dry red chilly, cumin, curry leaves and 'king of spices' peppercorns it is something you need to try to experience the real pleasure of flavours bursting in your mouth. One favourite of mine is
Mushroom Chettinad
which my Aunt made quite often. Chewy mushrooms cooked with fiery dry chillies and a pepper corn is sure to win every spicy food lover's heart. While the roasted channa dal gives it a nutty flavour, tamarind gives it tangy punch and flavourful mustard and curry leaves temper just makes it finger licking good. I followed recipe from
this site
which very much looks like what
Nupur
has posted. Increase or reduce the chilli and peppercorn depending on your spice scale you can handle. But boy, do I like it hot it or what!!! I am sending this to Lisa and Holler's
No Croutons Required
and this month's theme is Mushrooms.

Print This Recipe
---
Mushroom Chettinad
(Spicy, Tangy Mushroom Curry from Chettinad)
Prep Time: 10 mins
Cooking Time: 15 mins
Serves: 2-3
---
Ingredients:

12-14 Mushrooms, roughly chopped (I used Button Mushrooms)

¾-1 tsp Tamarind Paste

2 tbsp Coriander Leaves, finely chopped

Salt to taste

For Spice Powder:

1 tbsp Channa Dal (Split Yellow Peas)

3-4 Dry Red Chillies, halved (Adjust acc to taste)

1 tsp Black Pepper Corns (Adjust acc to taste)

For Tempering:

1 tsp Mustard Seeds

Few Curry Leaves

1 tsp Oil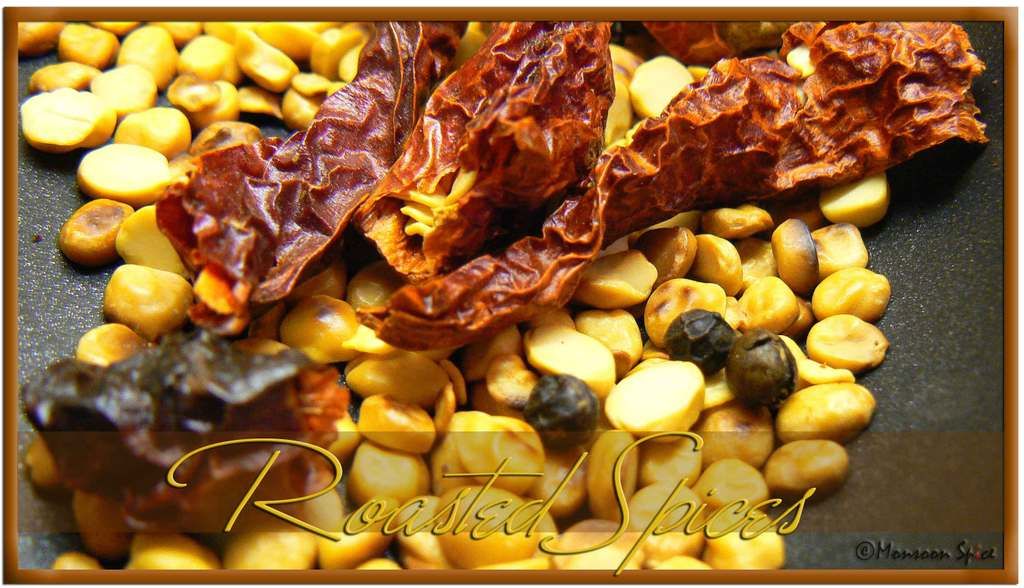 Roasted Spices for Mushroom Chettinad
Method:
Wash, pat dry and chop mushrooms into bite sized pieces and keep them aside.
Dry roast channa dal, dry red chillies and peppercorns in a skillet on a low-medium flame till dal turns golden brown (Approx 2 mins). Cool and grind them to smooth powder and keep aside.
Meanwhile, heat oil in a pan and add mustard seeds. When they start to pop and splutter, add curry leaves and sauté for few seconds.
Now mix in chopped mushrooms and sauté on medium heat. When they start to sweat add salt to taste, ground spice powder and mix well. Sauté gently on a medium flame for 1-2 minutes making sure that spice mixture doesn't stick to bottom of the pan.
Add tamarind paste and sprinkle little water if necessary and mix well. Cook for another minute or so on medium flame sautéing in between.
Garnish with chopped coriander leaves and serve hot with Chapatti or plain steamed Rice or stuff it bewteen bread for spicy sandwich and enjoy.

---
Note:
Other way to serve this spicy mushroom dish is to layer in between whole wheat bread with salad greens and serve as one spicy sandwich. The spicy, meaty mushrooms goes very well with crisp salad green and bread and makes one complete, satisfying meal.

Other Spicy and Tangy Chettinad Recipes blogged in Monsoon Spice are