Winter has come early to our neck of woods. Last night the wind blew, trees shed their last of few leaves and a light rain kissed our parched landscape with thick frost giving it white ghostly look. With temperature dropping to minus degree Celsius, it was the perfect night for comfort food. I know you will agree with me that comfort food is one of the nice things about these chilly cold nights...
So what exactly is Comfort Food? In my search for a clear definition of Comfort Food I can say that I am yet to come across any place which explains to me what exactly comfort food is. I can see some of you rolling your eyes and saying why she has to make everything look so complicated. Doesn't she know the simplest definition of comfort food, a food that provides comfort when eating? But wait, don't you agree with me that the definition of 'Comfort' is quite vague. It's not necessary that what provides comfort for one may make other person shriek in horror. When I say Egg Plant/Brinjal Sambar is my comfort food, I can see Krish running a mile away from it. We have to look beyond the word 'comfort' itself in order to get a better definition.

Dictionary.com defines Comfort Food as


Noun




"Food that is simply prepared and associated with a sense of home or contentment or food that is simply prepared and gives a sense of wellbeing; typically food with a high sugar or carbohydrate content that is associated with childhood or with home cooking."


Yourdictionary.com defines Comfort Food as


Noun




"Any food eaten not only for its pleasing taste but also for a sense of contentment, nostalgia, etc. that it provides."
Take quick look at the list of comfort foods listed in
Wiki
,
About.com
. Most of the things listed don't fall into my category of comfort food. So is comfort food is based on regional, ethnicity? Or is it defined by it being entrée, main dish or dessert or anywhere else it might sit on a menu card? If someone says that they eat junk food on daily basis, first thing which might cross my head is what an uneducated palate that person has. But if the same person is to tell me that junk food is his/her comfort food, will that make me think twice and make me perceive him/her in any other way? Yes, I think it will on some level.
Comfort food for me is food I qualify as something worthwhile and is a food I enjoy. It is something which I wouldn't find in any star restaurant's menu. When I am sick, or tired, or far from home I yearn for the gastronomic equivalent of warmth I get from my loved ones. It may be a warm sweater, a kiss on the forehead, a favourite blanket or a food that reminds me of home. My comfort food changes depending on climate, occasion and whom I am with. It's cold Salad with chilled Yogurt and Ice Cream in summer, a piping hot bowl of Soup or Dal with Rice in winter. A bowl of Rasam is what I crave for when I miss my Amma and a fattening double cheese Veg Deli is what I need when hungry me cross MacDonald's. White Rice with Curd and Pickle is all I need when I am alone at home and its 3 course meal which comforts me when I am with my family. Comfort food makes me feel good because it reminds me of my childhood, of my mother, of good times and good friends and it gives me a warm, fuzzy feeling.
Without any doubt Dal is the quintessential comfort food! Unpretentious, rich in nutrition I feel good whenever I make Dal and eat it. When I am worn out and the world isn't such a nice place to be in, I make simple Dal with Rice. When time is short but dear ones must be fed with joy and not pressure, I make Dal with some Palya. Okra/Bhindi/Ladies Finger is one of the most favourite vegetables at our place. When I found these small and tender bhindi in our local store I could no longer stop myself from buying a big bagful of them. Instead of everyday plain dal I wanted to experiment by adding some vegetables which will compliment the spicy and sour taste of this dal and I felt Okra will do that trick. For my amazement it not only complimented the dal but tasted very delicious. It was one experiment which produced wonderful results and I am going to make this again and again. These tender okras are fried in little oil till they are crisp and then simmered in sweet, sour and spicy dal is a perfect comfort food for me. I am sending my dear friend Linda who is hosting this month's
JFI-Toor Dal
this comforting bowl of
Fried Okra Dal
. I hope you enjoy this one Linda:)

Print This Recipe
---
Fried Okra Dal
Prep Time: 10 mins
Cooking Time: 30 mins
Serves: 4-5
---
Ingredients:

15-20 small tender Okra

1 cup Toor Dal/Masoor Dal

1 small Onion, finely chopped

1 large tomato, finely chopped

2-3 Garlic flakes, finely chopped

1 inch Ginger, crushed and chopped

2-3 Green Chillies, slit

1 lemon sized Tamarind Pulp

1-1½ tbsp Jaggery

½ tsp Turmeric Powder

2-3 tbsp Coriander Leaves, finely chopped

1-2 tbsp Oil

Salt to taste

For Tempering:

1 tsp Mustard Seeds

½ tsp Jeera/Cumin Seeds

1 Dry Red Chilli, broken

A big pinch of Hing/Asafetida

Few Curry Leaves

½ tbsp Oil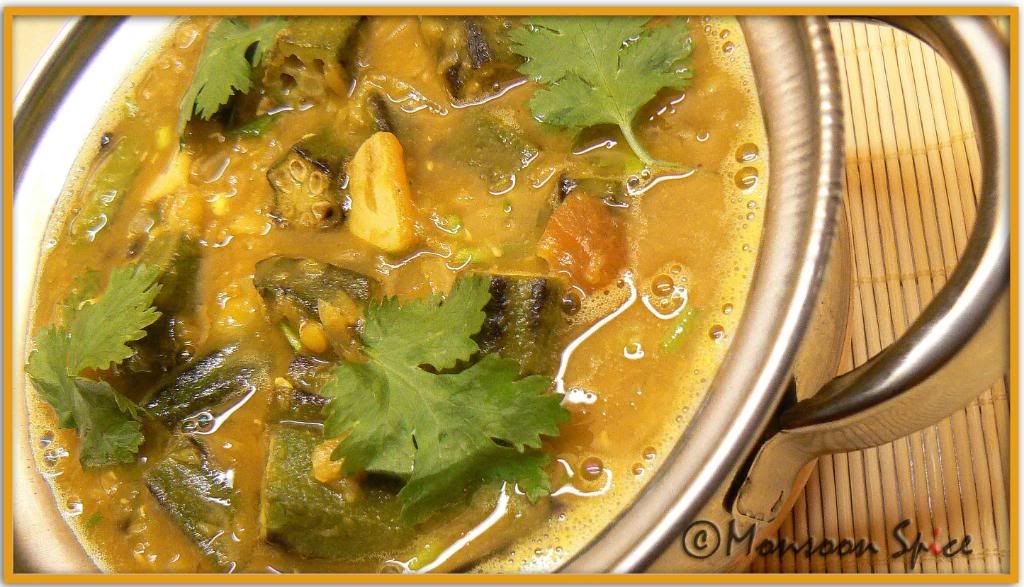 Method:


Cook toor dal in pressure cooker in enough water for about 15 minutes till the dal is cooked and mushy.
Soak tamarind pulp in about 1 cup of warm water for 5 minutes and squeeze the juice and discard the pulp.
Mean while, trim the ends of okra and cut them into 1 inch pieces.
Heat oil in a pan and sauté it continuously at medium-high flame for about 8-10 minutes till okra turns crisp and brown. Keep this aside.
Heat ½ tbsp of oil in a pan and add mustard, broken red chilli, jeera, curry leaves and hing in that order and sauté.
Once the mustard starts to pop and splutter, add finely chopped garlic and sauté it for about 30 seconds. Then add finely chopped onion, slit green chillies and sauté it for around 1-2 minutes till onions turn translucent.
Mix in lightly mashed cooked toor dal, squeezed tamarind juice, jaggery, turmeric powder, finely chopped ginger and tomatoes and about 1-2 cups of water if needed.
Bring it to boil in a medium flame and mix in salt to taste and fried okras.
Cook over a medium flame for around 5-10 minutes till all the flavors blend well and serve hot garnished with finely chopped coriander leaves.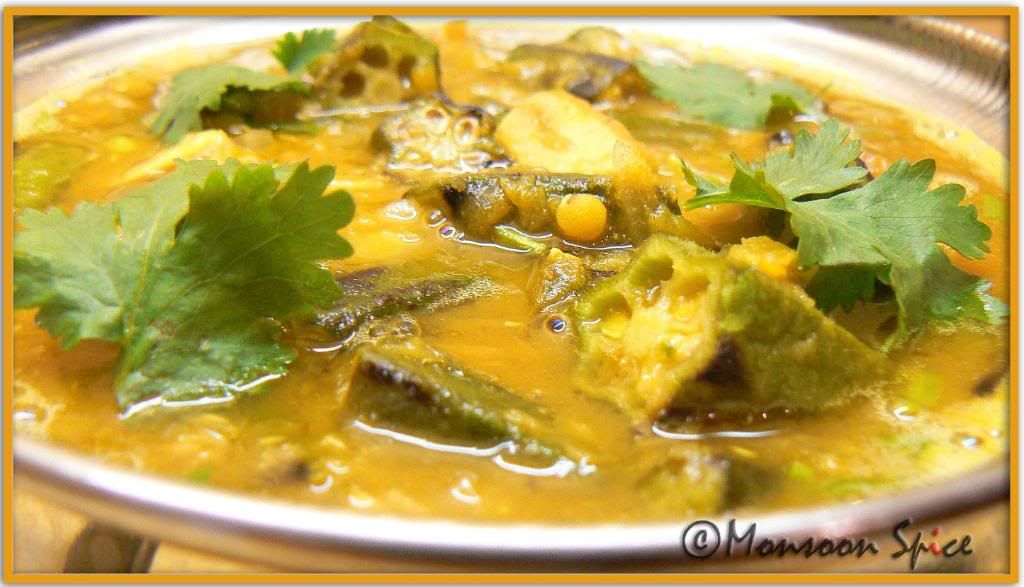 Another favourite way of cooking Okra is simple

Fried Okra Palya

. Tender fried okra is spiced with ground paste of sweet coconut and spicy sambar powder and crisp onions. The dash of lime juice adds the tanginess and creates a wonderful fusion of sweet, tangy and spicy dish.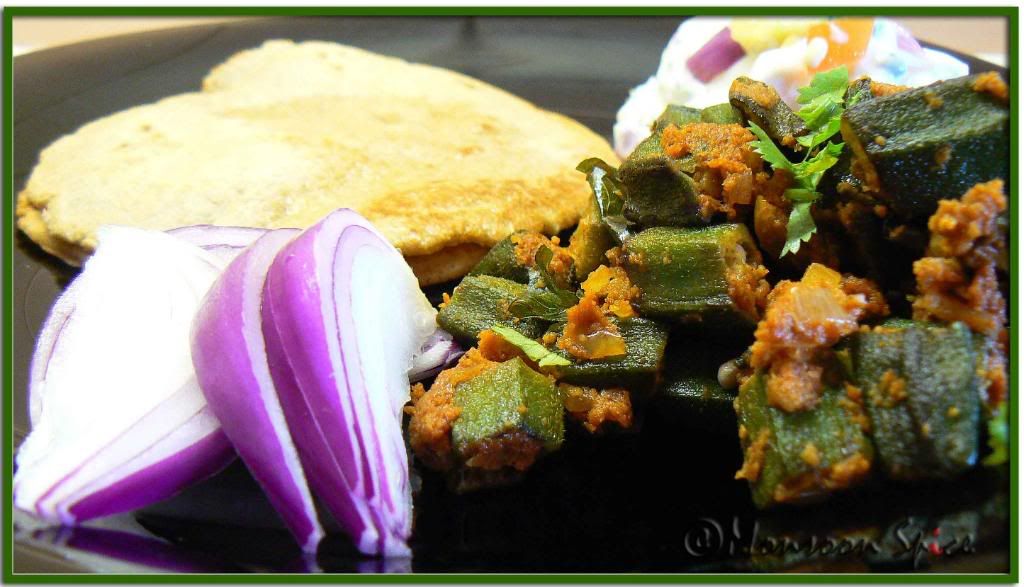 Print This Recipe
---
Sweet 'n Spicy Fried Okra Palya
Prep Time: 10 mins
Cooking Time: 20 mins
Serves: 2-3
---
Ingredients:

15-20 tender Okras, trimmed and cut into 1 inch pieces

1 small Onion, finely chopped

1-2 tbsp Lime Juice

1-2 Green Chillies, finely chopped

1 tsp Jeera/Cumin Seeds

Few Curry Leaves

2 tbsp Coriander Leaves, finely chopped

1 tbsp Oil

Salt to taste

Grind to Paste:

½ cup Coconut, fresh or frozen

1½ -2 tbsp Sambar Powder

½ tsp Tamarind Paste/2 tbsp Lime Juice

½ tbsp Jaggery (optional)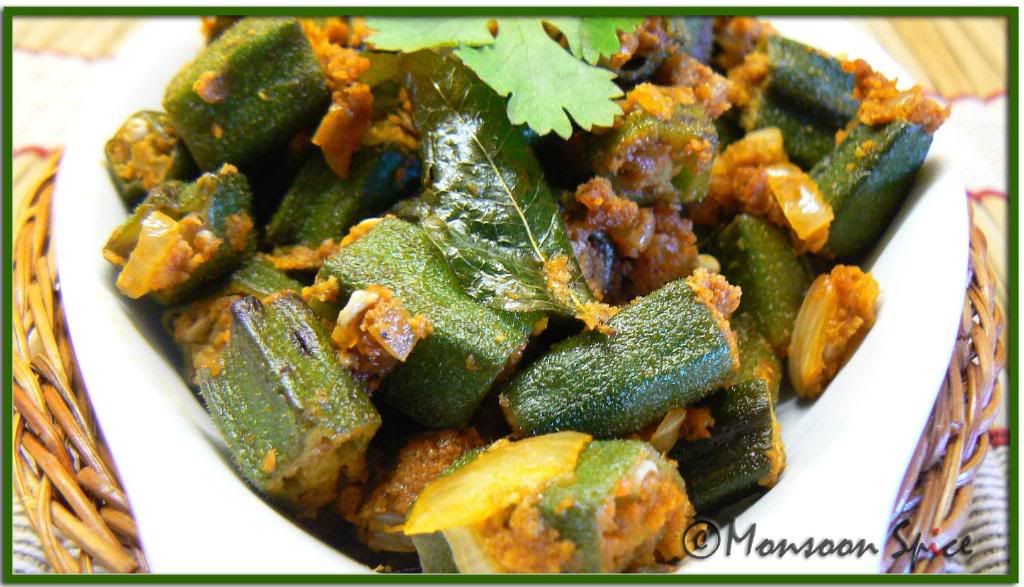 Sweet 'n Spicy Fried Okra Palya




Method:


Heat oil in a pan and add cumin seeds and curry leaves. Sauté it till jeera starts to sizzle and mix finely chopped onions and green chillies.
Sauté it till onion turns light brown and add cut okra pieces. Fry these okra for about 7-10 minutes over medium-high flame till it is crisp and brown.
Now mix in ground paste and keep stirring for about five minutes on medium flame. Make sure that the paste doesn't stick to the bottom of the pan.
Switch off the pan and mix lime juice and mix well. Serve hot garnished with coriander leaves with rice or roties.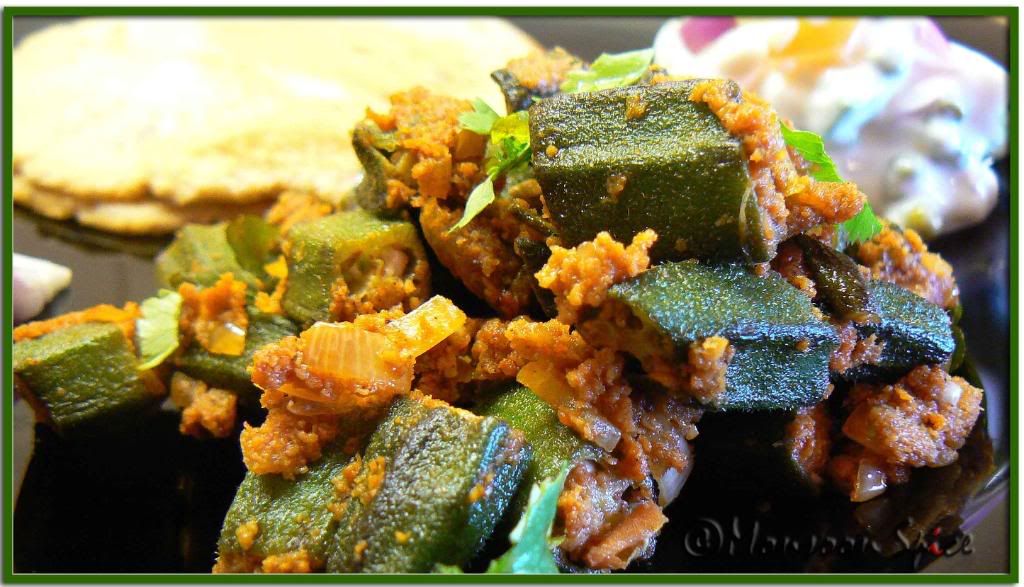 Sweet 'n Spicy Fried Okra Palya