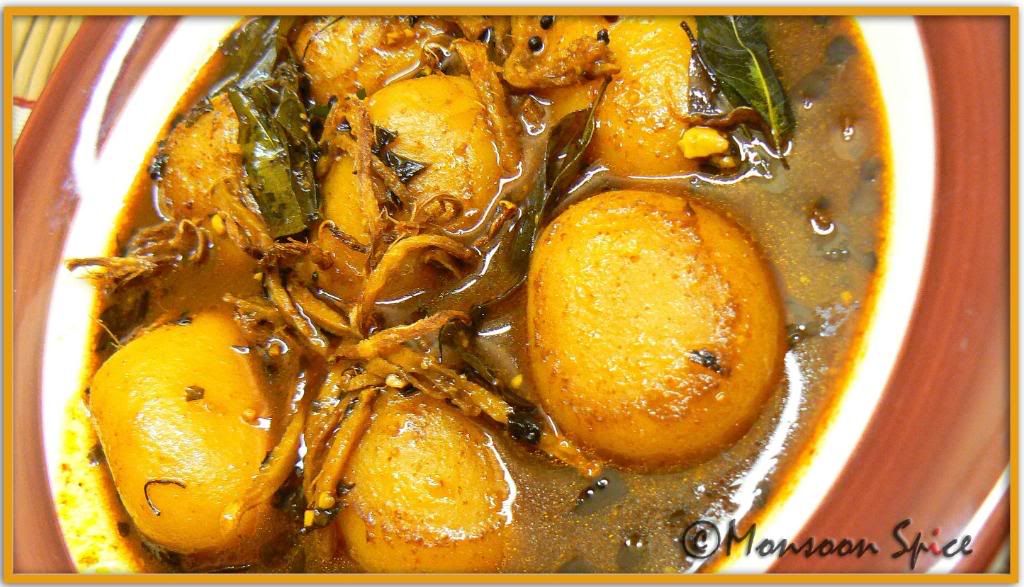 The symptoms were there but it was not known to me or to my family for quite many months until last week. Like many people I had been unknowingly affected by cooking shows and it was too obvious not to see what I was doing. The first sign of it showed on one weekend morning when I realised I was talking to myself. I had been making our favourite breakfast Upma. "First we chop these 'lovely' onions very finely. Don't we all love the aroma of onions frying in oil", I whispered. "Next chop these hot green chillies and these 'gorgeous' plump red tomatoes. Make sure that you have sharp knife so that tomatoes are chopped into nice small chunks without much difficulty", I said flashing all 31 teeth to my virtual audience who were watching my actions keenly. "Pick few coriander leaves and chop them very finely…. Mmmm… I love the fresh smell of these coriander leaves and always end up adding more", I winked at my fans. "You know what the trick behind good Upma is? It is to roast the semolina in low flame till it turns golden brown and to add water little by little when cooking", said to my all impressed audience.
Yes, I have had fallen a victim of "food porn" in capital letters. Fallen prey for all those flashy cookware and utensils, the way food is cooked and presented, the charming chefs (
Jamie Oliver
is the one;). It shouldn't be a big shock for a person who is a foodie and has her own food blog going on full swing. It shouldn't be a big shock to her husband who is getting used to the sight of his wife clicking pictures of each and every thing which comes under the category food or anything edible. But talking to myself in kitchen pretending to be a celebrity chef on TV is little too much for my own sake. But hey, it was kind of fun while it lasted ;)
With too many cooking shows in too many channels hosted by too many chefs and too many food blogs I some time wonder at this new craze of cooking. You flip the channels and you will find
Gordon Ramsey
's explosive attitude showering F-words at would-be chefs in one channel,
Nigella Lawson
whipping delicious (???) food in minutes in other channel. Other channel has its viewers glued to their screen with all sorts of so called celebrities from politics, movies, music backgrounds trying to win Master Chef fame in one show and next one has tight competition going on for the best dish prepared by Michelin-star chefs for Her Majesty, The Queen. I am not sure if the number of people and time spent in preparing food in their own kitchen has increased or is it just another TV show gimmick! But one thing is for sure, the attitude towards cooking has surely changed. In spite of working late in offices or workplace outside home, both men and women are spending much more time with their families in the kitchen cooking everyday meals. Few years before, it was just the lady of the house whom we would see slogging in her kitchen. With changing time, attitude and lifestyle, we can see many men cooking along with their spouse at home. (Well, at least this is the case in our home:)
Coming back to Cookery shows, Ginger-Potato Curry is adapted from the recipe demonstrated by Rakesh Sethi of Mirch Masala fame. With free-view channels with our TV package, I came across this show on
Star Plus
and watched Mr. Sethi cooking this dish which immediately caught my attention. This was the first time I came across a recipe which uses so much of deep fried ginger and using it as the main ingredient in a curry. With
Sunita
hosting this month's
Think Spice
event where she asked us to cook with Ginger, I could hardly stop myself from giving it a go. I have made few changes to the recipe to suit my taste. Chef Rakesh used 1 cup of ginger julienne for 250 gms of baby potato which I thought will be too bitter and spicy for our palate. I added 1 tbsp cashew paste because I wanted little thick gravy than thin watery one. It was spicy, sour and sweet with tingling taste of fried ginger and sweet taste of baby potatoes and it tasted better the next day when potatoes nicely absorbed the flavours. Next time I might roughly mash potatoes for the flavours to blend well. So with all these changes here is my Ginger-Potato Curry.
Ginger-Potato Curry

Print This Recipe
---
Ginger-Potato Curry
Prep Time: 15 mins
Cooking Time: 20 mins
Serves: 3-4
Recipe Source: Rakesh Sethi of Mirch Masala
---
Ingredients:


10-12 Baby Potatoes, cooked and peeled
¼ cup Ginger juliennes (Original recipe called for 1 cup)
½ tsp Turmeric Powder
1-1½ tsp Chilli Powder (preferably Kashmiri Chilli Powder)
1 lime size Tamarind Pulp
½ tsp Methi/Fenugreek, lightly roasted and powdered
1-2 tsp Brown Sugar/Jaggary (adjust acc to taste)
2-3 tbsp Coriander Leaves, finely chopped
1 tbsp Cashew Paste (Optional)
Salt to taste
Oil for deep frying



For Tempering:


1 tsp Mustard Seeds
2 Dry Red Chillies, broken
Few Curry Leaves
¼ tsp Hing Asafoetida
½ tbsp Kasoori Methi
1 tbsp Oil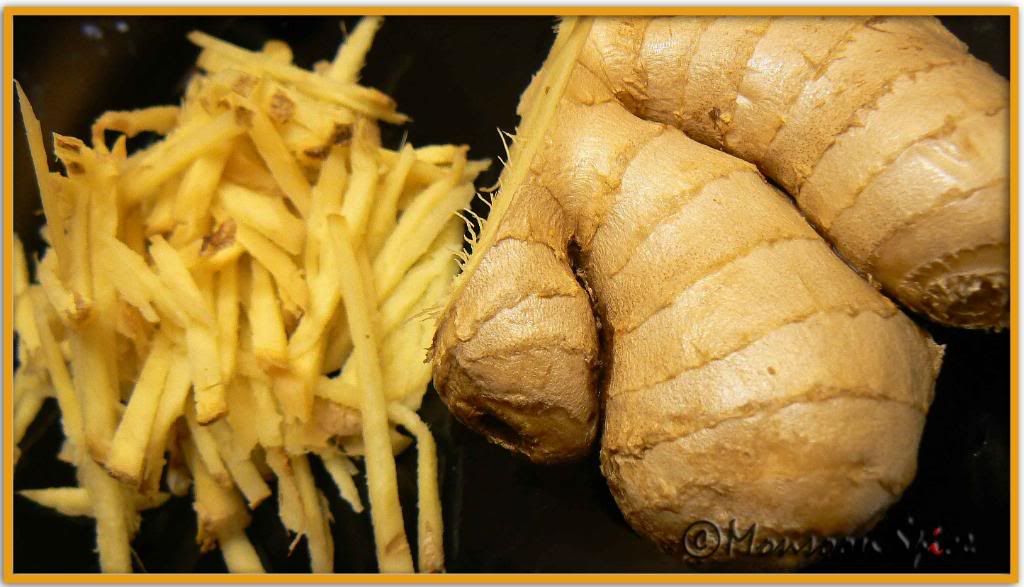 Ginger Juliennes Before Frying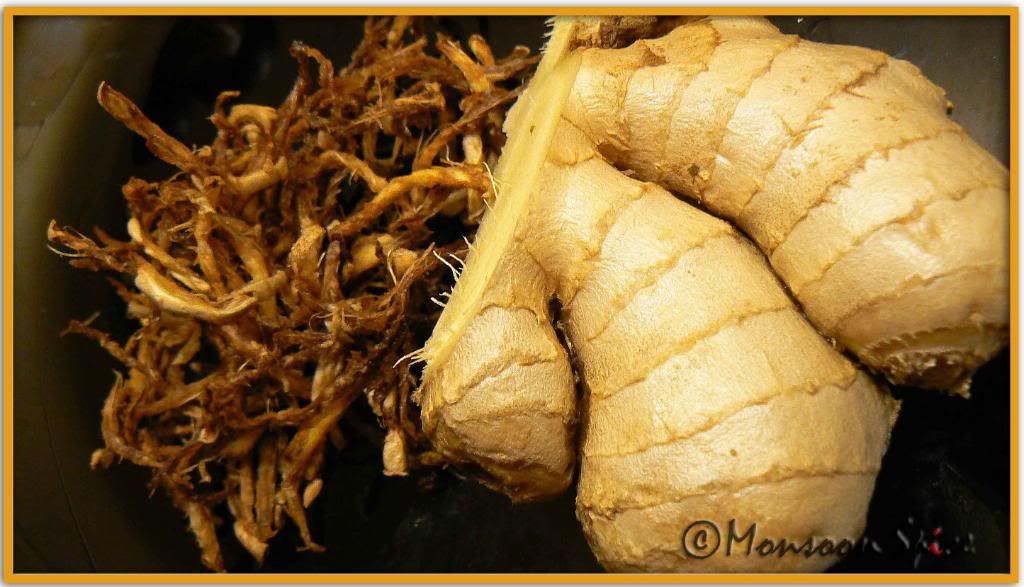 Ginger Juliennes After Frying
Method:
Place tamarind pulp in ½ cup of hot water for around 10 minutes. Squeeze the pulp and collect the puree and discard the pulp.
Mix turmeric powder, red chilli powder, tamarind puree, salt to taste with ½ cup of water. This is the basic marinade for the potatoes. Prick cooked and peeled baby potatoes with fork and place then in the marinade. Mix them well and keep aside for around 15 minutes (Chef didn't marinade the potatoes and used it directly). After 15-20 minutes, separate the potatoes and the marinade.
Deep fry ginger juliennes in heated oil in a slow flame till they turn brown and crisp. Drain them on paper towel and keep aside.
Heat 1 tbsp oil in a pan and add mustard, red chillies, hing and curry leaves.
When mustard starts to pop and splutter, add marinade mixture carefully and mix well. Bring this mixture to a boil at medium flame.
Now add fried ginger, kasuri methi, brown sugar/jaggery, cashew paste and mix well. Cook for further 5 minutes stirring occasionally.
Add baby potatoes and methi powder and cook over a low flame for 10-12 minutes till all the flavours blend well.
Serve hot garnished with coriander leaves with rice or roties.