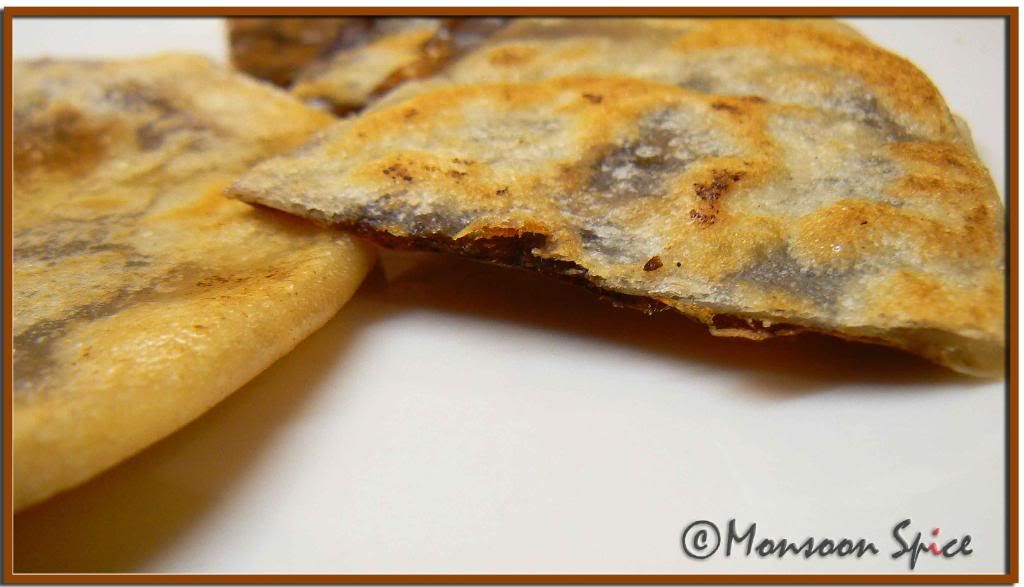 Winter is beautiful in India. This is the time when dawn is lightly touched with frost; a soft new light appears from heavenly sky. The thundering monsoon and damp earth give way to 'Kartika Maasa', the golden season of October and November. Kartika is a season of silky and golden sunlight and blossoming trees. There is the shivering anticipation among every form of life waiting in anticipation for what mother earth has to offer. It is the season when the mother earth is all dewy and she takes on a delicious newness. The sun turns pleasing honey-gold spreading golden sparkles to whatever he touches. It is the season of festivals, and it is the time to celebrate Deepavali, a festival of lights.
Diwali is a celebration of the triumph of good over evil, light over darkness and knowledge over ignorance. Diwali comes from the Sanskrit word 'Deepavali', meaning "row of lamps". It is a time for feasts, fireworks, remembrance, forgiveness and a renewal of life. Clay lamps of all size and shape are lit along verandas, on rooftops, on windowsills, along driveways, in gardens and courtyards and colourful paper lanterns are strung to the high roof. All pooja utensils, the prayer room is washed and cleaned to their sparkling best. The pooja mantap with all kinds of god and goddess radiates a different glow of energy decorated with colourful array of marigolds, roses and jasmines and the heady aroma of incense sticks and dhupa. Each and every streets and nook 'n corners are decorated with bright colourful lights and paper lanterns, shops are dressed in shimmering golden streamers, and fairy lights are wound around trees transferring the whole world to festive season.
For three little kids, the Diwali day would start at the very wink of dawn with sandalwood and oil bath called 'Abhyanga'. Although it was not one of the things they enjoyed, just the thought of the day ahead would make it for getting up that early and oil baths. Their parents would exchange smiles looking at their kids smeared in oil, yawning and rubbing their eyes to get rid of slumber and lightly shivering to the cool breeze of dawn tickling their scantly clad bodies. After hot water bath the kids were dressed in their new and crisp cloths ironed by their father and ready to receive their family and friends. While their mother created beautiful Rangolis, colourful geometric and floral patterns made from coloured rice flour, at the entrance to the house; the kids were given the task of making small S-shaped foot prints with five dots on top arch from door step to pooja room. It is believed that these prints represent the little feet of Lakshmi, goddess of wealth, who makes a trip to every home on Diwali night to survey family fortune and decides whether they need any boost. The little kids made it sure that they painted it well so that the goddess didn't get lost on her way to pooja room.
After heavy breakfast, mother would start cooking special treats apart from the one's which she had prepared days before with the help of her mother and cooks to send it to relatives and friends. Different sizes of colourful boxes of dry fruits and nuts, sweets, gifts wrapped in colourful papers would sit in corner table to be given to the guests visiting. It is the day when foe becomes a friend and generations of hatred seems to dissolve in the soft glow of light from diyas. It is the day when tradition is passed from one generation to the next while the lamps illuminate quietly, shimmering over night, encircling the parents and children in its golden glow. As the late night approaches and as the harsh electric lights are switched off, small quiet flames from diyas and candles flicker amid bunches of marigold, hibiscus, roses and jasmines. While whole street sleeps under the dark blanket of glittering stars, the kids dreams of goddess Lakshmi emerging from the soft glow of diyas and stepping into home bringing wealth and well-being with her.
For three days and nights families and friends gather to celebrate the festival of lights. While the kids set off fireworks, elders sit behind, keeping an eye on kids and chat about passing years. The smile on every kid's face matches that of sparkling diyas. Sparkles, rockets and torches explode in the sky, shedding red-orange, blue-green flames. When the noise of bursting fire crackers drowns conversations, the ladies bring out the feast to be devoured. There is no dining table with silver cutleries and delicate china sets. Families and friends sit together under the sparkling sky and eat from green banana leaves which looked like an artist's colour palette with different savouries and sweets and with range of curries, rice and roties… The noise of Diwali does not distract from its serenity. This is the festival which brings together families and friends and thus brings happiness and content of being with your loved ones and sharing that joy. Diwali is the time to stop, to sit back, to gaze at the sparkling sky and to allow ourselves to be braced with the love and affection of our loved ones.
I always loved quiet Diwali than noisy firecrackers where I would light the clay lamps with my siblings and parents. I guess I am among the few who liked noiseless Diwali with hundreds of small lamps glittering like stars around me. With the electric lights switched off, these small diyas radiated sense of calmness and serenity which I always feel is the true meaning of Diwali, a festival of lights. Sitting under an open sky, laying my head on my Appa's lap, we kids enjoyed stories of Lord Rama, devil Narakasura, goddess Lakshmi with keen interest even though we had heard the same stories for zillionth time. With all these fond memories and nostalgia K and I made Kharjura Obbattu (Date stuffed Poli) on Deepavali eve. I have many sweet memories attached with this dish and I couldn't think of any other thing to cook for this Diwali. Steam cooked sweet dates is ground with dash of jaggery and lightly spiced with cardamom and nutmeg is stuffed between the maida dough and tawa fried with ghee is one dish which sure to win everyone's heart. Looking at the picturea you can easily guess that its my first attempt at making Obbattu ;) True to my Flow Chart, I am sending this to Vee's Jhiva Special Edition-The Festive Series, Meeta's MM-Traditional Feasts and Chandrika's AFAM-Dates. Ek teer, teen shikar ;)

Print This Recipe
---
Dates Obbattu
(Date Stuffed Indian Flat Bread)
Prep Time: 30 mins
Cooking Time: 30 mins
Makes: 5-6
---
Ingredients:




For Kanaka/Dough:


1 heaped cup Maida/All Purpose Flour
A big pinch of Salt
2-3 tbsp Oil
Ghee for frying



For Hoorana/Stuffing:


1 cup Dates, deseeded and quartered
1 tbsp Jaggery (adjust acc to taste)
1 tbsp Ghee
¼ tsp Cardamom Powder
A big pinch Nutmeg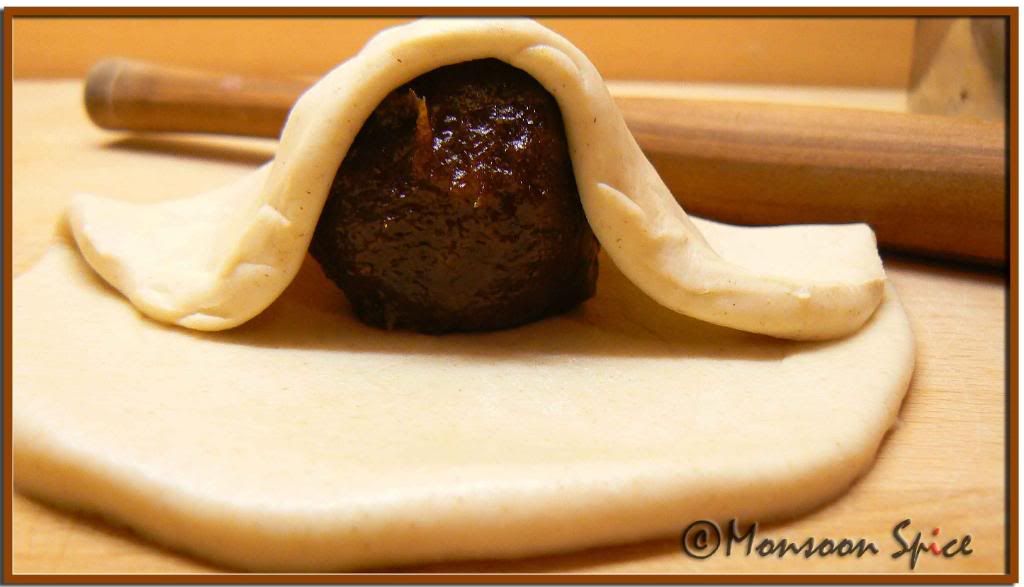 Kanaka with Dates Hoorana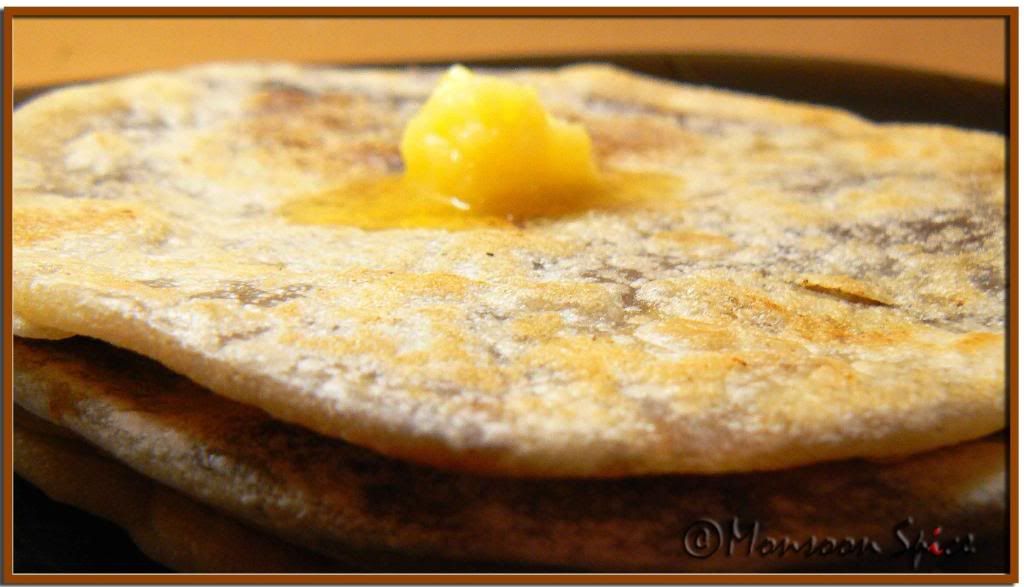 Method:
Place plain flour and salt in a vessel and make it into stiff dough of chapatti consistency by adding little water at a time. Keep it aside covered with wet cloth for around half an hour.
After ½ to 1 hour, add oil and knead the dough till all the oil is absorbed and the dough becomes soft and elastic. Keep this dough aside for another half an hour or so.
Mean while, steam cook dates for around 10 mins till they become soft and mushy.
Cool these dates and place them in a blender with jaggery and blend them without adding any water.
Heat ghee in a pan and to this add ground paste and keep stirring on moderate heat for around five minutes. Make sure to stir at medium flame so that the stuffing doesn't stick to the bottom of pan.
Mix in cardamom and nutmeg powder and switch off the flame. Let the stuffing mixture cool for sometime.
Make golf sized balls of dough and date stuffing by applying little ghee to your hands.
Grease an aluminum foil/banana leaf/thick plastic wrap with little oil and place maida dough ball in center.
Press the dough with your fingers and start spreading it to a circle stating from center, working towards the edge. Make poori sized circle of about 3 inch diameter and place date hoorana/stuffing ball at center. Close the hoorana/stuffing by pulling the dough on all sides.
Slowly press the dough with your fingers to about ½ cm thick and 6 inch diameter. Use little ghee/oil if the dough sticks to your fingers.
Heat griddle/tawa and gently transfer the obbattu to tawa and cook on both sides by applying little ghee till little brown patches appear and they are cooked well.
Serve warm with ghee and enjoy.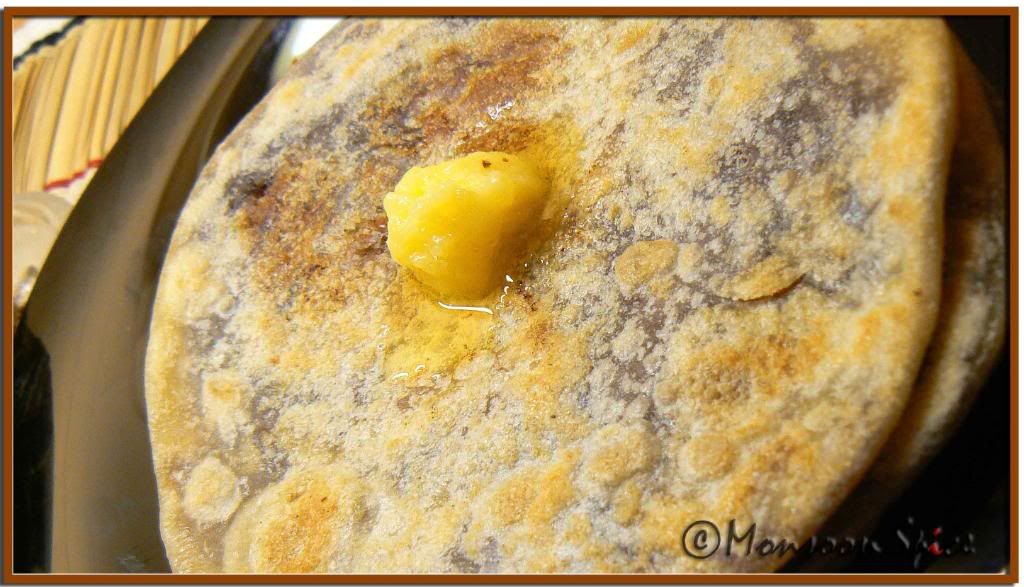 Dates Obbattu with Ghee


---
Tips:

If you find it difficult to spread the dough with your hands then place another greased sheet on top of the dough and roll it gently using rolling pin.
The left over obbattu can be freezed once it is completely cooled down for about 3 weeks in freezer. Place a parchment paper in between each obbattu and place them in zip lock bag and freeze. When required, thaw and heat it using a griddle/pan and serve.
You can replace jaggery with honey or sugar based on your preferance and maida with wheat if you are health conscious.

---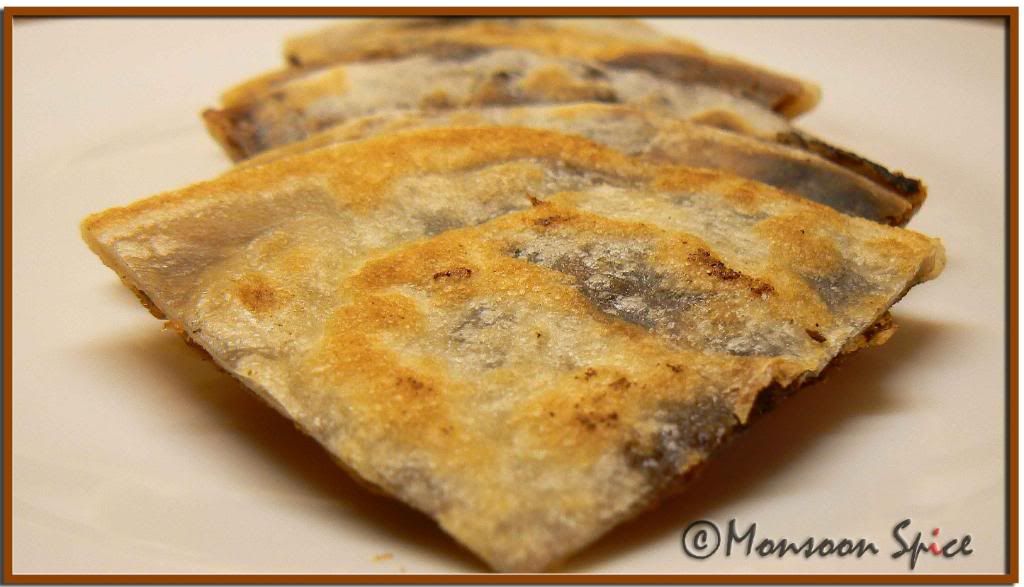 Dates Obbattu
---
Note:
Another Sweet recipe on Monsoon Spice using Date is
Kharjura/Date Payasa
.
Here
is Richa's recipe for Poli where she adds pistachio powder to dates stuffing.