Title:

Food Blogger's Kitchen

Characters:

He (Hubby Dear), Me (Food Blogger)

Scene 1:

Weekends at He & Me's Home

He: What are we gonna have for lunch?

Me: Mmmm… Give me few mins and I'll tell you.

~after Few+ mins~

He: Err… Have you decided on our lunch menu?

Me: Yeah, We are having XYZ cuisine.

He: Sounds interesting… I never knew you could cook XYZ dish.

Me: ~Chuckles~ Me neither ;) I got to Google for the recipes.

Me: ~Smiling sweetly~ I need few ingredients which are not in our pantry. We'll need to shop for them NOW!

He: Why don't we just cook something we know?

Me: ~Shaking her head~ Oh No!!! It's for one of the Food Blog Events.

He: ~Rolls his eyes~ OK as you say.

Scene 2:

For Super Market Scene, Click this Link;)

Scene 3:

Back at Home

He: ~Puzzled~ Why are you adding XXX ingredient? It's not listed in the ingredients list here!!!

Me: Oh!!! This ABC event calls for this XXX ingredient. That's why I HAVE to add this ingredient.

He: ~More Puzzled and Confused~ I thought you were cooking XYZ cuisine.

Me: Of course I am cooking XYZ cuisine along with the ingredient required for ABC event. Mmm… Let me see if I can add DEF ingredient for DEF event and make it 3 in 1 post!!!

He: ~Screams and Faints~ SOS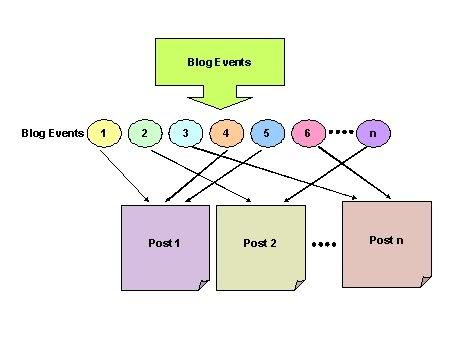 If you are among those people who are laughing at my so called joke, then you surely belong to Food Blogger community. And the one's who are still confused about ABC, DEF, XYZ etc just forget it and check out the recipes. Today I am presenting my humble Bihari Thali containing
Phulka, Aloo Choka,
Subziyon Ka Panchranga Korma
and Kheera Raita
. This one obviously goes to this month's
RCI-Bihar
hosted by lovely Sangeeta of
Ghar Ka Khana
. If it was not for Lakshmi's Regional Cuisines of India I would have undoubtedly missed cooking and tasting fabulous food from different states of India. Apart from cooking and eating, RCI is one event which makes me do little research on that region and learn little about its amazing culture, wonderful people, and colourful history.
There is much more to Bihar than its colourful politicians. This is the state which had one of the greatest universities in recorded history,
Nalanda University
. It is the same sacred region where
Buddha
and
Mahavira
attained enlightenment and the birthplace of Sikh's tenth Guru,
Guru Gobind Singh
. With such glorious history, no wonder Bihar also boasts rich and colourful cuisine. Starting from
Indus Valley civilization
Bihari cuisine has evolved through
Maurya Empire
,
Middle Kingdoms
,
Islamic Sultanates
and
Mughal Empire
. Each and every Kingdom/Empires have left their marks on this rich Bihari cuisine and yet its simplicity makes it all the more enjoyable. For more information on Bihari Cuisine, click
here
,
here
and
here
.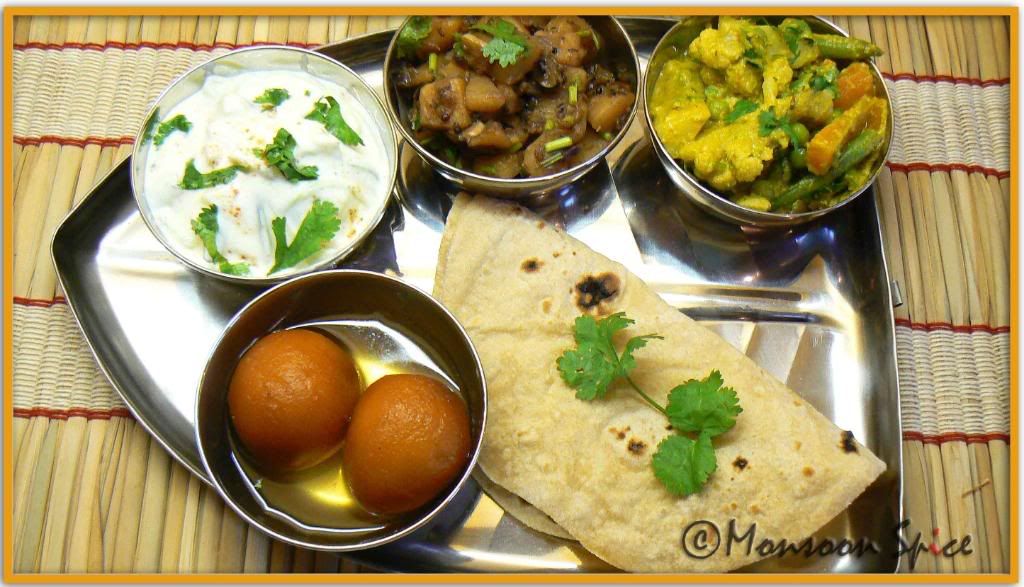 Bihari Thali: (R-L) Subziyon Ka Panchranga Korma, Aloo Chokha,
Kheera Raita, Gulab Jamoon, Phulka


Aloo Choka
is a simple dry dish adapted from
here
. Chhonkna means tadka and here I have used Paanchforan/Paanchphoran (a mix of 5 spices: Saunf/Fennel Seeds, Sarson/Mustard Seeds, Methi/Fenugreek Seeds, Kalonji/Black Onion Seeds/Nigella Seeds and Jeera/Cumin Seeds). Cubed Potatoes are lightly fried (bhoonjana) with onions and whole spices to give it a distinct flavour.

Print This Recipe
---
Aloo Chokha
Prep Time: 5 mins
Cooking Time: 15-20 mins
Serves: 3-4
---
Ingredients:

3 medium Potatoes, peeled and diced to 1 cm cubes

1 small onion, finely chopped

2-3 cloves Garlic, finely chopped

2-3 Green Chillies, finely chopped

1 tsp Amchur/Dry Mango Powder

2 tbsp Coriander Leaves, finely chopped

Salt to taste

For Chokha(Tempering):

1 tbsp Oil (Preferably Mustard Oil)

1 tsp Paanchforan

2 Dry Red Chillies, broken



Method:


Heat oil in a pan and add broken dry red chillies and paanchforan. Sauté till the spices starts to pop and splutter.
To this add chopped onions and sauté for a minute and half.
Now add chopped garlic and green chillies and sauté till onions turn golden brown.
Mix in cubed potatoes and sauté for 3-4 minutes till they turn light brown.
Add ½-¾ cups of water, salt to taste. Cover and cook till potatoes are cooked well. Keep mixing the potato pieces in between so that they don't stick to the bottom of pan. Add little more water in between till potatoes are well cooked but take care not to add more water as it is a dry curry/subji.
Mix in amchur and chopped coriander leaves and cook uncovered for another 4-5 minutes. Serve hot with rice or roties and enjoy.



Subziyon Ka Panchranga Korma

is another wonderful, aromatic dish adapted from here. Colourful mixed vegetables are simmered in sinfully delicious sweet, spicy and creamy gravy of cashews, almond, coriander leaves and coconut just leaves one craving for more.



Print This Recipe
---
Subziyon Ka Panchranga Korma
Prep Time: 10-15 mins
Cooking Time: 20-30 mins
Serves: 3-4
---
Ingredients:




4-5 cups Mixed Vegetables (I used Carrot, Cauliflower, Potato, Beans & Peas)

1 large Tomato/Tomato Puree

1 tsp Ginger & Garlic Paste

½ tsp Turmeric Powder

1-2 tsp Red Chilli Powder

1 tbsp Oil (Preferably Mustard Oil)

1 tbsp Coriander Leaves, finely chopped

Salt to taste

Ground to Paste:

2½-3 tbsp Fresh/Frozen Coconut gratings

½ tbsp Poppy Seeds/Posta Daana

10 Cashew Nuts

5 Almonds

1 tsp Sugar

2-3 Green Chillies

¾-1 Packed Cup Coriander Leaves
Subziyon Ka Panchranga Korma




Method:


Cook mixed vegetables in enough water and salt to taste for about 10 minutes and keep aside. Vegetables should be just tender. Drain the water from vegetables and keep aside. Also save 2-3 cups of drained water.
Heat oil in a pan and to this add ginger-garlic paste. Sauté for about 30 seconds till the raw smell disappears.
Now add ground paste and sauté continuously for about 2-3 minutes.
To this mix in chopped tomato or tomato puree, turmeric powder and chilli powder and sauté for another minute or two.
Mix cooked vegetables and drained water (vegetable stock) and mix well. Cook at a medium to low heat. Bring the korma to boil and simmer for another 5 minutes till the flavours blend well.
Serve hot garnished with finely chopped coriander leaves with rice or roties.


Refreshing cool-cool

Kheera/Cucumber Raita

is adapted from here.



Print This Recipe
---
Kheera/Cucumber Raita
Prep Time: 5 mins
Cooking Time: -
Serves: 3-4
---
Ingredients:

1 cup Cucumber, grated

2 cups Yogurt, beaten

¼ tsp Cumin-Coriander Powder

¼ tsp Chat Masala

A big Pinch of Kashmiri Chilli Powder

A big Pinch of Kaala Namak/Black Salt

A small Pinch Garam Masala (optional)

1 tsp Coriander Leaves, finely chopped

Salt to taste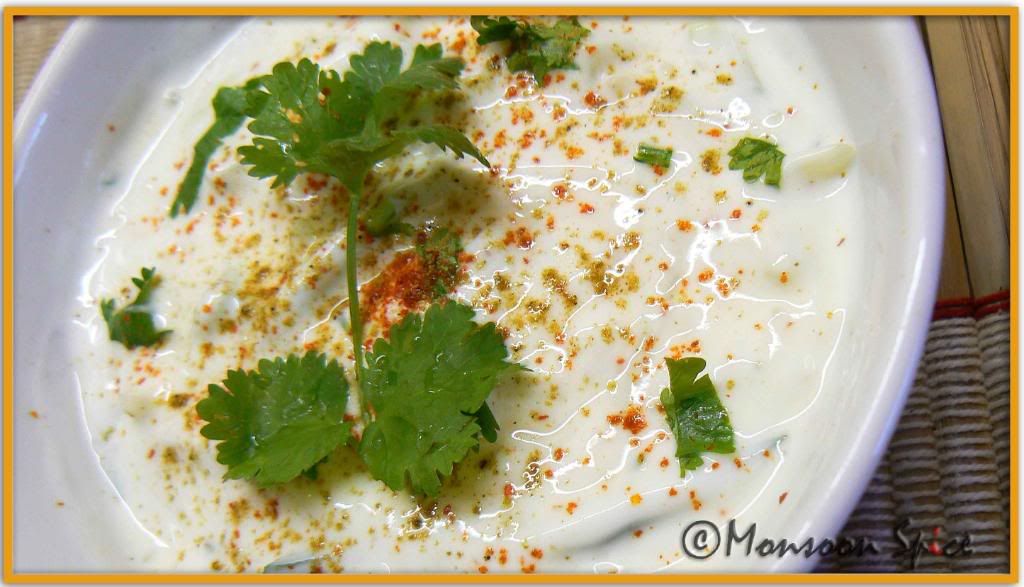 Method:
Wash, peel and grate the cucumber. I usually leave the peel as I like its crunchiness.
Squeeze excess water from grated cucumber and place it in a mixing bowl.
Put all the ingredients and mix them well.
Refrigerate raita for around 15 minutes before serving it garnished with coriander leaves.
Phulkas
are light puffed up unleavended Indian bread. Although they look like Chapatties, Phulkas are very light in texture and are usually made and served at the time of the meal.

Print This Recipe
---
Phulkas
Prep Time: 10-15 mins (excluding resting time)
Cooking Time: 10-15 mins
Serves: 3-4
---
Ingredients:

2 cups Wheat Flour or 3:1 Wheat to Plain Flour

½ tsp Salt

1 tsp Ghee/Oil

Warm Water to knead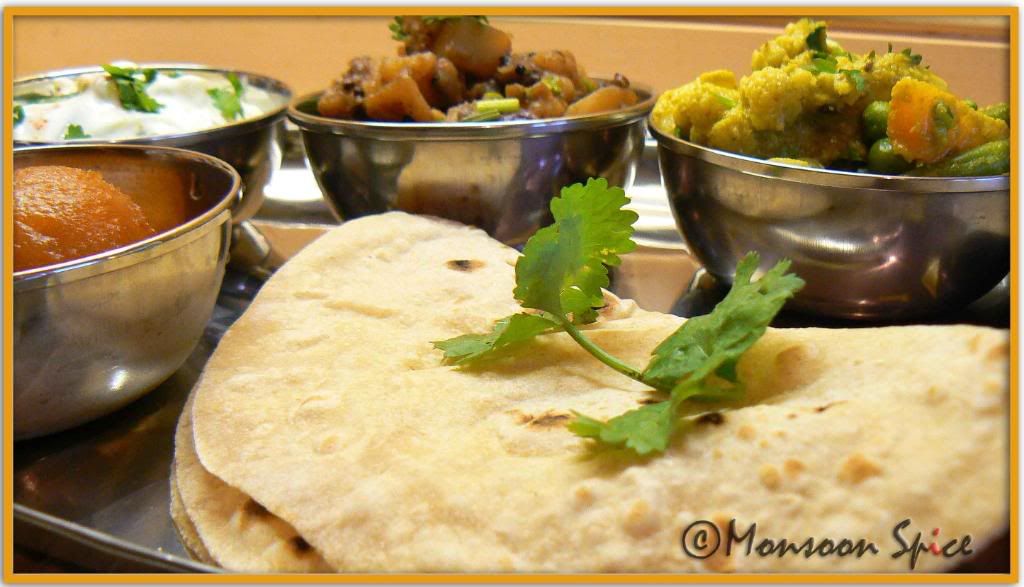 Method:


Place the flour, oil and salt in a large bowl.
Adding just enough warm water knead well to make a soft, pliable dough. Keep kneading the dough until it is smooth and elastic. Set aside for 30 minutes.
Make golf sized balls and roll each ball into a 6 inch diameter by 1/8th inch thickness discs.
Heat griddle/skillet on a medium flame. Place the Phulkas and cook for about 45 secs, until the top starts to look dry and small bubbles are formed on the surface. Flip and cook the other side similarly.
Now Take the Phulka off the tawa and place it directly on the gas flame. The Phulka will start to balloon and puff up.
Take it off the flame and serve immediately smeared with little ghee if desired.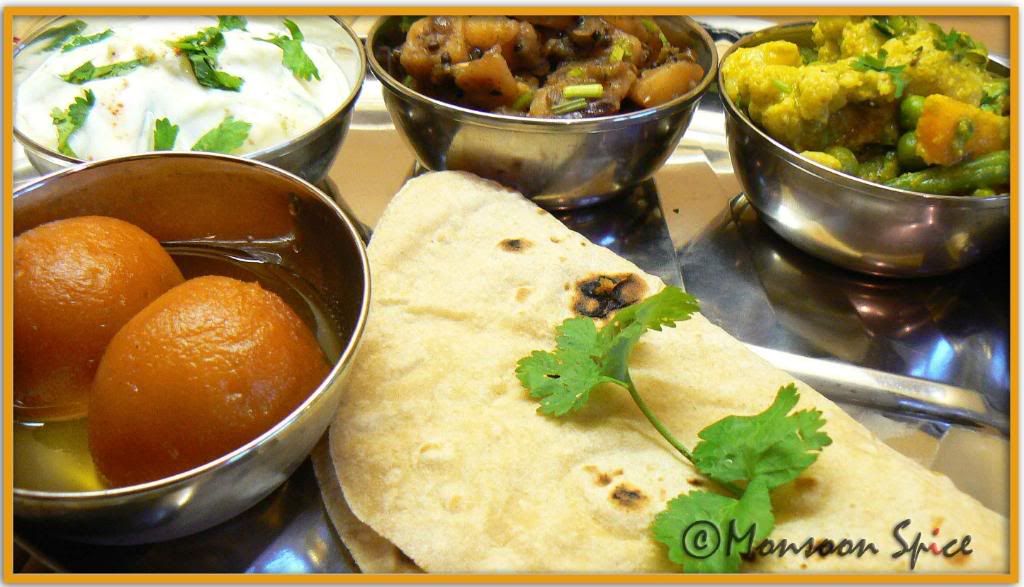 Bihari Thali: (R-L) Subziyon Ka Panchranga Korma, Aloo Chokha,
Kheera Raita, Gulab Jamoon, Phulka


---
Tips:
For fluffy, light Phulkas knead the dough 2-3 hrs before to soft and pliable dough with a smooth texture.
Use gar burner if possible as they help in making fluffy and light phulkas.
Don't lose heart if it don't fluff up nicely at first attempt. Practice and patience is needed to get a fluffy, ballooned phulkas.
---
Update:
I never knew I thought till
Camille
of
L'Assiette de Mimosa
mailed me saying she has nominated me for Thinking Blogger Award. I am thrilled and honoured because there is someone who believes I do have tiny-mini anatomy called brain ;) Well, according to my dear ones I have been known to think a time or two in my life but never made a habit of it till now. Grr… This award will surely make them stop and think again ;)
Thank you
Mimosa
for this award. What can I say! I always felt French is one of the most romantic and beautiful languages and it felt really great to see nice things about my blog in your beautiful blog :) I am flattered. Now following the strict tradition/rules, I am supposed to pass this award to five bloggers who make me think (read who give me enough brain strain;). And believe me it took quite some time to think as whom I should nominate because everyone in my blogroll is a 'Thinking Blogger'. It was extremely difficult to choose just five bloggers. Well, if you have captured my attention enough to make it to my blogroll then there is a high chance of me thinking you as a Thinking Blogger right? Jokes(or PJ's?!) apart here are the 5 bloggers whom I would like to pass this awards (in alphabetical order).
1.
Arun Shanbhag:
Every time I visit his blog he has never failed me to provide me with very useful information covering wide range of topics. With his new book
'Prarthana'
being published recently, he has got some of the most incredible and outstanding posts. And moreover he helps his lovely wife M in cooking ;)
2.
Bee & Jai:
Their provocative and insightful posts along with much needed dose of wit and humour is what we need in this busy world. They make it a point that I just don't read but read, re-read and think before leaving a comment. So surely they are the Thinking Bloggers ;)
3.
Desi Mom's Club:
Some of their posts did make me think of unthinkable ;) They make me laugh, makes me wonder and amaze me with their write-ups. If you haven't already lurked around their site, be sure to swing by on a lazy afternoon with a cup of coffee and enjoy all there is to read. Each and every mommies rock!
4.
Lotus Reads:
Lotus is one of the most original and enjoyable writers in blogsphere. She has an incredible blog giving a great overview of the most happening books, movies and many more things. Visiting her blog has always impressed and amazed me. And darling, your blog header rocks ;)
5.
VKN:
VKN is a dreamer who not just dreams but works towards making it a reality. It's his noble thought and hard work which made
Feed A Hungry Child Campaign
(FAHC) a huge success.
Congratulations to all you Thinking Bloggers. Please give them huge round of right mouse-clicks ;)
Should you choose to participate, please make sure you pass this list of rules. You don't have to think a lot as thankfully the participation rules are quite simple.
1. If, and only if, you get tagged, write a post with links to 5 blogs that make you think,
2. Link to
this
post so that people can easily find the exact origin of the meme,
3. Optional: Proudly display the 'Thinking Blogger Award' with a link to the post that you wrote.