Dharwad Thali: (R-L) Jolada Rotti, Badane Ennegayi, Moong Sprouts Usli, Chilli-Garlic Chutney, Kosambari, Pachdi and bowl of homemade Yogurt
Title: Love at first bite!!!
Time: Sometime in early 2000
Location: Dharwad

A young girl, who was away from her home, family and all her childhood friends for the first time, was lying on her bed feeling miserable and homesick. It was more than 2 weeks since she had home cooked meals and was forced to eat bullet proof Chapattis with yellow water which was called as Dal (lentil curry) which made her crave more for Mom's cooking. Just when she was on a verge of packing her bag and leaving her hostel for good, she heard a loud bang on door… Dud, dud…

Quickly wiping her tears away she opened the door and saw a girl who had ragged her just few days back. Yes, it was her senior, every fresher's nightmare, the one who made her measure the room with match stick, the same aweful senior who made her write a love letter to hostel watchman.
'Oh God!!! What now??? Is she going to ask me to propose to watchman now???'
To her surprise, her senior smiled at her instead of staring with that big frown and the girl was confused if it was a good thing or bad. Senior asked her to get ready in few minutes and come with two other roommates to Senior's room. All three fresher students were sure of the fact that it's gonna be one of those ragging sessions and were emotinally prepared for it. But to their utter surprise six other seniors took them to one small restaurants tucked near National highway. The same seniors who had ragged them were paying for their dinner. Yes, for the first time Freshers realized that seniors can be Humans too… That was the first time when the girl felt she belonged to hostel, college and that was the first time when she felt she belonged to
Dharwad
, a home away from home for 4 years of her life…
You don't get any price for guessing who that girl was ;) That was the first day I experienced the true taste of Dharwad cuisine and it was a love at first bite for me. The memory of that day is fresh and vivid till date. The restaurant was an open space and had around ten different small huts. Big cart wheels and trees separated one hut from another and gave it a sense of privacy. A large stone table was surrounded by bamboo stools and lanterns were lit to give it a rural home look. The waiters dressed in ethnic Dharwad attire wearing Dhoti and Peta, came with a fresh banana leaves and placed in front of us. First a pinch of salt on left hand side corner of leaf and then placed a red raw onion with green chilli and sliver of lime. Then followed fiery Chilli-Garlic Chutney with mild Peanut Chutney Powder. Then the leaf was adorned with roasted spicy Papad accompanied with Spiced Buttermilk. Just when our leaves started looking like artist's color palette the attentive waiters placed Pachdi/Raita (a yogurt based raw vegetable salad), Kosambari (another lentil-vegetable salad), Moong sprouts Usli (simple stir fried sprouts), Soppina playa (a lentil dish paired with Greens like palak, dill or methi) and a small clay pot containing thick and sweet Yogurt. Then came the highlight of meal, fluffy, thin, feather light Jolada Rotti (Jowar roti) with a dollop of freshly churned homemade butter and finger-lickingly delicious Badane Yennegai, a curry made of stuffed baby eggplants. Greedily I dipped a rotti in yennegayi and put it into my mouth and taste of brinjal with coconut with different spices made me forget about everything. It was love at first bite, fiery, warm, sensuous, sinful, rustic and unforgettable… I lost the count of number of Rotties I ate but the memory still lingers, still fresh and aromatic :)
Here is my humble Dharwad
Thali
which I sincerely tried to recreate for this month's
RCI-Karnataka
. Thanks to Ashakka and Lakshmi for giving me opportunity to indulge in my secret love affair with Dharwad cuisine after long time.
Jolada Rotti
is very popular in North Karnataka which is a not just delicious to taste but also good source of nutrients. To make this roties, hands are used instead of rolling pin and are flattened to thin circles using palm. Making Jowar roti is not a child's play. Experience, skill and patience is required to flatten the dough without breaking the roties and to get puffed roties. Its got the rustic look and unforgettable flavor…
---
Jolada Rotti

(Jowar Flat Bread)



Prep Time: 15 mins
Cooking Time: 20 mins
Serves: 3-4
---
Ingredients:


2 cups Bajri/Jowar Flour
½ tsp Red Chilli Powder
Warm Water to knead
Salt to taste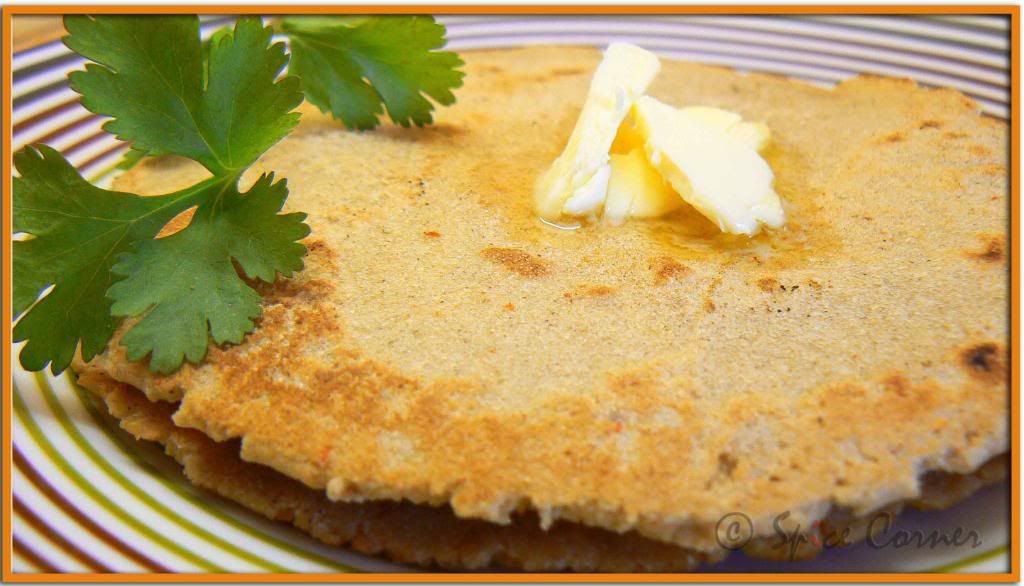 Method:
Prepare dough by adding red chilli powder, salt to taste and by adding warm water gradually.
Let the dough rest for 15-20 minutes and again knead the dough well.
Divide dough into equal lemon sized balls.
Place the dough on flat surface dusted with generous amount of flour and using your palm spread the dough into flat, thin circle.
Carefully transfer this flat roti on hot iron griddle and roast this roti on medium heat. Gently press a wet cloth on the cooked surface of roti and turn it on other side.
Do the same with other side of the roti and cook until you see brown patches on the surface and the roti stats to puff well from centre.
Serve the roti with any side dish of your choice with a dollop of freshly churned home made butter on top.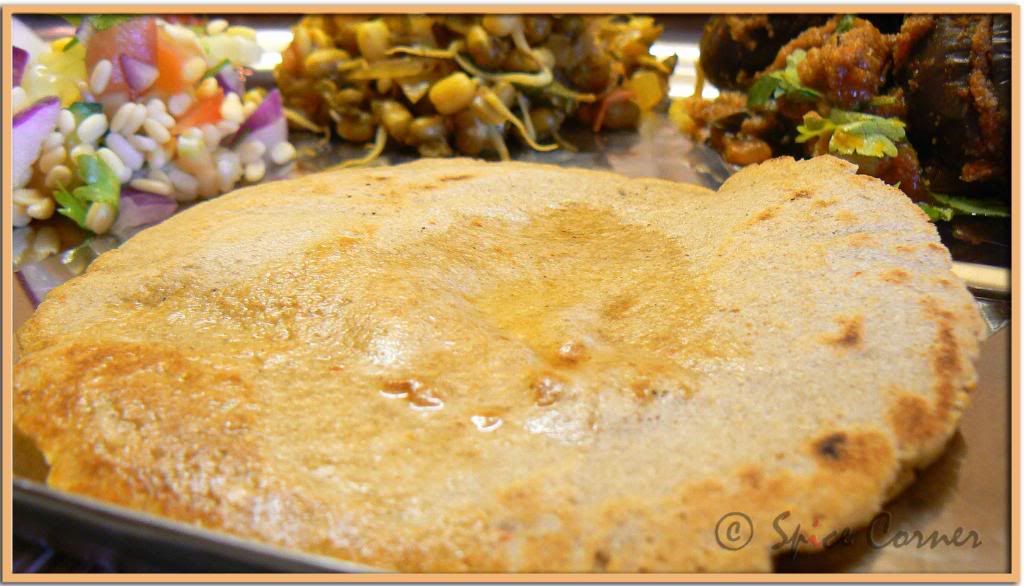 ---
Tips:
As Jowar is glutton-free flour, practice and patience is needed to make unbroken, thin rotties. When making this for the first time, don't press the roti into large circles as it will easily break while transferring into tawa. So make small palm sized rotties which are easy to transfer without breaking them.
Another simple technique which can be used while making jowar rotti is to press the ball keeping it in between parchment or greased plastic sheet and press it using flat surfaced vessel or plate. This way you can not only make thin rotties but also it can be easily transferred onto tawa.
Click here
to check another variation of Jolada rotti from Spice Corner Archives where I have used Beetroots to give it extra flavour.
---

Badane Ennegayi is a popular dish in Karnataka and is a great accompaniment with Akki Rotti or Jolada Rotti. Desiccated coconut is ground with aromatic spices and stuffed in between baby brinjals and the tender eggplant when cooked defines new meaning to taste.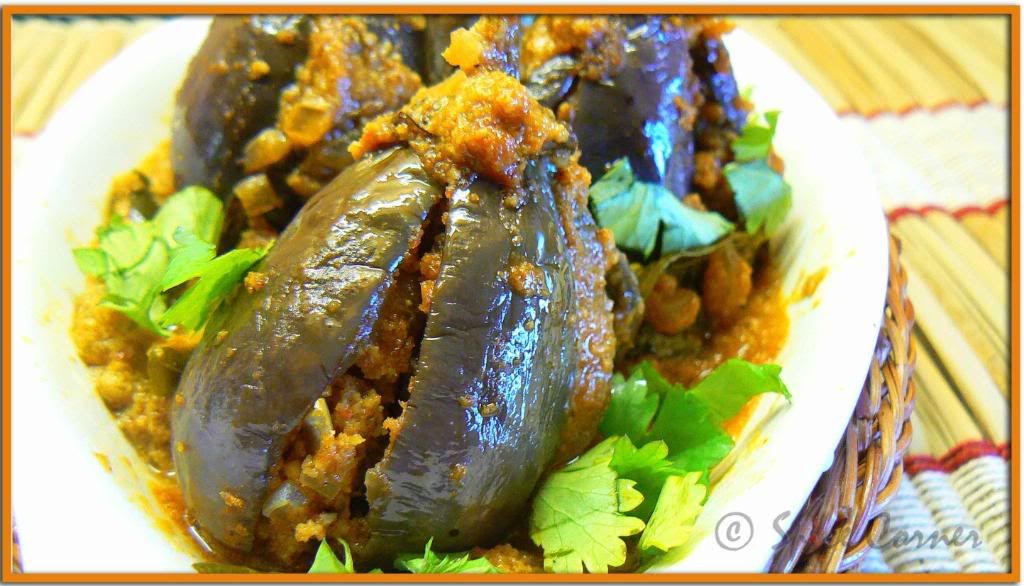 ---
Badane Ennegayi

(Stuffed Brinjal/Eggplants)



Prep Time: 15-20 mins
Cooking Time: 15-20 mins
Serves: 3-4
---
Ingredients:


7-8 small Eggplants
1 tsp Jeera/Cumin Seeds
Few strings of Curry Leaves
2-3 tbsp Oil
¼ tsp Hing/Asafoetida

Masala for Stuffing:
1 large Onion, chopped very finely
1-2 tbsp Coriander Leaves, chopped finely
Grind to Paste:
½ cup Desiccated Coconut
2-3 tbsp Roasted Peanuts
1 tsp Coriander Seeds
½ tsp Cumin/Jeera Seeds
1 large marble sized Tamarind, soaked in warm water and juice extracted
¼ tsp Turmeric Powder
½ tsp Red Chilli Powder
1 tbsp Sambar Powder
1 tsp Kitchen King Masala (optional)
Salt to taste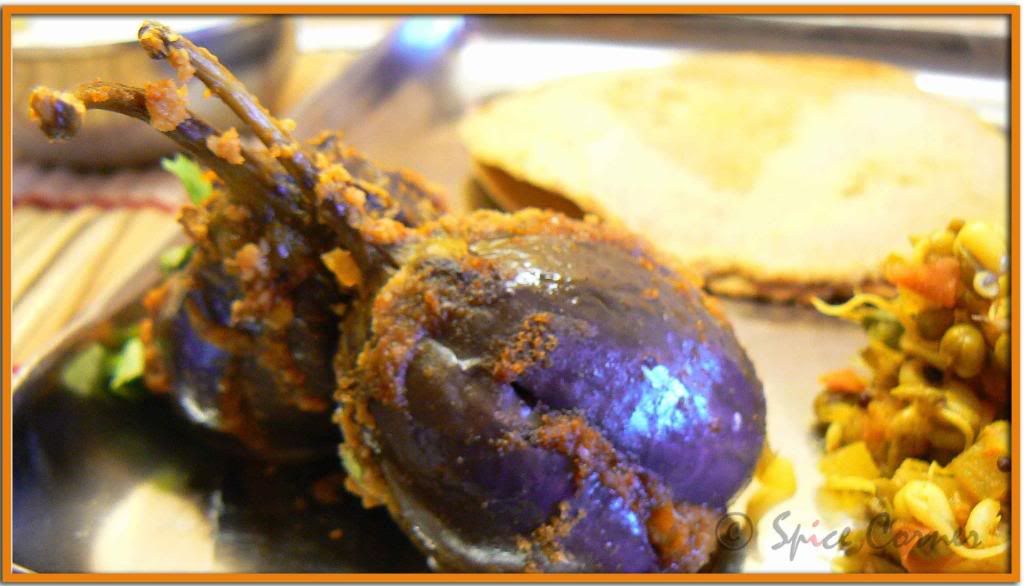 Method:


Grind coconut, coriander seeds, jeera, tamarind juice, peanuts, turmeric powder, red chilli powder, sambar powder, kitchen king masala and salt to taste to smooth thick paste (chutney consistency) by adding little water at time.
Mix this ground paste with finely chopped onion and coriander leaves and keep aside.
Make plus marked slits on baby eggplants keeping their stems.
Take about 1-1½ tbsp of masala and stuff it in slit baby eggplants.
Heat oil in heavy bottomed pan and add jeera, curry leaves and hing.
When jeera starts to pop and sputter place stuffed eggplants and arrange them in a pan.
Add remaining masala to the pan and reduce the heat to low. Add about 2-3 tbsp of water if needed.
Cover and cook the eggplants on low flame stirring in between so that masala don't stick to the pan. Cook it for 15-20 minutes till eggplants are evenly cooked.
Serve hot with Jolada Rotti or Akki Rotti garnished with chopped coriander leaves and enjoy.

Usli, usually made using different sprouts available is high source of protein and can also be served as an evening snack. Tender moong sprouts and cooked with crunchy onion and tangy tomato and flavoured by freshly ground spices.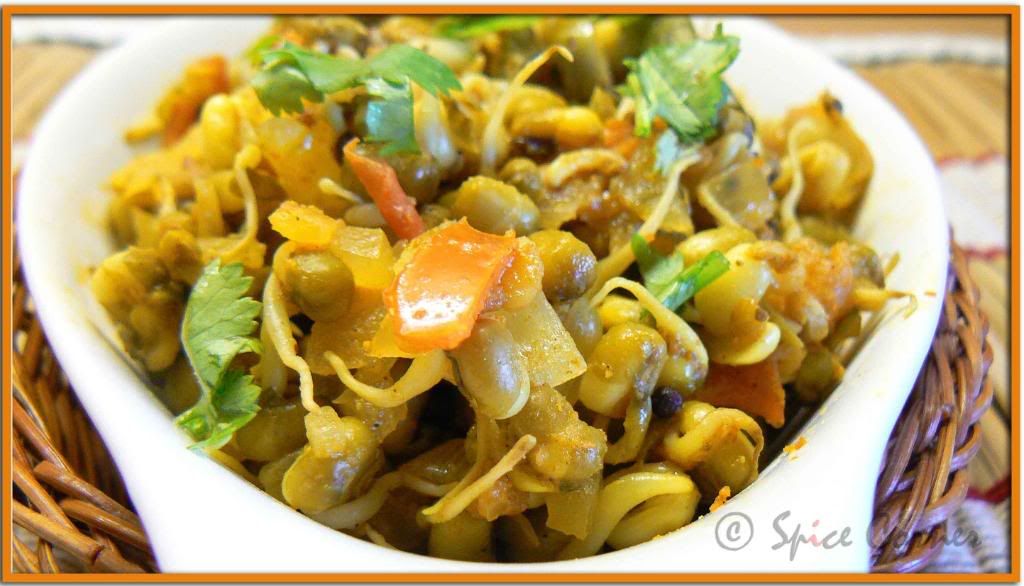 ---
Moong Sprouts Usli

(Moong Sprouts Stir-fry)



Prep Time: 10 mins
Cooking Time: 10-15 mins
Serves: 3-4
---
Ingredients:


3 cups Moong Sprouts
1 small Onion, finely chopped
1 Tomato, finely chopped
2 Green Chillies, slit
½ tsp Ginger, finely chopped
½ tsp Turmeric Powder
½ tsp Coriander Powder
½ tsp Jeera Powder
½ tsp Red Chilli Powder
2 tbsp Lemon Juice
1 tsp Urad Dal
1 tsp Mustard Seeds
1 tsp Jeera/Cumin Seeds
¼ tsp Hing/Asafoetida
Few Curry Leaves
1 tbsp Oil
1-2 tbsp Coriander Leaves, finely chopped
Salt to taste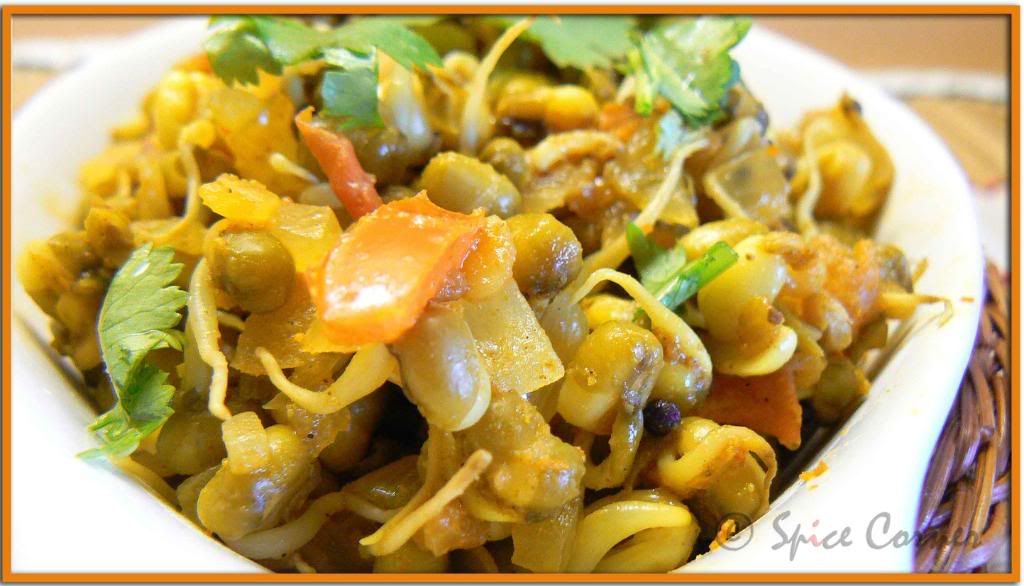 Method:


Heat oil in a heavy bottomed pan and to this add urad dal, mustard seeds, jeera, hing and curry leaves.
When mustard seeds starts to pop and sputter, add finely chopped onion, ginger and slit green chillies.
Sauté it till onion turns translucent and add chopped tomato.
Sauté it for around 1 minute and then add turmeric powder, coriander powder, jeera powder, red chilli powder and stir in.
Now add moong sprouts, ¼ cup water and salt to taste. Cover and cook for 10 minutes till the sprouts are cooked but retain their shape.
Remove from heat and mix lemon juice and chopped coriander laves and serve hot with rice or roties.

Kosambari is popular south Indian dish usally prepared as Neivedyam during festivals(with no onion). It's a light and healthy salad.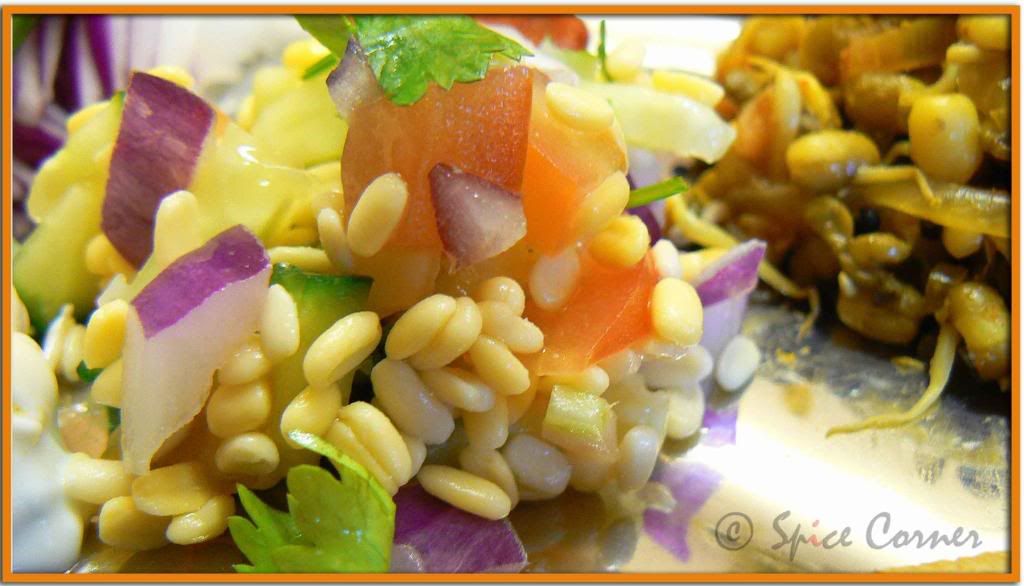 ---
Kosambari

Prep Time: 10 mins (Excluding soaking time)
Cooking Time: -
Serves: 3-4
---
Ingredients:


¼ cup Split Moong Dal
1 small Carrot, peeled and grated
½ Red Onion, finely chopped
1 Tomato, finely chopped
¼ Cucumber, finely chopped
1 tbsp Lemon Juice
1 tbsp Coriander Leaves, finely chopped
Salt to taste
Method:


Soak split moong dal in water for about 1-2 hours and drain.
Mix all the ingredients and serve garnished with chopped coriander leaves.

Every south Indian meals end with a serving of Curd/Yogurt. Raita is made using yogurt, different vegetables, usually raw vegetables, and is seasoned with tempering of mustard and curry leaves.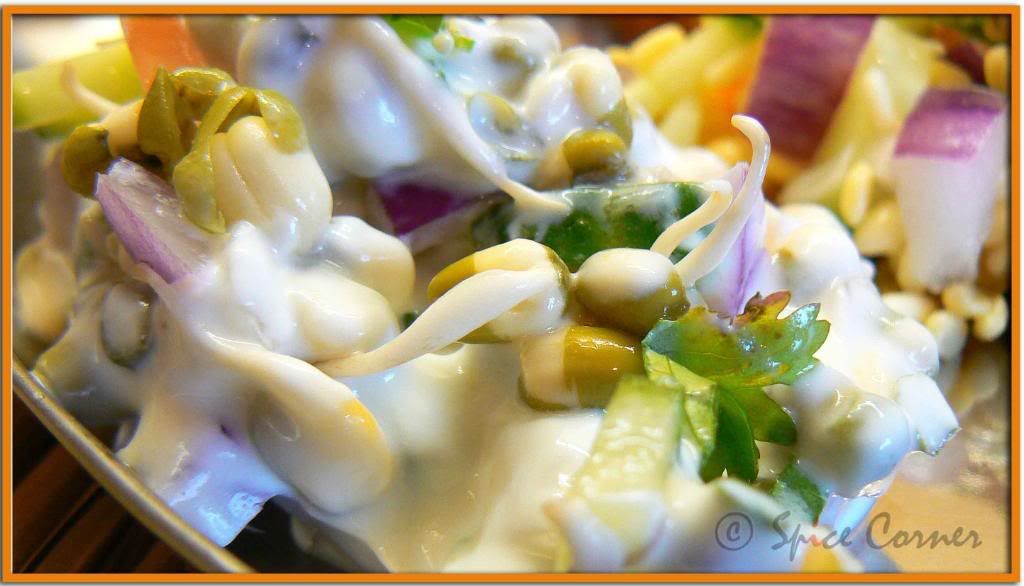 Sprouted Moong Pachdi/Raita
---
Sprouted Moong Pachdi/Raita

Prep Time: 5 mins
Cooking Time: -
Serves: 3-4
---
Ingredients:


½ cup Moong Sprouts
½ Red Onion, finely chopped
1 small Tomato, finely chopped
2 cups Yogurt
1 tbsp Coriander Leaves, finely chopped
Salt to taste
Method:


Beat the yogurt removing all lumps and add all the ingredients and mix well.
Chill before serving with Roti and rice.

Chilli-garlic chutney is a speciality of Dharwad meals which uses the chiili called Byadgi Chilli. It gives a fiery red colour to any dish when used. Check here for more details on Byadgi chillies.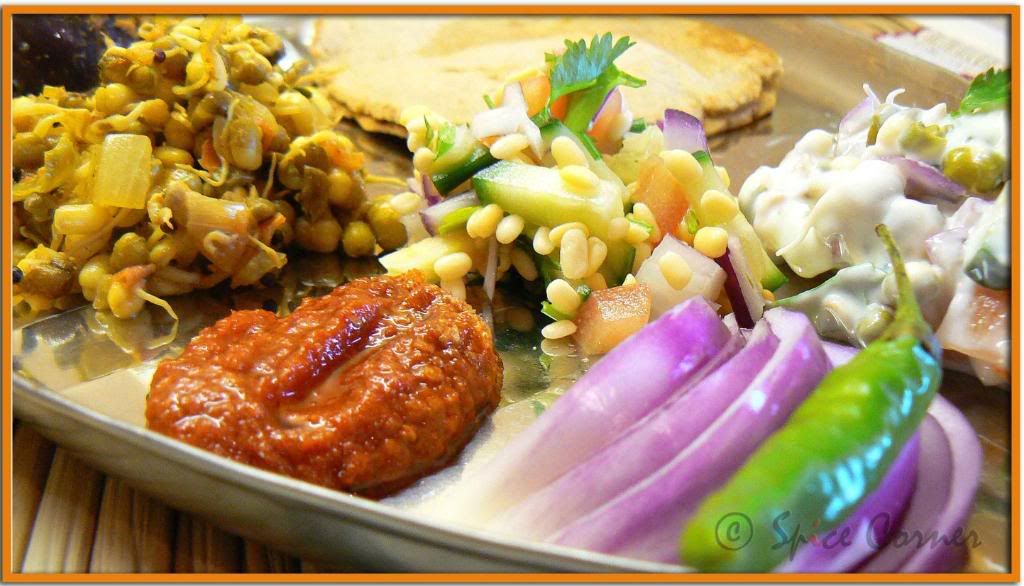 ---
Chilli-Garlic Chutney

Prep Time: 10-15 mins
Cooking Time: -
Serves: 3-4
---
Ingredients:


4-5 Dry Red Chillies, preferably Byadgi
2-3 large Garlic flakes
1 tsp Rock Salt
1 tsp Oil
Method:


Soak dry red chillies in warm water for 10 minutes and drain.
Using mortar and pestle crush all the ingredients into smooth paste and serve with Jolada Rotti and curd rice.



---
Update:
A good blog buddy of mine Meena of
Memories from Mom's Kitchen
is running the Portland Marathon this year to raise funds for AID (Association of India's Development) which is a non-profit organisation in India.
As Meena says,

"AID has been working to eliminate grass root problems in India for many years now. We have seen that the effort brings about remarkable changes in people's life and gives them hope for a better future. To continue the good work, we need support from every one of you. It would mean a lot to me if you can please visit my Marathon Fundraising Page and show your support. Every small contribution from your side is going to bring about a major change to someone's life. I hope to get all the support I need to raise this money from my fellow bloggers, friends and family. The actual marathon date is on Oct. 7th. You can also find weekly updates about my run on the fundraising page.
"
Please do visit her
Marathon Fundraising Page
and show your support for this noble cause. Spread the word around by posting about
"Run for India… Every mile for a smile"
in your blog… Run Meena, we are all with you…