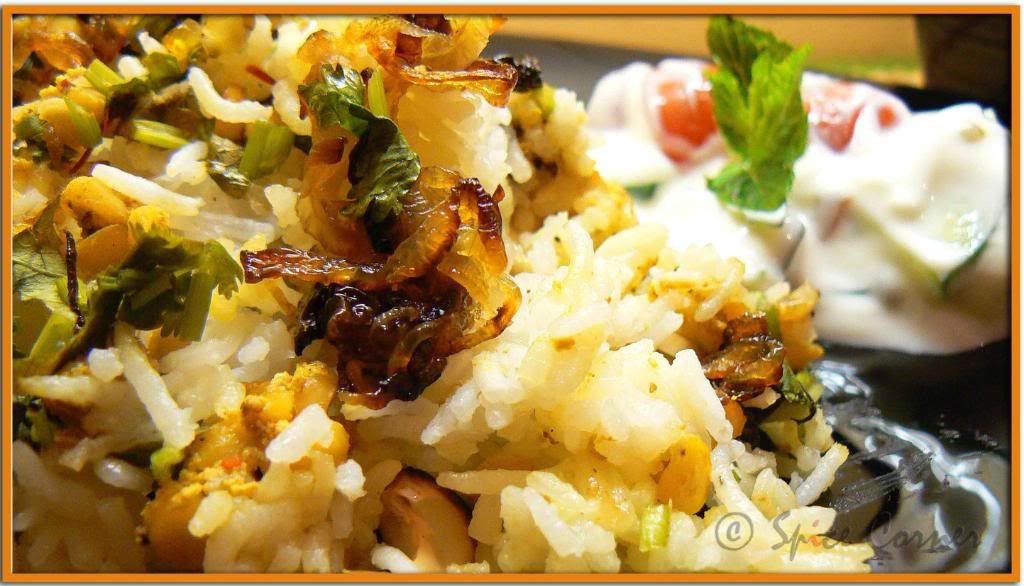 Qabuli with Plum Tomato-Cucumber Raita
Monsoon
, just the word is enough to bring back a flood of fresh and drenched memories of magical monsoon rain; the sound, sights and smell of home. Monsoon rains bring down the mercury level and the heavens opens its door to the heated earth giving it new lease of life. The blissful sound of rain lashing the roof tops, the dance of trees swaying to the rhythm of rain leaving the leaves in dripping tears, the heavenly smell of earth leaves every soul sighing in ecstasy.
This is the season which every farmer in India waits for. Monsoon is a life line for many farmers in southern asian countries. Rice being the staple food in many households, its no wonder that India is the world's second largest producer and exporter of rice. The rainy season blesses Mother Nature with an abundance of water. In most parts of India, rice is grown in flooded plains and fields called
Paddy
. Paddy fields grins at the passers-by swaying to the cool breeze of monsoon with the backdrop of hills covered with lush green trees and the hustle-bustle of men and women. Paddy rice farmers usually sow the seeds first in the little seedbeds and then later transfer them into flooded fields which were already ploughed. These few centimetres of water in paddy fields prevent weed growth and ensure there's enough water for plants to grow. Back in my native, men in
mundus
and women in
sarees
working in paddy fields wear a cap called
Muttale
which covers their head and protects from torrential rainfalls and scorching heat. The women sing regional folk songs when planting the rice in fields praying the Rain God
'Indra'
. The scene of snow white cranes flying in V-shaped format against black monsoon clouds over swaying lush green paddy field is something which always took my breath away.
Andhra Pradesh
, a southern Indian state, is known as
Rice Bowl of India
is famous for its hot and spicy cuisine which includes original
Andhra cuisine
and the famous
Hyderabadi cuisine
. While the traditional Andhra pickles makes me dance to their tunes, the mouth watering rich and perfumed Hyderabadi Biriyani undoubtedly rules my senses.
Biriyani
, one of the India's most popular foods, is flavoured fragrant Basmati rice which is layered with meat or vegetables marinated in yogurt and spices and was usually cooked for
Nizaams
and
Nawabs
. Check
here
and
here
to read more about Biriyani Stories.
When Sharmi of Neivedyam announced
JFI-Rice
for this month's Jhiva, little did she know about my love affair with Rice. Rice is a staple food in our home and many a days we eat rice for breakfast (Dosas and Idlies), lunch and dinner. After considering and rejecting almost all the Rice recipes I ended up cooking
Qabuli/Qabooli/Qubuli
which is originally from Afghanistan. When rich Kings and Emperors lavished on Biriyanis which uses the most expensive ingredients like Basmati Rice, Saffron and Dry fruits, common man created their own version of Biriyani using Chana Dal (Spilt and Whole Bengal Grams). The sweet and nutty Chana dal cooked with aromatic spices and yogurt is layered in between flavoured Basmati Rice, fresh mint and coriander and sweet fried onions in ghee. The finishing touch of saffron gives it wonderful colour and tickles one's taste bud. I referred
this, this, this and this for the recipe of Qabuli and made changes to suit our palette.


---
Qabuli:
Prep Time: 15-25 mins (excluding soaking time)
Cooking Time: 45-60 mins
Serves: 3-4
---
Ingredients:


2 cups Basmati Rice
¾ cup Split Chana Dal
2 large Onions, thinly sliced
½ cup Mint Leaves, finely chopped
½ cup Coriander Leaves, finely chopped
2-3 Green Chillies, finely chopped (Adjust according to taste)
1 Maratha Moggu/Star Anise
2 Green Cardamoms
1 inch Cinnamon
2 Cloves
¼ tsp Saffron/Kesar
3-4 tbsp Milk
½ cup Coconut Milk
Few Cashews
3-4 tbsp Ghee
Salt to taste



For Yogurt Base:


¾ cup Yogurt
1 tsp Ginger-Garlic Paste
1 Bay Leaf
1 tsp Shah Jeera
1 tsp Shah Biriyani Powder
1 tsp Chilli Powder
Powder using Pestle and Mortar:
2 Green Cardamoms
½ inch Cinnamon
3 Cloves
Small Piece of Nutmeg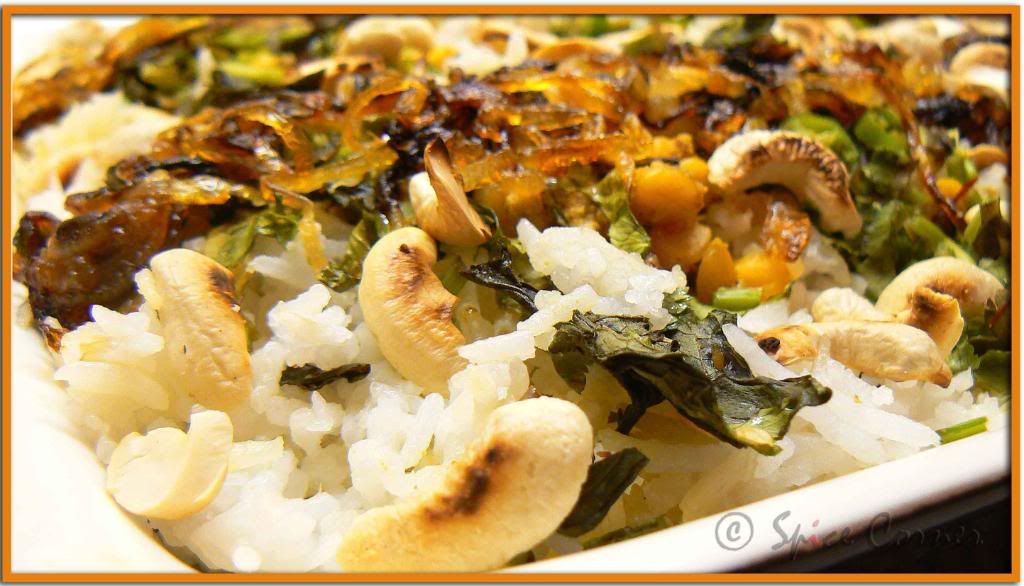 Method:


Wash and soak Dal and Rice separately in water for about 20-30 minutes.
Heat about 2 tbsp of oil in a pan and fry thinly sliced onions in medium flame till they turn brown and keep it aside. Usually takes around 20-25 minutes.
Cook split chana dal with a pinch of turmeric and drop of oil in microwave for about 15 minutes. The dal should be cooked thoroughly but it should retain its shape.
Heat a tbsp of ghee in a heavy bottomed vessel and add marata moggu, cinnamon, green cardamom and cloves and sauté for about 20-30 seconds till nice aroma is released.
Drain water from rice and add it to sautéed whole spices and sauté over a medium flame for one minute till all the water is evaporated and grains are separated.
To this add ½ cup of coconut milk and about 3 cups of water and salt to taste. Cover the pan and cook this rice in medium flame till all the water is absorbed and rice is almost cooked. Generally takes around 20-30 minutes.
Heat little ghee in a pan and add ground spices. Sauté in a medium flame for about 15-20 seconds and add ginger-garlic paste.
Sauté it for another 20-30 seconds till the raw smell of ginger and garlic is reduced. Now add beaten yogurt, biriyani powder, chilli powder and little salt. Keep stirring this gravy till it thickens and reduces to 2/3 rd size.
Add cooked dal to yogurt gravy and mix well. Cook uncovered for 1-2 minutes.
Soak saffron in warm milk for about 15 minutes.
Preheat oven at 375 F. Now take large oven proof dish. First layer it with half of cooked rice and then add all the cooked dal mixture. On top of it add half of finely chopped mint+coriander+green chilli mix and half of fried onions. Again place other half of cooked rice and layer the rice with chopped greens and fried onions.
Pour the saffron milk and cover the dish tightly with aluminum foil. Place this dish in oven and bake for 15-20 minutes.
Once it's done, gently mix the rice and garnish with fried Cashews before serving hot with any curry or Raita of your choice.


---
Variation:
Use Black Channa in place of split Chana Dal. Remember to soak black channa in water for minimum 1 hour.
---
---
Plum Tomato-Cucumber Raita

Prep Time: 10 mins
Cooking Time: -
Serves: 2-3
---
Ingredients:


6-8 Plum Tomatoes, quartered




1 cup Cucumber, quartered and sliced thinly




½ small Red Onion, finely chopped




1 tbsp Coriander Leaves, chopped finely




1 tsp Mint Leaves, very finely chopped




Pinch of Salt
Method:
Mix all the ingredients and keep it in fridge till required.
Serve chilled with any Rice of your choice.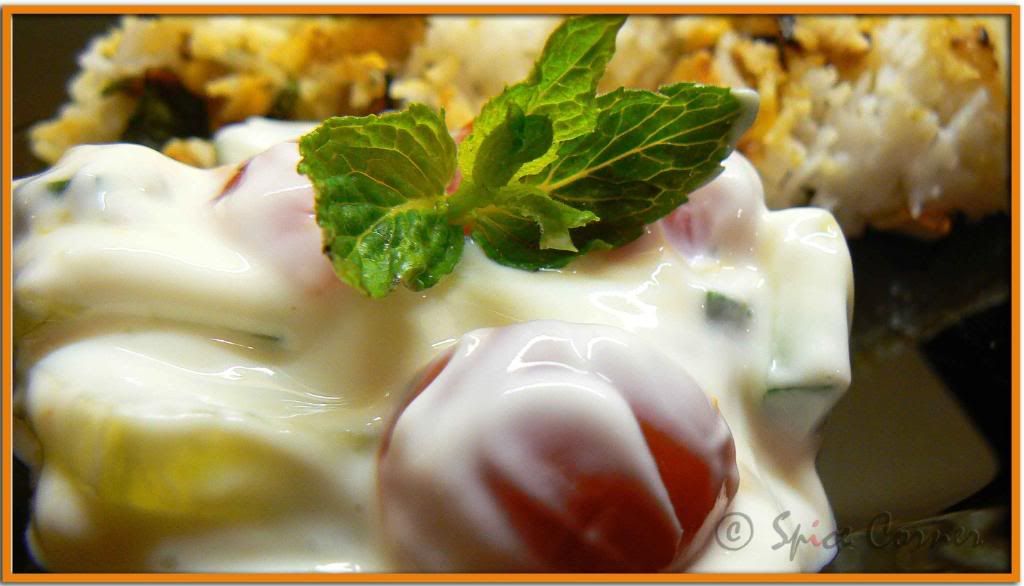 Plum Tomato-Cucumber Raita
---
Time for more bragging. Its pouring awards in blogsphere and Spice Corner's hall of fame is giving tight competition to my ever expanding waistline;) While lovely girls
Richa
and
Pravs
have sent me
The Power of Schmooze Award
, pretty
Raaga,
SeeC
and
Sukanya
think I am a
Rocking Girl Blogger
. And if that was not enough for my never ending bragging
Sandeepa
and
Kribha
feels I am Thoughtful and Inspirational Blogger too. Girls, I am really flattered with all these awards and love you are showering upon me. More than these awards I am thankful to all you people out there who were with me during tough times. Your kind
comments
,
messages
and mails helped me a lot in past cople of weeks. Thank you friends…
For those who answer blog comments, emails, and make their visitors feel at home on their blogs. For the people who take others feelings into consideration before speaking out and who are kind and courteous. Also for all of those bloggers who spend so much of their time helping others bloggers design, improve, and fix their sites. This award is for those generous bloggers who think of others.
For those bloggers who inspire others through their words and actions. With a positive attitude, and an uplifting spirit these bloggers make the blogosphere a better place, and encourage others to do the same. This award is for bloggers who rise up to set an example but continue to reach out and support others.