Well, well… I never knew my blogger friends had patience to read my bragging all these days until I was tagged for 7 & 8 Random Facts MeMe by
Bee
,
Arundathi
,
Richa
and
Priyanka
. Thanks ladies for tagging me :) Initially I thought all I have been doing these days were talk about my memories, me and everyone who is connected to my life in one way or the other. Looks like you smart people want me to talk more about myself and talking is what I am exactly gonna do ~smiles wickedly~ Don't blame me if you fall asleep in middle and start to have second thoughts as why you asked me to write this MeMe. I am just a simple human being who is fulfilling my friend's wish ;) Those who are not interested in reading all this bragging can scroll down (a lot) and read the delicious Mushroom-Rajma Curry with Mint Chapatti and Spiced Butter Milk. Those who still want to test their patience level are welcome to read my 8 Random Facts about me, me and only me :)
1. For the first few months of our married life, Krish and I both survived with just 2 ancient vessels to cook and 2 mismatching plates from his student life. Along with those two vessels and plates we were the proud owners of few mismatching coffee mugs and an ancient gas burner and refrigerator which made enough ice in freezer to cover our backyard. It was after few months we received a big parcel from India which contained a pressure cooker and mixer grinder along with full batch of different masalas and pickle jars and a cook book. Thinking about those days and looking at our over flowing kitchen cabinets with different gadgets and cooking ingredients I don't know how we managed to cook and survive all those days.
2. First dish I ever cooked was Gobi Manchurian when I was in my early teens. I remember coming home after school and had serious craving for Gobi Manchurian. Mom was not at home and I had no clue as what goes into the recipe. Just going with my instincts I mixed some ingredients and voila!!! It was ready within half an hour. Although it was not the proper recipe for making Manchurian it did taste very close to Manchurian. After my first venture and adventure I started cooking Indo-Chinese once in blue moon without necessarily following any recipe or instructions. Even today I am not sure if my family loved eating what I cooked or 'pretended' to eat ;)
3. From my early teens to till I got married I lived in hostel and hardly entered kitchen during my semester holidays. I didn't know the difference between one dal to other when I came here after marriage. I remember using toor dal instead of channa dal for tempering/tadka and using masoor dal in place of toor dal. According to me cooking was not a big deal and all I needed was to chop few onions and tomatoes and cook some vegetable with ginger-garlic paste and garam masala for any north Indian food and cook few chunks of vegetables with dal and sambar/rasam powder and season it with mustard curry leaves tempering for south Indian food. I give all credits to 3 important people in my life, my Amma, Atte and Krish, who made me realise cooking is not just a chore but an art. It was my husband who taught me to cook sambar and rasam and then slowly I picked up some basic recipes from my MIL and Amma. They were my 24X7 helpline for the 1st few months (even now) and thanks to them now I have found whole new meaning and respect to cooking.
4. Spice Corner was born out of my boredom and home sickness. Although I had another general blog where I used to pen down all my rants I thought of having another blog to jot down all the recipes given by my Amma and Atte. It was easier to write down the recipe in blog than in a piece of paper which I would keep some where and loose. It was much later when I realised there are whole bunch of food blogs in blog-sphere while googling for few recipes. First blog I stumbled was Anita's
My Treasure and My Pleasure
and since then it's history. I never ever thought of making friends in this cyber space and even today I feel I am still dreaming. For a person who usually gets bored of everything after some period and loves change, I have surprised myself with sticking to Spice Corner all these months. Eventually I might get bored with food blogging but for now I am enjoying what I am doing.
5. Unlike my Amma and MIL who have beautiful garden, I don't have green thumb. Last year was the first time I tried my hand in vegetable gardening and it was a complete disaster. It was our first gardening experience and we did what most people do, ignore the instructions in seeds pack. We did get few crops of carrots, tomatoes but I didn't have a heart to cook them after watching them grow everyday. This year we started our very ambitious vegetable gardening but unfortunately weather seems to be not on our side. Will wait and see what happens in the coming year.
6. I am a trained Bharatanatyam dancer and Carnatic Classical singer. I started my classical dance training when I was just 6 years old and continued it till I joined my degree class. After that I kind of completely lost touch with it. During my school and college days there was not a single annual day where I did not perform on stage. I loved the lights, stage, music and performing in front of hundreds of people. I do regret sometimes for not continuing my passion for dance. Now I do different kind of performance, giving presentations and seminars ;)
7. I am a hoarder. I can't stop buying things for kitchen and home. Every time we go out for shopping I end up buying few more kilos of rice or dals or pickles or any such things which I can hoard for months. With the items we have in our pantry we can survive for 2 months without spending a penny on any items. My hoarding issue doesn't limit to cooking items. I still have got big box filled with the entire greeting cards I received from family and friends on special occasions and all the letters from my parents and friends I collected till date. I treasure each and every small item which for me is the most precious things than any expensive metals or stones. I can't let things go so easily and like Bee pointed I still have many single earing whose pair is lost some where, long time ago;)
8. I am a big movie buff. I can watch even the most boring movie till 'The End' sign pops up on the screen. Same thing applies when it comes to reading. Once I start reading a book I will make it a point to finish it in one sit even if the author bores me to death. I don't understand my obsession with finishing any thing which I have started and may be that's the reason I have read hundreds of M&B's in spite of same kind of stories and very predictable 'they lived happily ever after' endings. Back in my school days I remember reading comics and story books hidden in between text books during class hours. I love to watch cartoons and at any given chance, I prefer animated movies to dishum-dishum violent types. I guess my kid will be the luckiest one because I am the happiest kid when I am watching my favourite Tom and Jerry show or The Simpsons (I have already taken a leave from office to watch the first day first show of The Simpsons movie ;) or any cartoon shows.
1,2,3,4,5,6,7 and 8… Yayyyyy… I did it! If you are still awake after reading my almost never ending bragging let us talk about food. OK, I will not take long. So stop yawning there!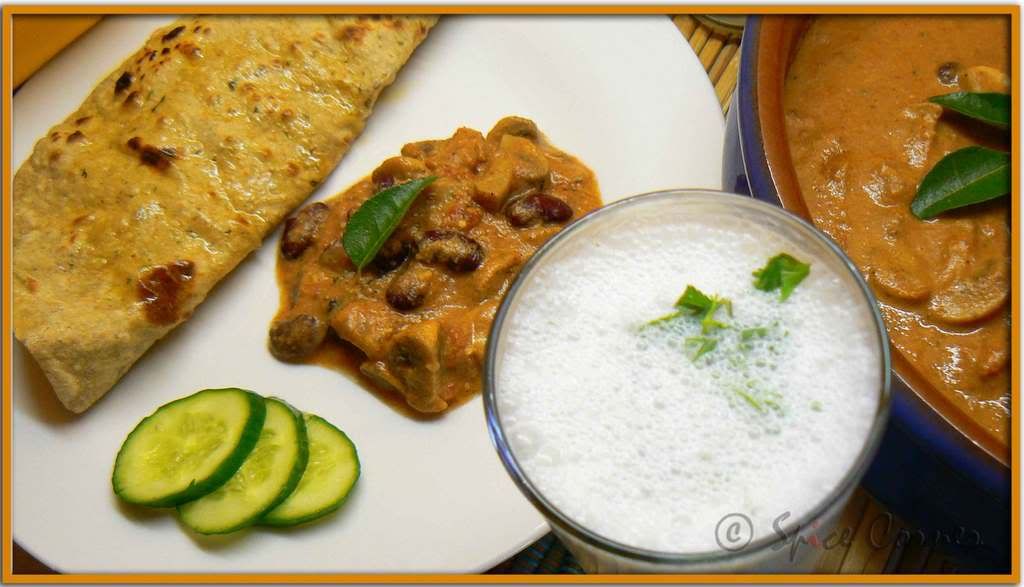 Mushroom-Rajma Curry with Mint Chapatti & Spiced Butter Milk


Here is my contribution to this month's
RCI-Punjab
which celebrates the cuisines from different regions of India. Regional Cuisines of India is a brainchild of
Lakshmi
and this month it is guest hosted by our lovely
Richa
. Around seventy percent of the menu in most of the North Indian restaurants is from Punjab-the land of five rivers. When ever I think of Punjab I think of Bhangra (lively folk dance), legendry Punjabi Kisse (folk tales of love and honour), golden mustard fields and Punjabi food. Think about those lovely paronthes (Indian stuffed bread) smeared with desi ghee and dipped in Mah Di Dal and Sarson KA Saag. Then you have big glass of Ganne ki juice (sugarcane juice) or Lassi (sweetened Yogurt). Who can resist this kind of temptation? Not a mere mortal like me. Just the thought of food is enough to make all your senses come alive.
I went to make my all time favourite Rajma and realised I didn't have enough Rajma to Serve four hungry people. Then ended up adding mushrooms to Rajma (Red Kidney Beans) and every one seemed quite happy with the end product as I had empty vessel and nicely licked plate to deal with. The refreshing Mint Roti with Mushroom Rajma Masala and a big glass of Spiced Butter Milk was the perfect meal to serve.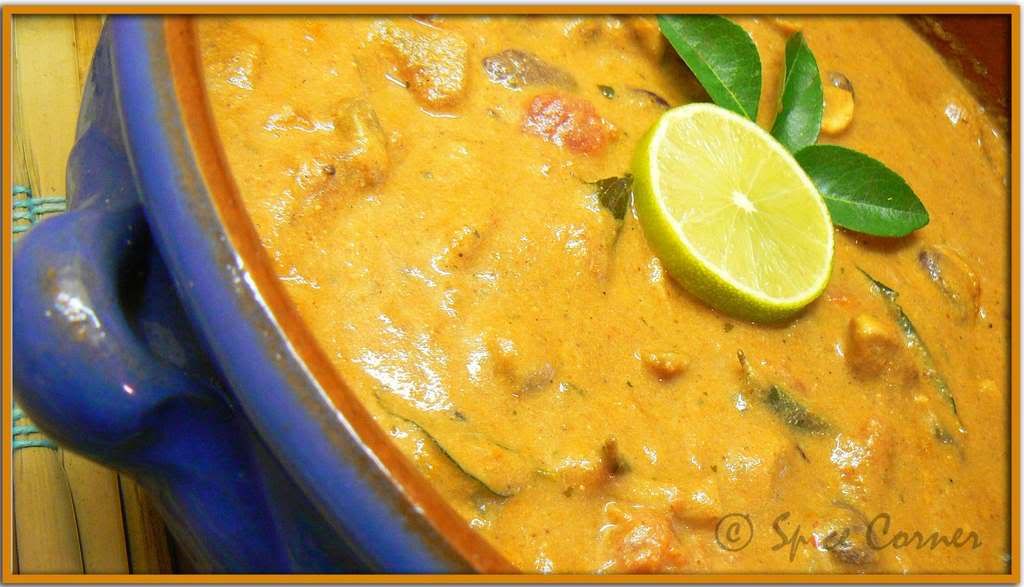 ---
Mushroom Rajma Masala
Prep Time: 15 mins (excluding soaking time)
Cooking Time: 30-40 mins
Serves: 3-4
---
Ingredients:
1 canned Rajma/Red Kidney Beans or 1 cup of Rajma soaked in water overnight
2 cups Mushrooms, quartered
1 large Onion, chopped roughly
2 large Tomatoes, quartered
2 Green Chillies, slit
1 tsp Ginger Garlic Paste
½ tsp Red Chilli Powder
½ tsp Turmeric Powder
¼ tsp Coriander Powder
½ tsp Amchur(Dried Mango Powder)/Anar daana(Pomegranate Powder)
½ tbsp Garam Masala
½ tbsp Kitchen King Masala
5-6 Cashew Nuts
1 tsp Sugar
1 tsp Jeera/Cumin Seeds
2-3 tbsp Coriander Leaves, chopped finely
½ + ½ tbsp Ghee/Oil
Salt to taste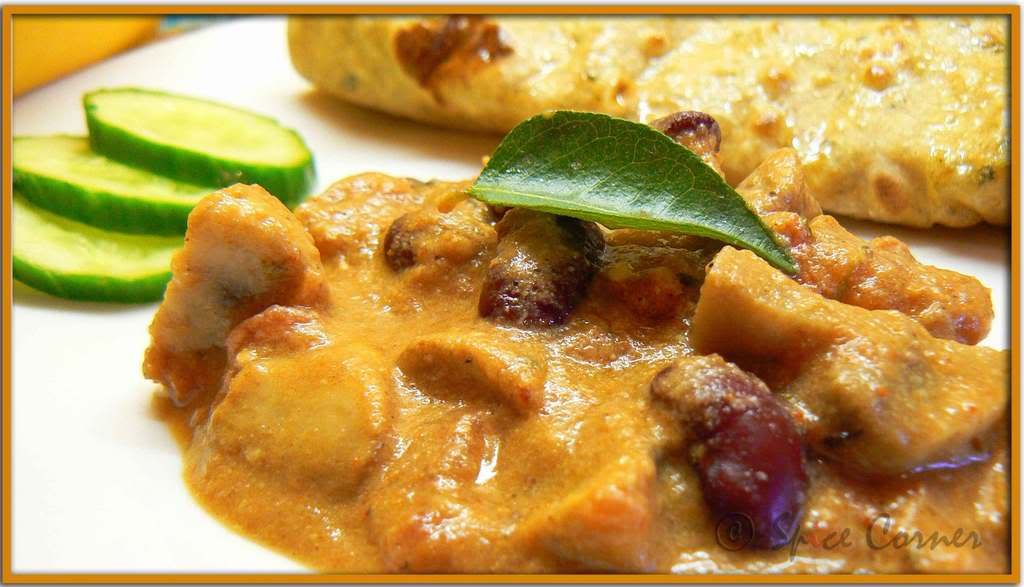 Mushroom-Rajma Curry with Mint Chapatti
Method:
Drain the water from canned kidney beans and keep aside. If you are using a dried beans then soak them in enough water over night and pressure cook for 10 minutes or 1 whistle.
Heat ½ tbsp of ghee/oil in a pan and add chopped onion. Sauté this onion for about 3-5 minutes in a medium flame till it becomes transparent.
Now add ginger-garlic paste and sauté it for a minute or so till its raw smell is gone.
Transfer this mixture to a food processor and add tomatoes, cashew nuts, chilli powder, turmeric powder, coriander powder, amchur/anar daana powder, garam masala and kitchen king masala. Grind it to a smooth paste without adding any water and keep aside.
Heat ½ tbsp of ghee/oil in a pan and add jeera. When cumin seeds starts to sizzle and pop add mushrooms and slit green chillies. Sauté the mushrooms in a high heat for 2-3 minutes till they starts to leave little water.
Now add the ground mixture and mix well. Reduce the heat and keep stirring for about 3-4 minutes.
Add cooked or canned rajma, salt to taste, sugar and about ½ cup of water.
Simmer and cook covered for another 5 minutes till all flavours blend well stirring in between so that the gravy don't stick to the bottom of the pan.
If you feel the gravy is too thick add little more water to get the required consistency. Garnish with chopped coriander leaves and serve hot with roties or rice.
Now coming to my own creation…Tadaa…. Here is my Mint Roties or Chapattis, whatever you wish to call. Tasted great with Mushroom Rajma Curry with little hint of minty taste. I am happy with the way they puffed and looked. After my unsuccessful attempt at making puffed chapattis I had almost given up making them at home. Last month I got a bag of Pillsbury Atta and now I know the problem was with the Atta I used before not with the way I kneaded it. The below recipe will make around 8 good sized chapattis.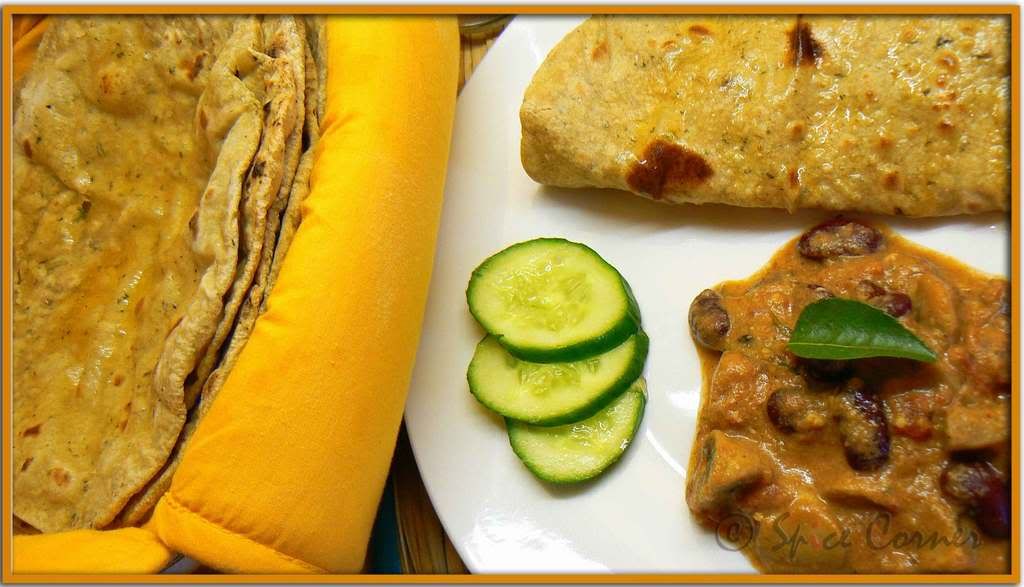 Mushroom-Rajma Curry with Mint Chapatti
---
Minty Chapattis
Prep Time: 15-20 mins
Cooking Time: 15 mins
Serves: 4-5
---
Ingredients:
3 cups Atta/Wheat Flour (I used Pillsbury) and little more for dusting
1 tbsp Mint Paste
¾ tsp Salt
½ cup Warm Milk
Little warm Water
Ghee for smearing the surface of each chapatti
Method:
Place flour in a bowl and add salt, mint paste and milk to it and start kneading well.
Knead well for 5-6 minutes by adding little water at a time so that you get soft dough.
Leave to stand for at least 15 minutes or so and knead a little again.
Make a golf ball sized balls and roll it using rolling pin by dusting each ball with little atta so that it don't stick to the surface.
Chapatti should be rolled from centre out so that the surface has equal thickness and usually the sides of the chapatti should be little thinner than the center. This way the chapatti nicely puffs like poories when cooked.
Place the rolled chapatti on hot griddle and turn it over when you see a few blisters on the surface. Cook the other side same way.
Pick the chapatti with tongs and transfer it on the direct flame (medium flame) or in a grill. Move it around continuously so that it doesn't get burnt.
Transfer it to the serving plate and smear its surface with ghee which will keep them soft for long time. Serve hot chapattis with any curry of your choice.
The Punjabi meal will be incomplete without a big glass of Lassi (sweetened Yogurt) or Chas (Buttermilk). So my hubby dear was ready with a chilled Spiced Buttermilk and here is his recipe.
Mushroom-Rajma Curry with Mint Chapatti & Spiced Butter Milk
---
Spiced ButterMilk
Prep Time: 5 mins
Cooking Time: -
Serves: 2-3
---
Ingredients:
2 cups Yogurt, little sour one is better
½ inch Ginger, grated or chopped very finely
1-2 Green Chillies, chopped very finely
2 tbsp Lime Juice
1 tbsp Coriander Leaves, finely chopped
½ tsp Salt
2 cups Cold Water
Method:
Place yogurt, salt, lemon juice, ginger and water in a food processor and whiz it for 15 seconds or so till u get a bubbled drink.
Mix in finely chopped green chillies and coriander leaves and chill it in fridge for at least 15 minutes before serving.