Purani jeans aur guitar
Mohalle ki vo chhat
Aur mere yaar
Vo raaton ko jaagna
Subah ghar jaan
Kood ke deewar
Vo cigaretee peena
Gali mein jaake
Wo karna daanton ko
Ghadi ghadi saaf
Pahunchna college hamesha late
Vo kehna sir ka
"Get out from the class!"
Vo bahar jaake hamsha kehna
Yahan ka system
Hi hai kharaab
Vo jaake canteen mein
Table bajaake
Vo gaane gaana
Yaaron ke saath
Bas yaadein yaadein
Yaadein reh jaati hain
Kuchh chhoti chhoti
Baatein reh jaati hain
Bas yaadein…
Remember this song of
Ali Haider
? This song has been our college anthem;) and it always takes me down the memory lane. College canteen, mimicking our lecturers, bunking the classes, late night parties, birthday bums, ragging, internals, last minute study, lab sessions, hostel warden, hostel food, Sunday telephone calls from home, long Q in STD booths (when mobile phones were very rare and looked like TV remotes;), another long Q for Sunday special breakfasts, new year parties, tapri/dhaba food… Oh yes… How I miss my college and hostel days! Hostels, my home away from home where I made very good friends, and the memories of ragging my juniors, fighting with warden, jumping from compound walls after curfew hours, chewing bullet proof chapaties, drinking watery coffee, Friday night's beauty session with all colored face packs, Saturday night's eating out at Kamat's or Sagar's, visits to Café Coffee Day, counting the days to go home(for me from the day I returned from home;), stuffing last inch of our bags from Maggi noodles to hair pin, attacking the supply of home food from friend's bag, reading M&B in zero watt bulb, bunking first session of the day coz of late night reading, listening to music till wee hours of morning, heating water with candle light to make Maggi noodles, birthday parties, pajama parties, Sunday laundry sessions… Yes… I can go on and on with my memories of hostel days.
When it comes to hostel days, hostel food is integral part of every hostilities memory. It is not a joke to cook and feed hundreds of hungry tummies every day; morning, noon and night. With usual bullet proof chapaties, sticky dal, watery milk, hot as hell subjis, oily curries, it was like breath of fresh air when we get invitation for home cooked meals from our localite friends. No wonder I used to feel home cooked meals are like oasis in hot desert ;) One of my friend's mother was an excellent cook and her specialty was Marathi Cuisine. I still remember all delicious chat-pata chats, spicy Kaap (Pakoda), aromatic Bhaaji's (Vegetable dish) with simple Koshimbir (Salads) and Poli's she used to churn in her small kitchen and serve. There were the days when aunt would send us big stack of delicious Bhakries which we homesick souls would dip in sweet and creamy Shreekhand or Spicy Thalipeeth with Yogurt and Spicy Pickles. And how can I forget all those Puran Poli, Basundi, Gul Polies which we would gulp during Ganesha Chaturthi.
When lovely Nupur of
One Hot Stove
announced
RCI-Maharastrian Cuisine
for this month's of
RCI
which is the brainchild of Lakshmi of
Veggie Cuisine
, I knew what I wanted to contribute. It's been ages since I had Thalipeeth and decided to serve it with Okra Raita and Aamras.
Thalipeeth is a multi-grain mildly spiced pancake which is not only tasty but also healthy and nutritious. I remember aunty using Bhajani, flour mixture of different grains which are slightly roasted and ground. After unsuccessful hunt for bhajani, I made thalipeeth using the flours in my pantry. Adjust all the ingredients according to your taste and preference. The recipe below makes 6 thalipeeth.
If you are a lover of Maharashtrian Cuisine like me and want to try some of the best Marathi food then look no further. Our this month's hostess for RCI, Nupur of One Hot Stove has her blog dedicated to authentic
A-Z Maharashtrian Cuisine
and here for Nupur's recipe for
Thalipeeth
. Her
Bombay Pav Bhaji
is something which I love the most.
Thalipeeth with Okra Raita and Aamras
---
Thalipeeth
Prep Time: 15-20 mins
Cooking Time: 10-15 mins
Serves: 2-3
---
Ingredients:
1½ cups Jowar Flour
½ cup Wheat Flour
2 tbsp Rice Flour
2 tbsp Gram Flour
1 tbsp Semolina
1 medium Onion, chopped very finely
1-2 Green Chillies, chopped finely
3-4 tbsp Coriander Leaves, finely chopped
½ tsp Jeera/Cumin Powder
½ tsp Coriander Powder
½ tsp Red Chilli Powder
¼ tsp Turmeric Powder
Salt to taste
Oil/Ghee for frying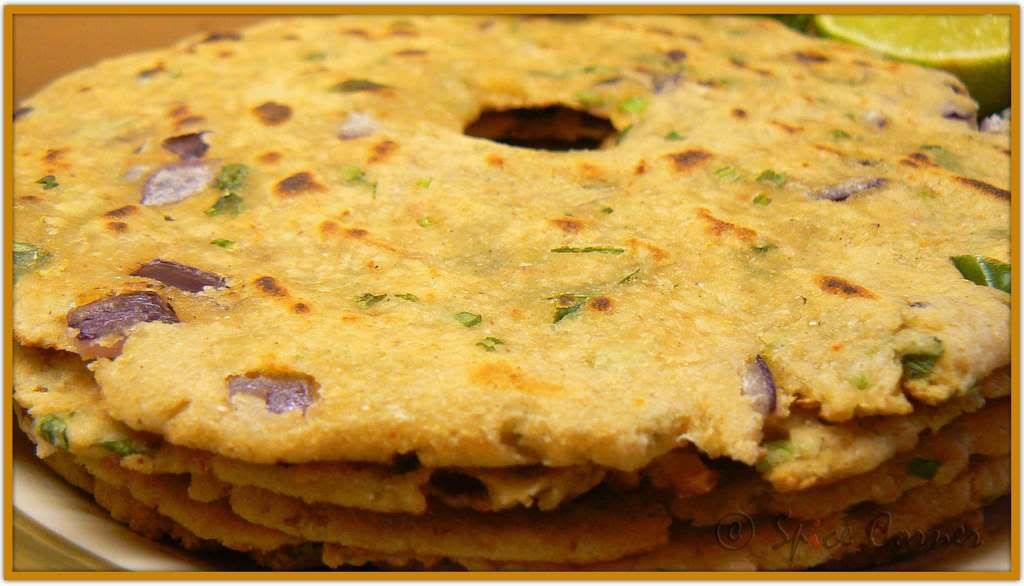 Method:
Mix all the ingredients except oil/ghee and knead it into stiff dough using water. The dough should be of chapatti consistency. While kneading the dough, rub some oil or ghee to your palms to keep from sticking.
Keep this dough aside for 10-15 minutes covered with wet kitchen towel.
Again knead the dough and make golf ball sized balls.
Take a clean plastic sheet or banana leaf and grease its one side with some oil or ghee.
Flatten one ball in the palm of your hand and place it in the center of the sheet. Pat the ball with palm and the fingers. If the dough is too sticky, dip fingers in water to make the patting easier. Keep flattening in circular motion to make a round flat disc but make it sure that the thalipeeth has even thickness.
make one small hole in the center with finger which will help to cook the thalipeeth evenly.
Heat the griddle or non-stick tava and gently remove thalipeeth from plastic sheet and place it on tava.
Apply little oil or ghee at the edges, in the center hole and on top of the thalipeeth and cook on both the sides until it turns crisp and light brown in colour.
Serve hot thalipeeth with yogurt or raita with pickle and sweet Aamras.

Thalipeeth with Okra Raita
---
Bhindi/Okra Raita
Prep Time: 10 mins
Cooking Time: 5-10 mins
Serves: 2-3
---
Ingredients:
6-7 Okra/Bhindi, cut into thin slices
1 small Red Onion
2 cups Yogurt
½ tsp Green Chilli, finely chopped
A Pinch of Jeera/Cumin Powder
1 tsp Oil
Salt to Taste
Method:
Heat oil in a pan and add finely chopped onion. Sauté it till they turn translucent.
Now add okra and green chilli and sauté it in high flame till it becomes crisp and brown.
Beat the yogurt and mix sauted okra and onion and cumin powder and salt to taste and mix well.
Chill the raita for at least half an hour before serving.
If desired you can add little bit of chat masala. But I like the sweet taste of fried Okra with tanginess of yogurt.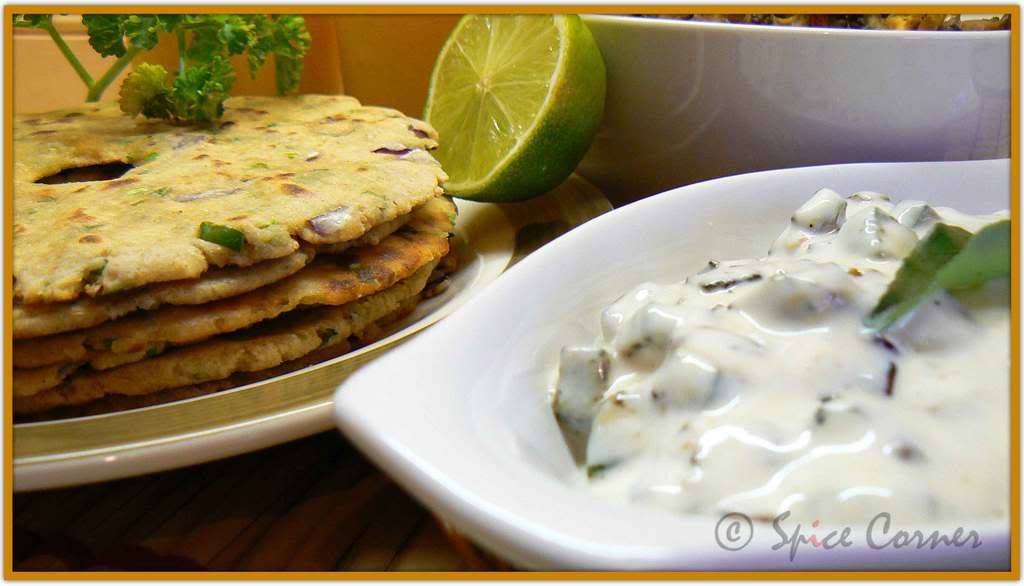 Thalipeeth with Okra Raita
---
Aamras
Prep Time: 5-10 mins
Cooking Time: -
Serves: 2-3
---
Ingredients:
3 Ripe Mangoes(I used Alphanso)
1 tbsp Sugar(acc to taste)
1 cup chilled Milk
A pinch of Cardamom Powder
Ice Cubes
Method:
Peel the mangoes and take out the pulp. Discard the skin and seeds.
Blend this pulp with milk, sugar and ice cubes.
Add cardamom powder and chill it before serving and enjoy.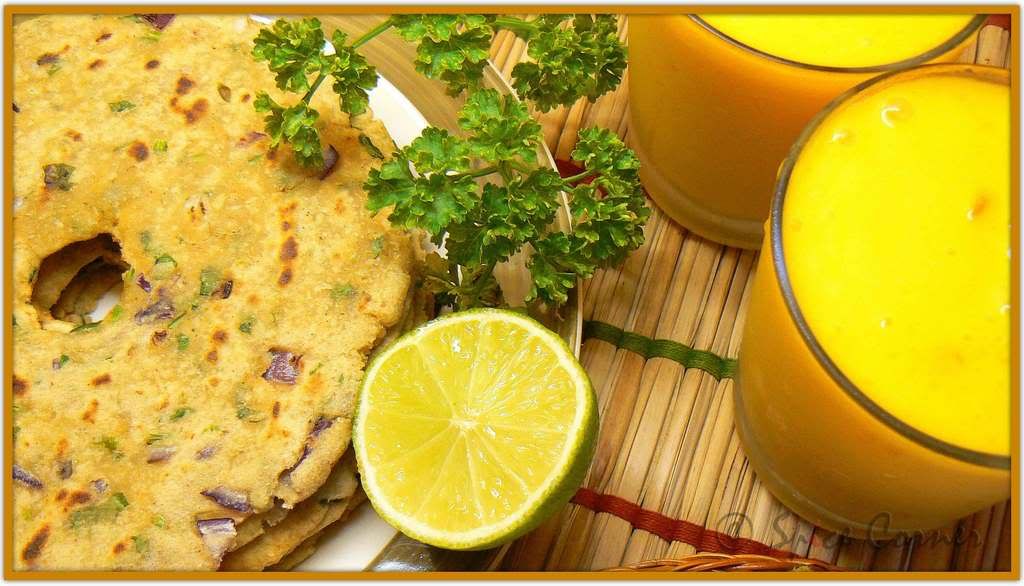 ---
Did You Know?
T
he saying 'Anna he poornabrahma' aptly summarises what Maharashtrians feel about the food they cook. They consider 'anna', or food, equal to 'Brahma', or the creator of the universe. Food is God, to be worshipped. Little wonder that Maharashtrian cuisine not only fills the stomach, but also fills the soul - with content!
T
he cuisine of Maharashtra has its own distinctive flavors and tastes. It can be divided into two major sections–the coastal and the interior.
A
major portion of Maharashtra, which lies on the coast of the Arabian Sea, is loosely called the Konkan and boasts of its own Konkani cuisine, which is a homogeneous combination of Malvani, Gaud Saraswat Brahmin, and Goan cuisines. Besides the coastal cuisine, the interior of Maharashtra—the Vidarbha area, has its own distinctive cuisine known as the Varadi cuisine.
T
he people are known for the aesthetic presentation of food, which adds extra allure to the feasts. For instance, in formal meals, it is a practice to sing sacred verses to dedicate the meal to God. The guests sit on floor rugs or red wooden seats and eat from silver or metal thalis and bowls placed on a raised 'chowrang', or a short decorative table. Rangolis or auspicious patterns of coloured powder are drawn around the thali or the chowrang. To avoid mixing flavours, each guest is given a bowl of saffron scented water to dip the fingers in before starting on the next course. There is a specific order of serving of savouries and sweets, curries and rice or rotis, and a person who does not know this is not considered to be well trained in the art of hospitality. Agarbattis spread fragrance everywhere and the host believes the satisfaction of his guests to be his true joy.
(Source: wiki and www.maharashtraweb.com)
---