"Cauliflower is nothing but cabbage with a college education."

-Mark Twain
The whole weekend it was raining cats and dogs when actually it is "supposed" to be Spring, almost beginning of Summer here in UK!!! As usual, the weekend was cloudy, windy and gloomy. We ended up staying at home, cuddled under blankets and watched movies one after another. After our usual junk food eating sessions in Friday, we craved for something homely and comforting. When it comes to comfort food, nothing can compete with simple Tomato Rasam Rice and Palya. Apart from usual palya which is nothing but a stir fried vegetables tempered with urad dal, chilli and mustard Amma used to make special Peas-Cauliflower Palya. This is a special dish because each floret is cooked in a tangy tomato puree and sweet coconut cream which gives it a unique flavor. Loaded with antioxidants, fiber and crunch, cauliflower has been my favorite vegetables for as long as I can remember. For a kid who used to run miles away when it came to eating vegetables, it was a small relief for my Amma and she used to cook Cauliflower in different ways so that my love affair with cauliflower was retained;) So whenever my hubby and I crave for something different from usual stir fries we prepare this dish.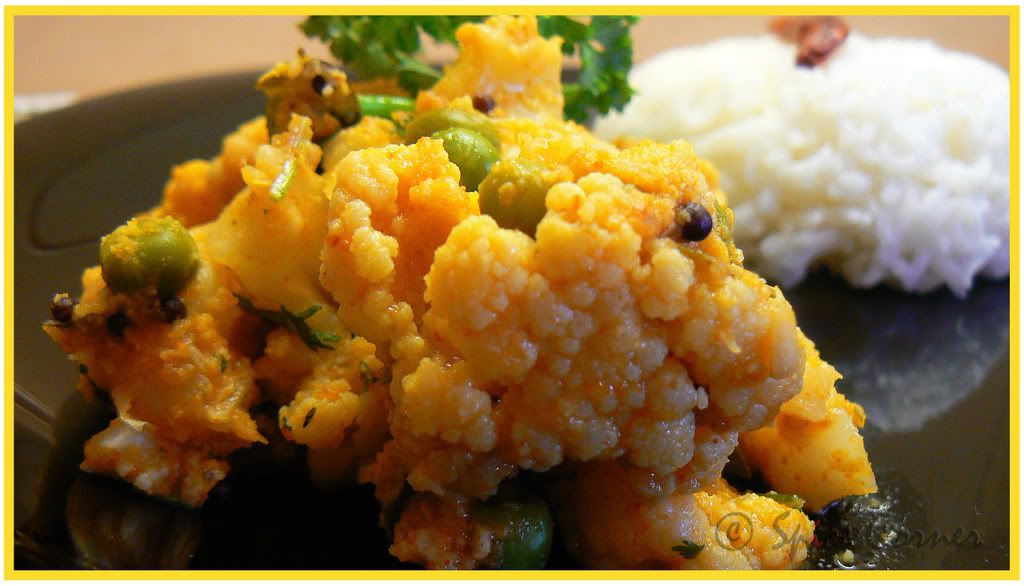 ---
Peas-Cauliflower Palya
Prep Time: 10 mins
Cooking Time: 20-25 mins
Serves: 4-5
---
Ingredients:
1 medium Cauliflower
1 cup Green Peas, cooked/frozen
2 Tomatoes
1-1½ tbsp Rasam Powder
1 cup Grated Coconut
½ tsp Turmeric Powder
½-1 tbsp Jaggery
1-2 Green Chillies, slit
1 tbsp Coriander Leaves, chopped
Salt to taste
For Seasoning:
1 tbsp Oil
½ tbsp Urad Dal
½ tbsp Mustard
1-2 Dry Red Chillies
Few Curry Leaves
¼ tsp Hing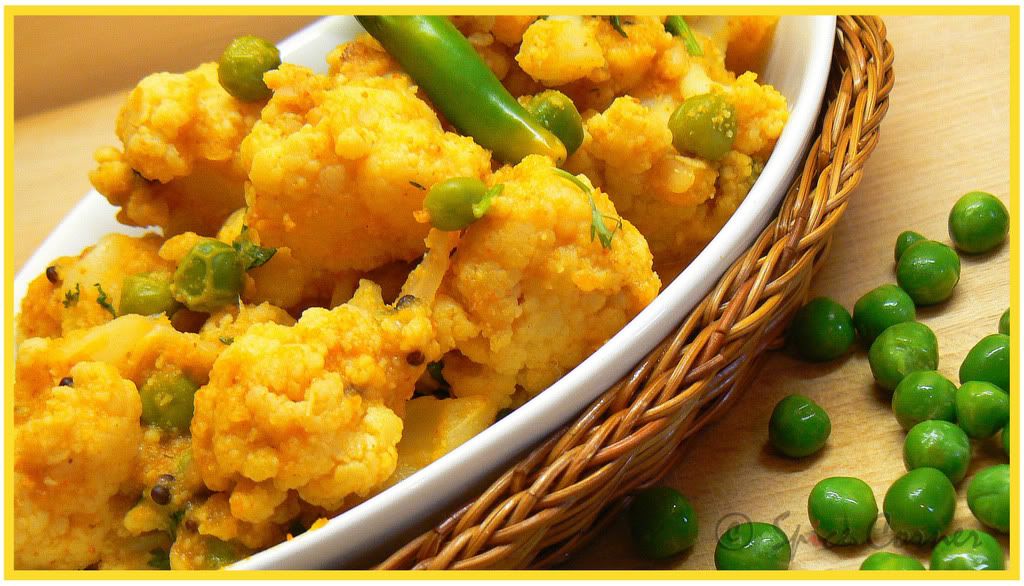 Peas-Cauliflower Palya
Method:
Clean and cut cauliflower into medium florets and keep them aside.
Grind tomatoes, coconut and rasam powder into smooth paste without adding water and keep it aside.
Heat oil in a pan and add urad dal, mustard, dry red chillies, hing and curry leaves and sauté them.
When mustard starts spluttering, add cauliflower, green peas, slit green chilli, salt, jaggery, turmeric powder and 1 cup water. Cover and cook for 5-7 minutes.
Add ground masala and mix well and cook cauliflower for another 5-10 minutes until done. Adjust the spiciness according to taste by adding more rasam powder or chilli powder.
Garnish with chopped coriander leaves before serving hot with chapatti or rice.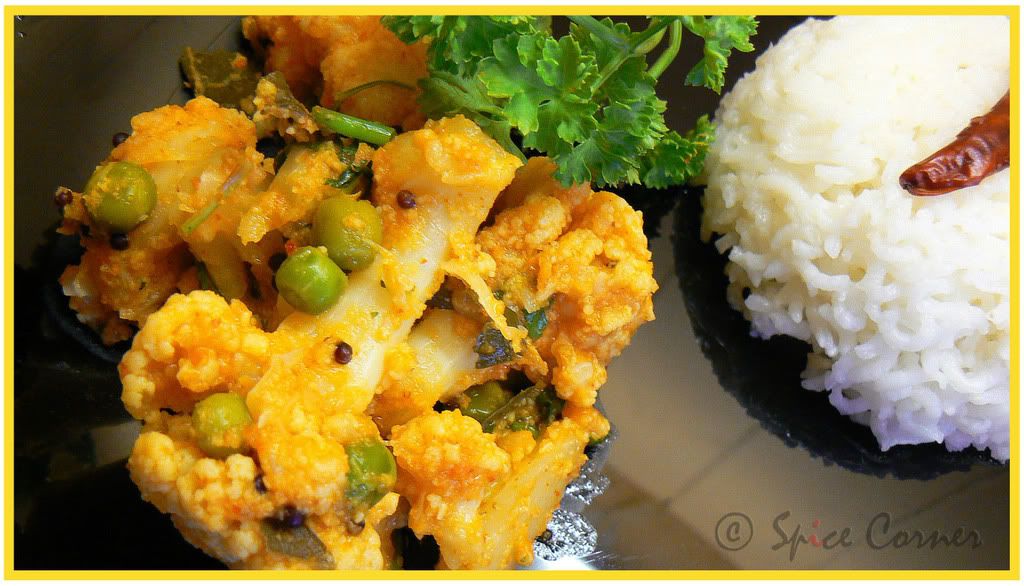 ---
Did You Know?
N
atural chemicals found in soya beans and vegetables such as broccoli, cabbage and cauliflower boost the body's ability to repair damaged DNA and prevent cells turning cancerous.
H
igh in fibre, more nutritious raw, especially high in Vitamin C, also rich in potassium and a source of protein, phosphorus and calcium.
F
ood writer Mark Bittman quoted a Cornell University study, stating that 100 grams of cauliflower had 55 mg of vitamin C after boiling, 70 after steaming, and 82 after being cooked in the microwave oven.
T
o retain the flavor of cauliflower and minimize nutrient loss, cook it rapidly by boiling or steaming. Overcooking cauliflower diminishes the nutrients significantly.
(Source: www.guardian.co.uk and www.health.learninginfo.org)
---