Sometime ago I watched a really well presented documentary which highlighted the issue of child obesity in UK. Although I am very much aware of the growing issue about obesity all around the world, this documentary made me realise how obesity has become more like a social plague. We are talking about one of the biggest growing problem here. Although some people seemed to suggest the main cause for obesity is genetic, research shows that the main cause has got to do with diet and eating habit within the family rather than genetic.
We have become a fast food generation country with fast food restaurants springing up everywhere like wild mushrooms and junk food readily available. Just take a tour in our supermarket and you will be surprised to see the shelves packed with ready to eat foods which contain very high levels of sugar and unhealthy fat. Talking with one of my colleague made me realise, gone are the days of home cooked meals in many homes. Healthy and nutritious home cooked meals have been replaced by take-away food or ready to eat microwave meals. And more shocking thing was the increase in growing number of parents who chose to take their children out to eat rather preparing meals at home. No wonder it costs the NHS more than £500 million a year to tackle this issue.
While growing up our parents always made it a point that we kids spent minimum 2 hours of our day in some physical activity and burning most of the calories gained from eating. Now days, I feel sad to see kids spending more time in front of TV or computer playing video game or computer game. We can very much understand the amount of calories they will be able to burn off sitting on a couch. Amma used to cook every meal at home. Weekday meals were simple home cooked meals where Amma would add lots of greens and vegetables with little spices and very little oil. Like most of the kids, we too took it for granted and always looked forward to our once in a blue moon visit to restaurants. My Appa was not very fond of restaurant food and he prefered home cooked food to any star hotel food. I remember the times when we kids would happily eat all spicy and oily curries and he would quietly enjoy his South Indian Thali and a bowl of his favorite Tomato soup. Even today, he prefers Boiled Rice with Ganji for breakfast. No wonder he looks younger and younger as the years pass. His mantra for good health is Healthy food with regular exercise and it indeed is the best weapon to fight the problem of over-weight and obesity.
Simple
Saaru/Rasam
with roasted papad and pickle is something which was always served at our everyday meal with other usual
Sambar
and
Palyas
. Nimbu Saaru or Lemon Rasam is one of the first dishes I learnt from my mother. It is very comforting dish of red lentils cooked with turmeric and blended with lemon juice, finely chopped tomatoes, green chilli and ginger and finally tempered with aromatic cumin seeds and curry leaves. The simplicity of this dish makes it very special and comforting. Serve it with Chapati or with just plain Rice and Papad or just drink it as a soup and I bet you will have very satisfying look on your face.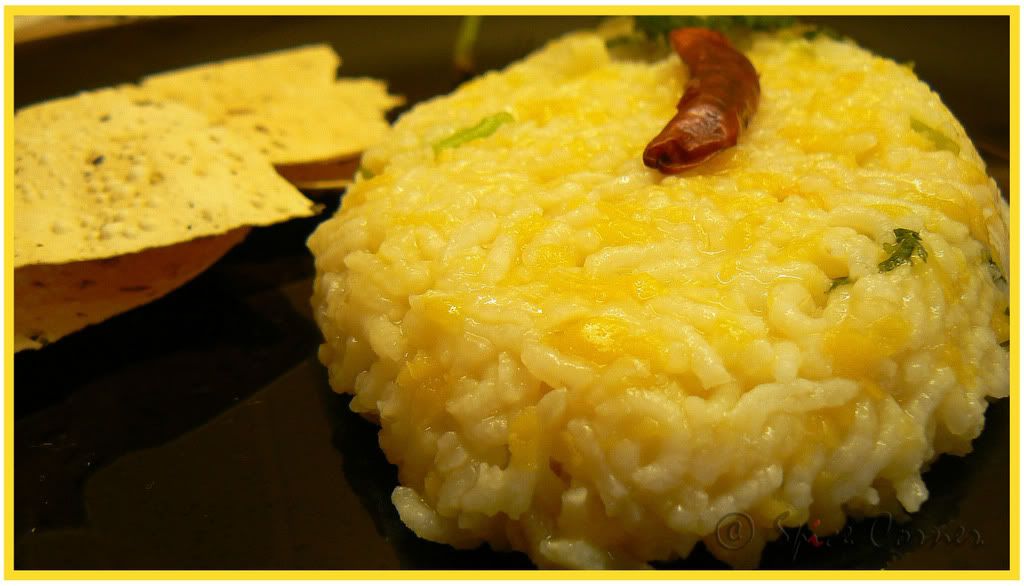 Nimbu Saaru with Rice & Papad
---
Nimbu Saaru
Prep Time: 5 mins
Cooking Time: 20-30 mins
Serves: 3-4
---
Ingredients:
¾ cup Toor Dal/Masoor Dal
1 large Tomato, finely chopped
2 tbsp Onion, finely chopped
2-3 Green Chilli, slit
1 inch Ginger, crushed
3-4 tbsp Lemon Juice
Samll Jaggary Piece
2 tbsp Coriander Leaves, finely chopped
¼ tsp Turmeric Powder
Salt to taste
For Tempering:
1 tsp Jeera/Cumin Seeds
1 tsp Mustard
1 Dry Red Chilli, broken
Pinch of Hing/Asafoetida
Few Curry Leaves
1 tsp Ghee/Oil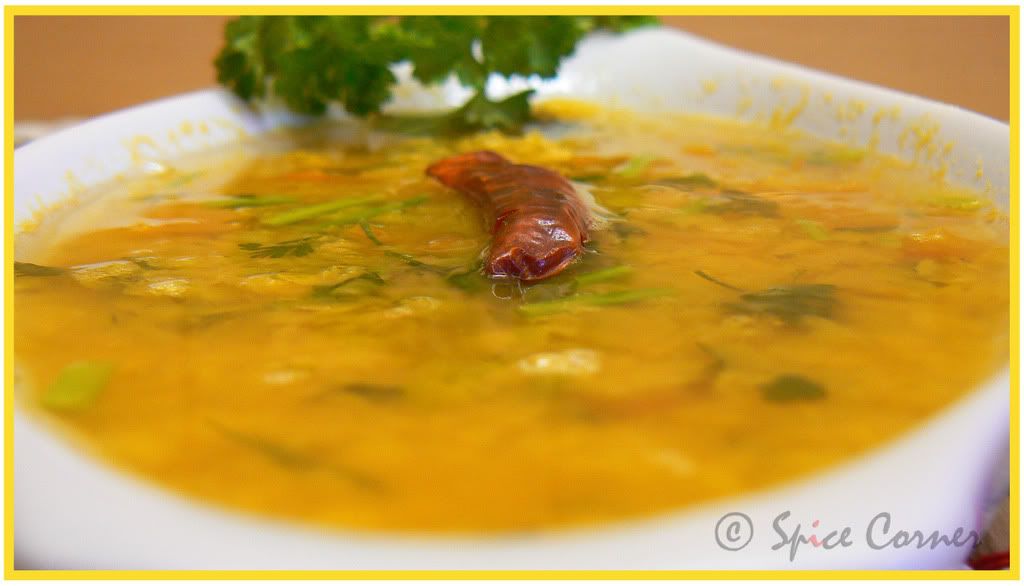 Method:
Add turmeric powder, a tsp of oil and 1 and half cups of water to the toor/masoor dal and cook it in pressure cooker for 10-15 minutes until done. Cool the cooker before opening the lid.
Lightly mash the dal and transfer it into heavy bottomed vessel.
To this add chopped onion, tomato, slit green chillies, crushed ginger, jaggary, two cups of water and salt to taste.
Cook this on a medium flame for 10 minutes till it starts to boil.
Reduce the flame and add little more water if desired and cook for further 5 minutes till all the flavours blend well.
Turn off the gas and mix lemon juice to it. You can add more lemon juice based on your preference.
In a tempering pan heat ghee and add jeera, mustard, curry leaves and hing. When mustard starts to pop and splutter transfer this to the saaru and mix well.
Serve it hot garnished with coriander leaves with rice and papad or chapati.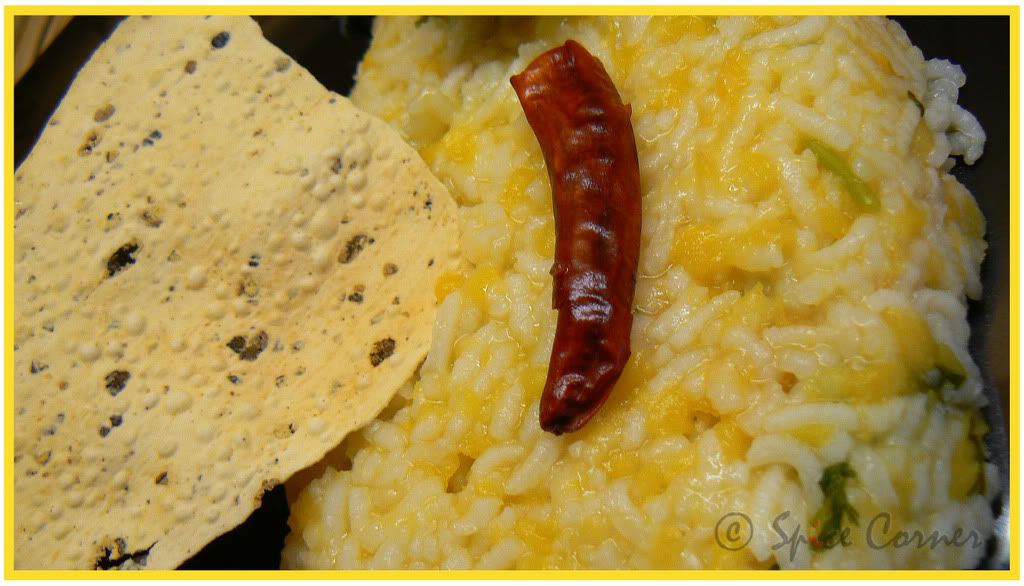 Nimbu Saaru with Rice & Papad
---
Did You Know?
C
haaru, in the Telugu language, means "essence," and, by extension, "juice" or "soup." In former times, it was prepared mainly with black pepper and tamarind, both ingredients native to and abundant in Tamil Nadu, Andhra Pradesh and South India in general.
I
yengars, a community living in Tamil Nadu from the 7th century CE or earlier, call it Chaathamudhu (Chaaru + Amudhu, the Tamil form of Amrita, ambrosia)[citation needed].
S
ourashtras, an immigrant community living in Madurai from the 16th century CE, still refer to it as Pulichaar (Puli = Tamarind + Chaar) (Puli or Pulipu means tart (tamarind)).
T
he same dish in commonly known as Saaru in Kannada and Chaaru in Telugu. With hoteliers and restaurateurs expanding their joints in South India in the mid-twentieth century, it was popularised and came to be known by its Tamil name as Rasam.
I
nterestingly, rasam is the basis of mulligatawny soup, which is an Anglo-Indian version of the same.
(Source: wikipedia)
---