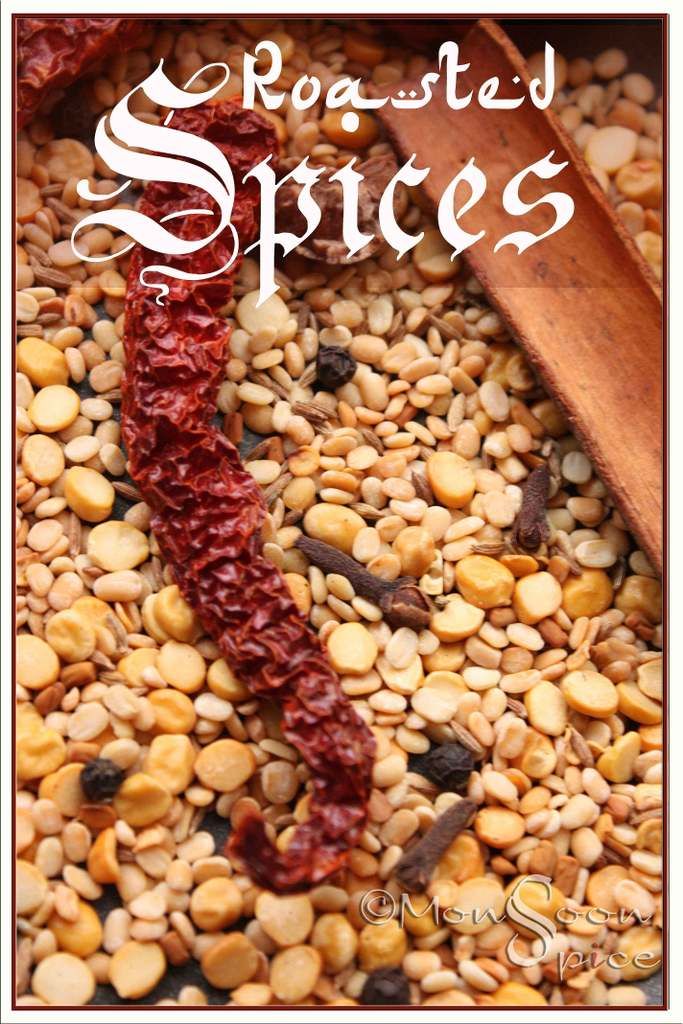 Roasted Spices for Bisi Bele Bhath Masala
Past month has been really hectic in terms of professional and personal terms. So hectic that I missed seeing the daffodil and tulip bulbs that we had planted last year sprout (is that the right word?). I missed noticing how the temperature has been slowly rising to double digits. I missed hearing birds chirping happily in our back garden. I missed to notice that it's not pitch dark when I leave to my office and when I come back to home from work. I missed so many things till yesterday when I bent to pick the coins that had fallen from my hands and saw these lovely, delicate purple and yellow Crocuses beaming happily at sun.

Yes, spring is in the air… little early perhaps but it is almost there! I stopped on the track to admire those little beauties for a while before rushing to finish my work. The delicate petals of Crocus were fluttering in cool breeze and they looked like a small, happy kids playing in a park, the radiance on their face competing with that of the sun god! The little flowers looked like a bunch of happy kids, their smile so infectious that you can't help but smile and laugh with them. I just spent few minutes admiring them and I felt good, really good for that matter!(Now you know the reason behind my template make over. It reflects my mood... Cheerful and alive!) Don't you think its little pleasures like this that uplifts our spirit and makes us happy?
And
Bisi Bele Huli Anna
or
Bisi Bele Bhath
or
BBB
is one such thing that falls into small pleasures of life!
Bisi Bele Bhath
is a classic rice dish from Karnataka and one of the most loved comfort food.
Bisi Bele Huli Anna
may not be the pretty, photogenic dish but the its taste more than compensates for everything. It has got heat from that lovely roasted spice powder, hint of sweetness from jaggery, and tangy note from tamarind. But most importantly it is one pot of rice and lentil medley packed with proteins. I usually make fresh batch of
Bisi Bele Bhath masala powder
but you can also use store bought ones (MTR being the next best thing to homemade). Serve BBB with Raita or Chips/Papad and see your loved ones falling in love with this classic, down to earth dish. This is my humble entry for Susan's lovely event
My Legume Love Affair
.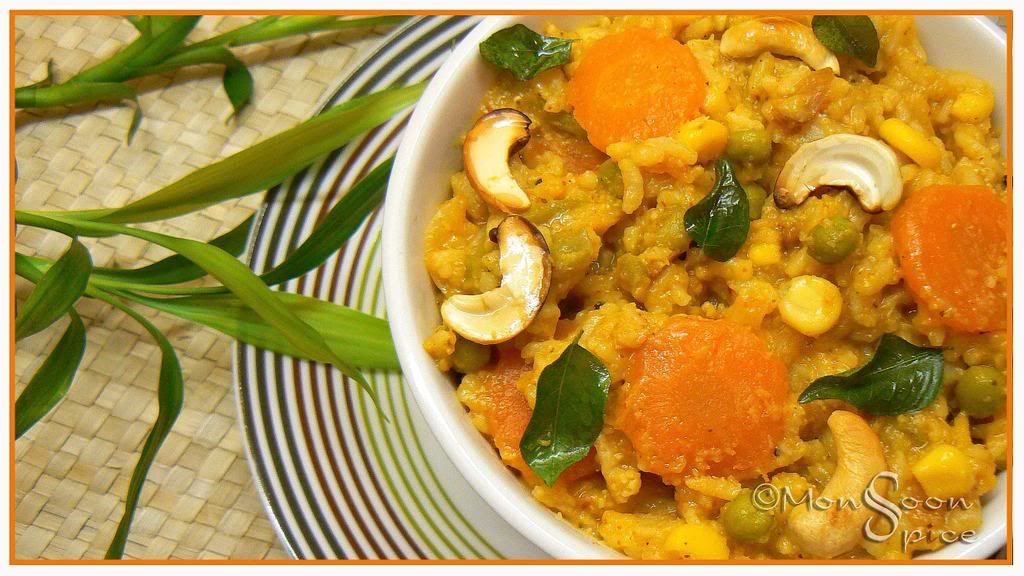 Print This Recipe
---
Bisi Bele Bhath Masala Powder
Prep Time: 5 mins
Cooking Time: 5 mins
Makes: About ¾ cup
Shelf Life: 1-1½ months when stored in an air tight container and refrigerated
Recipe Level: Easy/Beginner
Spice Level: Medium to Hot

---
Ingredients:

½ cup Desiccated Coconut (unsweetened variety)

½ - 1 tsp Black Peppers

¼ tsp Methi/Fenugreek Seeds

2 inches Cinnamon Stick

4 cloves

1 small Peanut sized Nutmeg

2 Mace (I didn't have any)

2 tbsp Urad Dal/Split black Lentils

1 tbsp Channa Dal/Split Chickpeas

10-12 Dry Red Chillies (I used combination of Byadagi and normal spicy ones for colour and heat)

¼ tsp Hing/Asafoetida

1 tsp Jeera/Cumin Powder

1½ tsp Coriander Seeds

½ tsp Turmeric Powder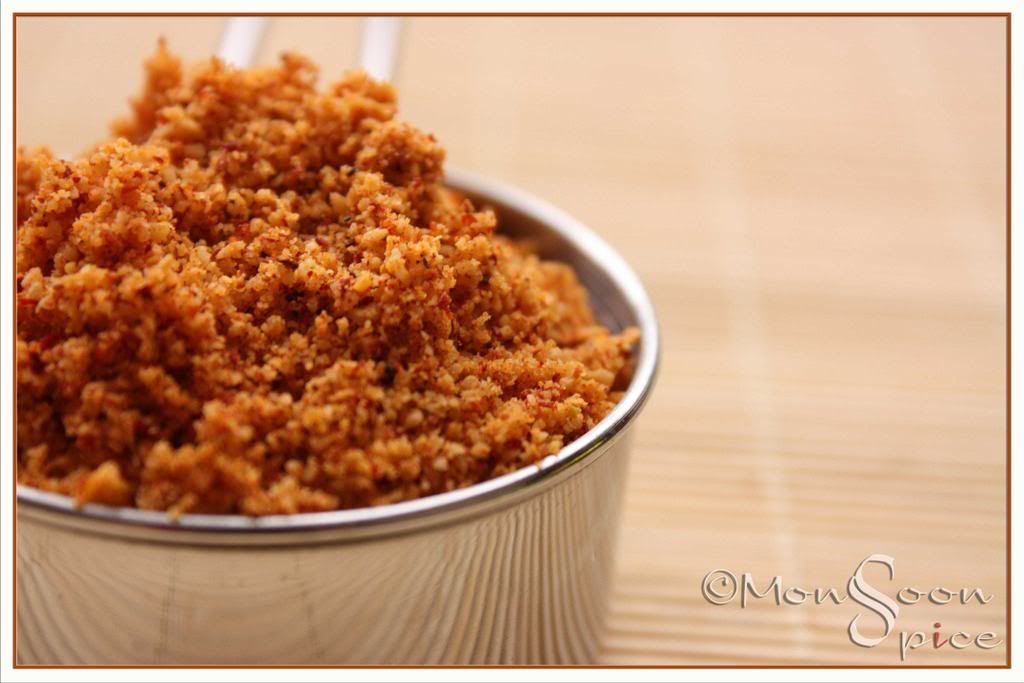 Bisi Bele Bhath Masala Powder
Heat the pan and add all the ingredients except desiccated coconut and turmeric. Dry roast them on low heat till the lentils turn light golden brown in colour and the spices are aromatic. Transfer these roasted spices into a dry coffee grinder or mixer and wait till they are completely cooled.
Once cooled, mix in desiccated coconut and grind them to fine powder. Store this aromatic
Bisi Bele Bhath Masala powder
in a dry, air tight container and keep refrigerated and use as and when required. The shelf life of this powder is about one to one and half months.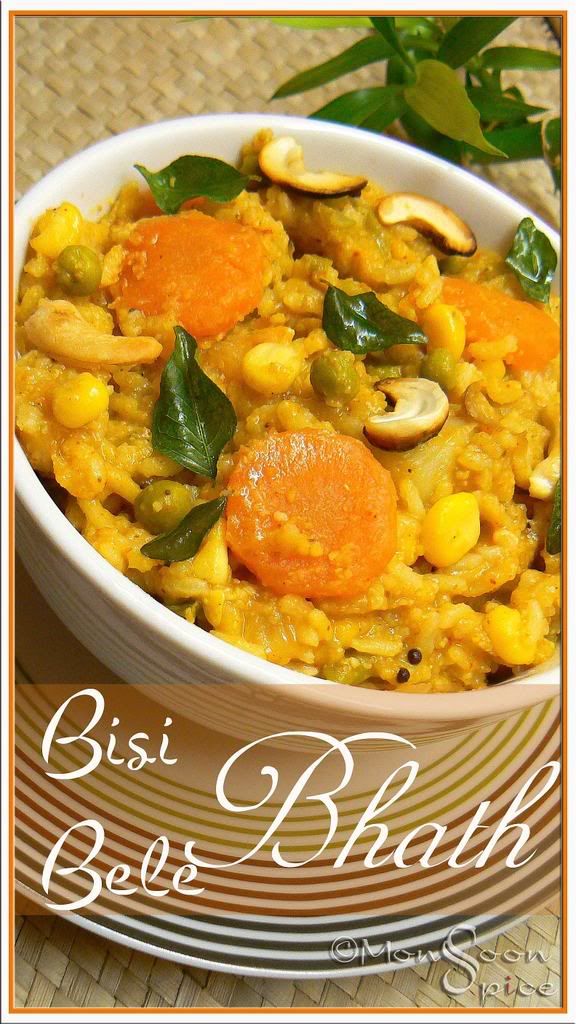 Print This Recipe
---
Bisi Bele Bhath/Bisi Bele Huli Anna
(Rice and Lentil medley cooked with mixed vegetables and roasted spice powder)
Prep Time: 15 mins
Cooking Time: 30 mins
Serves: 6-8
Recipe Source: Amma
Recipe Level: Medium
Spice Level: Medium
Serving Suggestion: With any Raita or with Ghee & Papad/Chips

---
Ingredients:


2 cups Rice (I prefer Sona Masuri. You can also use Basmati rice)
1 cup Toor Dal/Red Lentils
4-6 cups Mixed Vegetables, cut into bite sized pieces (I used Carrots, French Beans, Green Peas, Cauliflower, Potato and Sweet Corn)
1 large Onion, thinly sliced
1 large Lime sized Tamarind Pulp, soaked in warm water and juice extracted (Adjust acc to taste)
1-2 tbsp Jaggery
2-3 tbsp (If using store bought) or ¼ - ½ cup Bisi Bele Bhath Masala (if using home made), adjust acc to taste
½ - 1 tsp Turmeric Powder
Few Cashew Nuts, roasted in little Ghee
Salt to taste
Little Ghee for serving



For Tadka:


1 tsp Mustard Seeds
1 tbsp Urad Dal/Split Black Lentils
1 tbsp Channa Dal/Split Chickpeas
1-2 Dry Red Chillies, halved
2 springs of Curry Leaves
¼ - ½ tsp Hing
2-3 tbsp Oil or Ghee or combination of both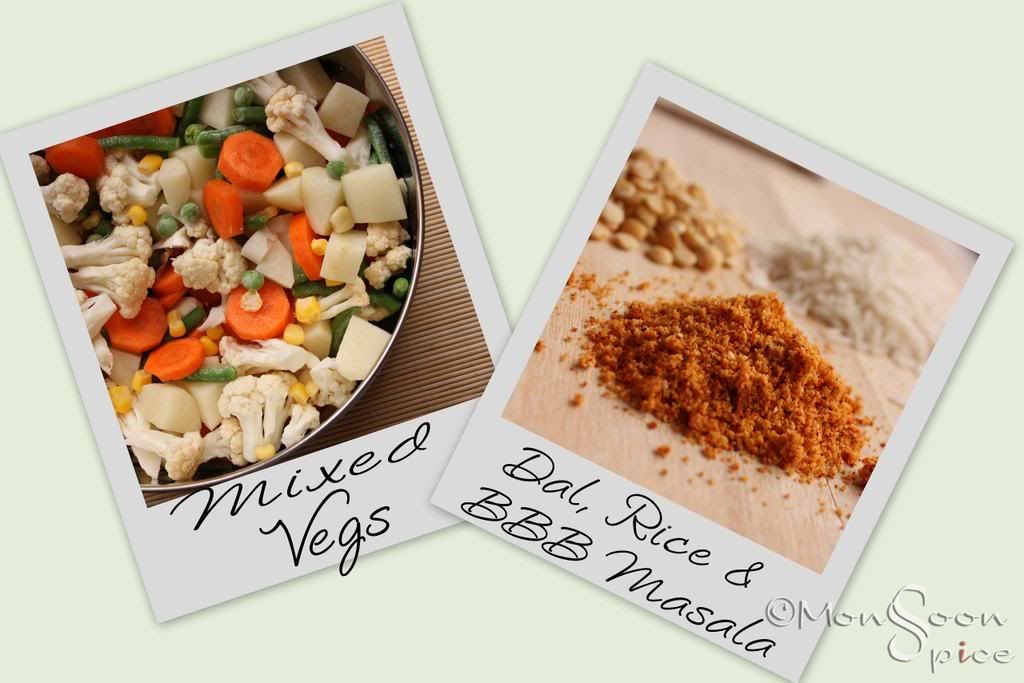 Although you can cook rice, lentils and vegetables together I follow my mom's recipe where all three are cooked separately. Traditionally, rice, lentils and vegetables are cooked separately and then mixed together. I find cooking them separately gives it more taste than putting them all in one pot and cooking. I usually cook my rice in microwave and pressure cook vegetables and dal in two separate bowls. This works well for me. You can also mix vegetables with rice and cook them together and later mix them with cooked lentils.
Wash rice and lentils separately till water turns clear. Add 4 cups of water to rice and cook it in microwave bowl for 20 minutes. If using pressure cooker, then 2 whistles is enough.
Add 2-2 ½ cups of water to dal along with few drops of water and turmeric powder. Cook this dal in a pressure cooker along with vegetables (with little salt) for 2-3 whistles till lentils are cooked well. I usually add more water when cooking the vegetables as I like the veggies to be little mushy and blend well with rice and lentils. And the excess water from cooked vegetables is used in BBB for little runny texture.
While the rice, vegetables and lentils are cooked, make tamarind puree, bisi bele bhath powder, and slice the onions.
Once the dal is cooked mash it with a potato masher. Don't worry if it is too watery. Keep mashed dal, cooked rice and vegetables aside till needed.
Heat oil or ghee in a pan and add mustard seeds to it. When it starts to pop and splutter, add urad dal, channa dal, hing, broken red chillies and curry leaves. Saute till lentils turn golden brown.
Next add sliced onions and sauté till they turn light golden brown in colour. Mix in mashed dal, tamarind juice, BBB masala powder and jaggery and bring them to gentle boil, about 3 mins.
Then add cooked rice and vegetables along with excess water and mix them well. Make sure that the BBB is runny by adding little more water if needed. Adjust the salt.
Mix in fried cashews and serve piping hot with little Ghee and papad/chips and cold Raita and enjoy this heavenly bowl of goodness.

You can serve any type of Raita or just plain yogurt with BBB. But my favourite Raita to be served along BBB is
Aloo/Potato Raita
. It is refreshing and unbelievably simple to make. Unlike most raitas, Potato Raita uses cooked vegetable and here it is boiled potatoes (obliviously!). The creamy yogurt gently mixed with this root vegetable along with sweet onion, hot green chillies and aromatic Tadka is one helluva of flavour explosion in mouth. And when served with hot BBB… Well, why don't you try it for yourself and see!

Print This Recipe
---
Prep Time: 5 mins
Cooking Time: 10 mins
Serves: 3-4
Recipe Source: Amma
Recipe Level: Easy/Beginner
Spice Level: Low
Serving Suggestion: With any Indian flat breads or flavoured/steam cooked rice

---
1 large potato, cooked, peeled and cut into small pieces
½ -1 small Red Onion, finely chopped
1 small Green chilli, finely chopped (Optional)
Pinch of Red Chilli Powder, for garnishing
1 tsp coriander Leaves, finely chopped
2-3 cups of Yogurt (mixed with ½-1 cup of water if it is too thick)
Salt to taste



For Tadka:


½ tsp Mustard Seeds
1 Dry Red Chilli
Few Curry Leaves
Very small pinch of Hing/Asafoetida
1 tsp Oil
Mix in yogurt, cooked potato pieces, coriander leaves, chopped chilli, and salt to taste.
Heat oil in a pan and mustard seeds to it. When it starts to pop and splutter, add hing, dry red chilli and curry leaves. Saute for few seconds and then transfer the Tadka to raita and mix well.
Chill the
Potato Raita
in fridge till required and serve it along BBB sprinkled with little chilli powder on top.