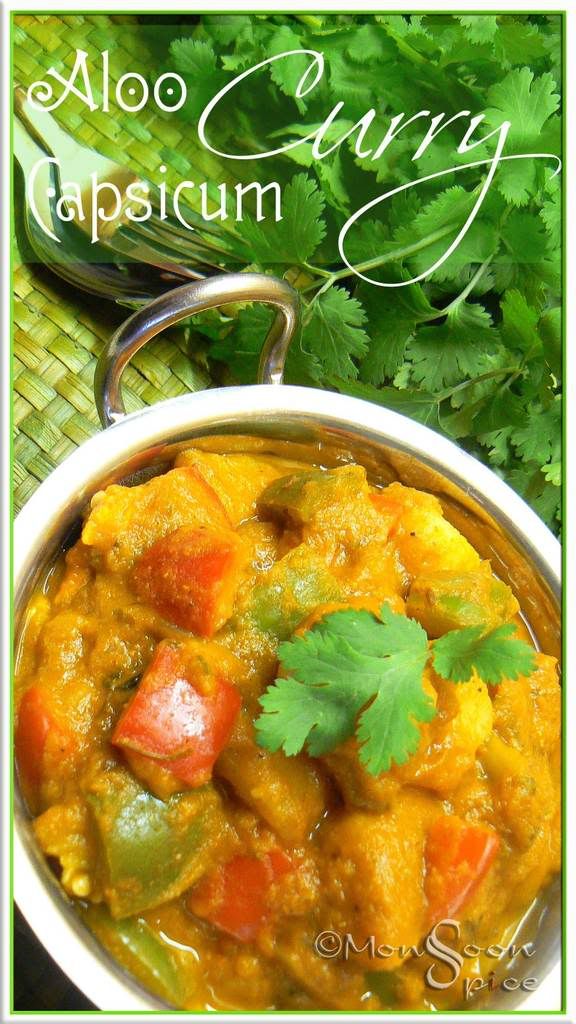 Creamy Aloo-Capsicum Curry
Happy new year everybody! I know I am albeit late in wishing and replying to all those lovely wishes through emails and comments but I guess it's better late than never. So how did you all celebrate your new year?

I am sure your New Year celebration must have been much better than ours. You see waiting to board flight in airport and sitting in those not-so-comfortable metal chairs is not exactly the best way to say good bye to 2008 and welcome 2009. But that is life… Once in a while it is fine to accept the fact that things may not go the way you want them to be!
Actually it was not that bad as much as I want to portray it. The last day of 2008 was spent doing the things I love the most, with my family eating
Gol Gappas
and delicious
Chaats
on the streets of
Namma Bengaluru
. Is there a better way to say good bye to 2008? Nah… And we welcomed 2009 in a lovely café cum restaurant in all new and spunky Bengaluru International Airport by enjoying delicious bowl of Plum Tomato Soup and Grilled Mediterranean Vegetable Sandwich.
Coming to cooking part, I have not been cooking lately as much as I would like to due to lack of interest in cooking. I am blaming my mom and mom-in-law for spoiling me with delicious food everyday of our most enjoyable holiday. I am feeling kind of lost in my own kitchen here after 35 days of pampering. And coming back from 30+ degrees of glorious sunshine to -8 degrees of cold waves is not exactly lifting my mood. I would have gone hibernating happily for few more days if not for some threatening mails and messages from some of you to spam my mailbox and comment section which are already suffocating with overdose of spam messages! Nada, no chance of spamming me anymore :P
Although my blog draft is overflowing with last year's recipes, I decided against posting them. Common, it's New Year and I didn't want to serve leftovers for my readers. So I cooked this delicious, creamy
Aloo and Capsicum Curry
following my Amma's recipe which she had cooked for us when we were in India. The ingredients are the common ones that is used in almost all the curry recipes but the cooking technique is little different. And taste-wise it is totally different from the usual curries that I make often. Crunchy, sweet peppers and all time favourite spuds cooked in creamy gravy is a delight in every way and was perfect balm with Cumin/Jeera Rice to sooth my homesickness.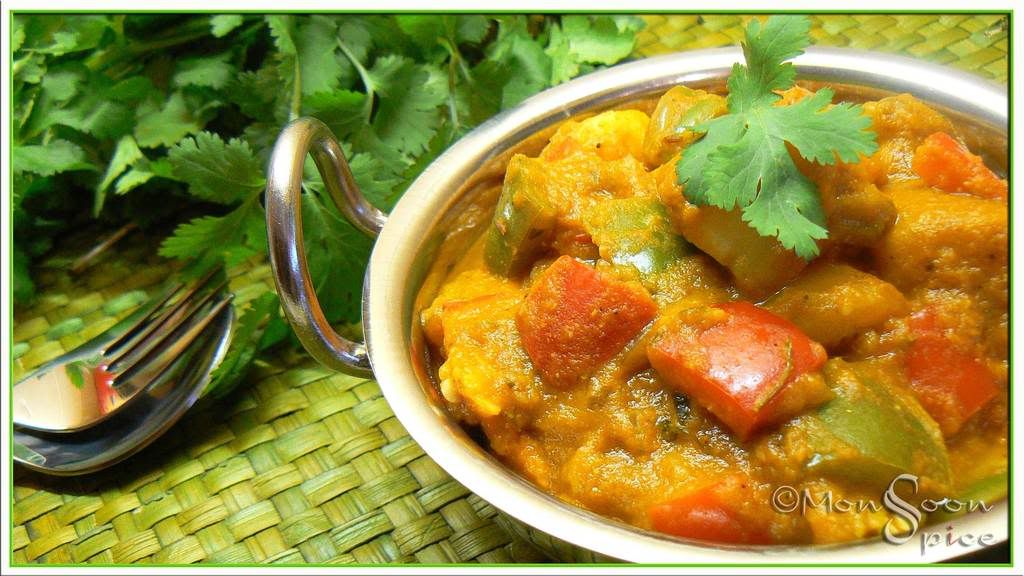 Creamy Aloo-Capsicum Curry

Print This Recipe
---
Creamy Aloo-Capsicum Curry
(Delicious, creamy and colourful curry of Potatoes and coloured Peppers)
Prep Time: 10 mins
Cooking Time: 25-30 mins
Serves: 4-6
Recipe Source: Amma
---
Ingredients:


3 medium Potatoes, cooked, peeled and cut into 1 inch cubes
2-3 medium Peppers/Capsicums of any colour, cut into 1 inch squares
1 large/2 medium Onions, finely chopped
1 can chopped Tomatoes or 3 large and juicy Tomatoes, cubed
1 tsp Ginger-Garlic Paste
½ cup Coriander Leaves (including stems)
2 Green Chillies (Adjust acc to taste)
6-8 Cashew Nuts
1 tsp Garam Masala (Adjust acc to taste)
½ tsp Kitchen King Masala (Optional but recommended)
1 tsp Aamchur/Dry Mango Powder or 1 tbsp Lemon Juice (Adjust acc to taste)
1 tbsp Kasuri Methi/Dried Fenugreek Leaves (Optional but recommended)
1 tsp Sugar
1½ tsp Jeera/Cumin Seeds
1 tbsp Oil
Salt to taste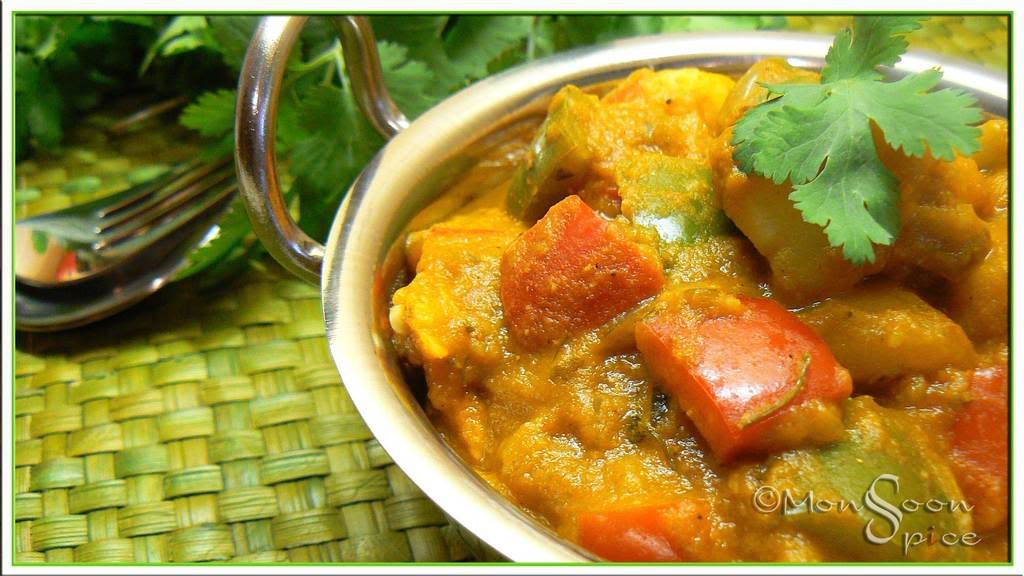 Creamy Aloo-Capsicum Curry
Heat oil in a pan and add cumin seeds to it. When it starts to sizzle and turn reddish brown, add finely chopped onions and sauté till it turns golden brown, about 3 minutes. Switch off the flame and let it cool slightly.
Grind half of sautéed onions, cubed tomatoes, coriander leaves, green chillies and cashew nuts to a smooth paste without adding any water.
Switch on the gas and add ginger garlic paste and kasuri methi to half of sautéed onions. Cook it for another 1-2 minutes till raw smell of the paste disappears.
Now add ground paste and cook on medium heat till oil separates from the paste and it becomes little dry, about 5-6 mins. Add garam masala, kitchen king masala, sugar and salt to taste and mix well.
Mix in 1½ cups of water along with chopped peppers and boiled and cubed potatoes. Reduce the heat and cover and cook for 5 minutes. Remove the lid and adjust the seasonings and add little more water if needed.
Add finely chopped coriander leaves and cook for another 2-3 minutes till all the flavours blend well. Remember not to over cook the peppers and it tastes best when it just half cooked and retains its crunch.
Serve it hot with any flavoured rice or Indian flat breads and enjoy this creamy delight.