Imagine yourself in a restaurant which serves delicious yet healthy food! Sounds too good to be true right? Well, here is one such virtual restaurant which specialises in serving power-packed, nutritious and most importantly lip-smacking, delicious food. Choose your favourite item from our wide selections of starters, main course, sides, drinks and dessert, relax with your favourite music playing in the background and eat to your heart's content.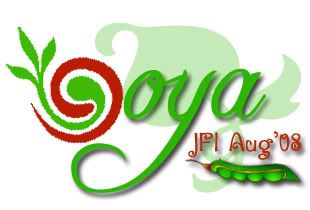 Presenting, the mega round-up of
JFI-Soya
, with 86 delicious entries from over 75 people from all over the world who are passionate about food. Not just any food, here you will find healthy food which never compromises on taste department. All you food bloggers and non-bloggers never leave a chance to amaze and impress me with your unique and innovative recipes. The response from everyone is quite overwhelming and really inspiring. Some of you cooked Soya for the first time, some cooked it in spite of not being very fond of them and for some bloggers it was the very first food blog event they participated in. Thank you, friends for your enthusiasm and contribution.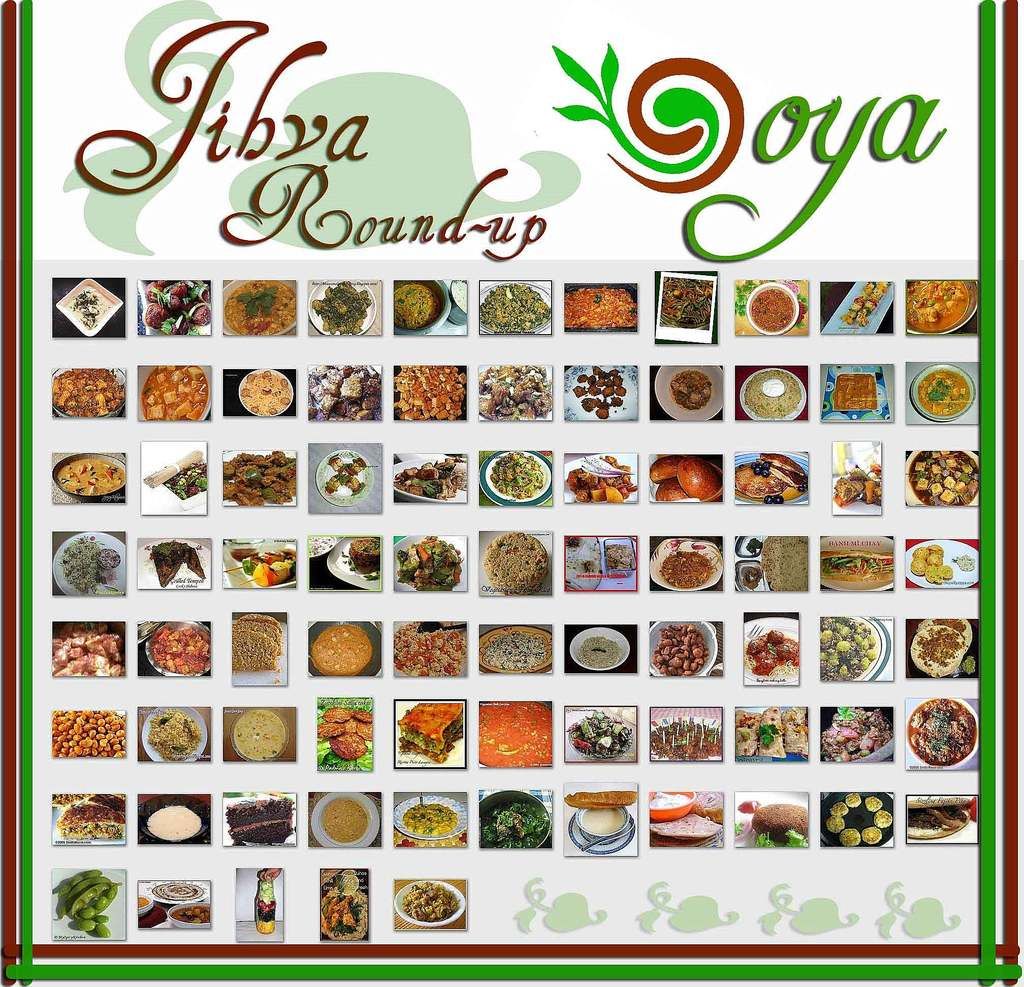 Click
HERE
or on the collage to take you to the JFI-Soya photo gallery
Snacks & Starters




(Crunchy & Munchies, Soups & Salads, Kebabs, Cutlets & Tikkas, Baked & Fried Goodies)
Side Dish




(Curry, Stir Fry, Masala)
Vidya says,


Soy Beans or Edamame or like my daughter, Kiki, calls it Dora Beans! God bless the person to came up with such an innovative idea of putting this nutrient-packed-humble soy bean in a Dora pouch. My girl loves it... the "Dora" pack i mean...& sometimes the soy beans. Thus, i can somehow get this in her diet now. I wish all the good vegetables, someday, come in Dora & mickey & donald & Tinkerbell ... pouches & my girl spots it in the freezer aisle & say "Mommy i want [to eat] that"

Being a Konkani only thing that comes to my head is sukke. Do a punn (tadka), add chopped vegetable/green beans, add salt, little water let cook covered. To wards the end add freshly scraped coconut. So here is my entry to JFI – Soy,




Ingredients:


All the dora pouches in a Dora-Soy pack
1 tsp mustard seed
1 tsp cumin
2 greenn chillies
1 tsp urad dal
a salt to taste
3 tsp oil
3 tbsp freshly scraped coconut



Method:




Heat oil. Add mustard, urad dal & cumin. As they crackle, add green chillies.
After a couple of minutes add Dora Beans. Cook on medium heat, covered, for 6-7 minutes.
Add freshly scraped coconut and salt & mix it well. Serve!





Suggestions:




I might also say that Dora beans are just as good when prepared as per instructions on pouch.
May be add bite size potatoes, before adding Dora beans, & fry them golden.
May be add a sprig of curry leaf.
Main Course




(Rice, Noodles, Pasta, Dosa, Uttappam, Pancakes, Breads, Parathas)
Drinks & Dessert




(Milk, Yogurt, Smoothie, Cakes)
… And that's it friends. I leave with 86 soya recipes which I am sure will inspire you to cook for a very long time. Kudus to all of you for sending power packed entries and making it one-stop-shop for all Soy lovers. Thank you everyone for your active participation and another big thank you to dear
Indira
for giving me this wonderful opportunity to host Jihva with my favourite ingredient.
As usual, I have double checked all the entries I received through e-mails. Do let me know if your entry failed up to show here. I apologise for any omission and please drop a line at comment section or mail me at
sia[at]monsoonspice[dot]com
and I will update the round-up accordingly.
Your search for healthy recipes doesn't stop just here…. Get moving and shop for more whole grains because Sug at Tasty Palettes is hosting this months
Jihva-Whole Grains
.