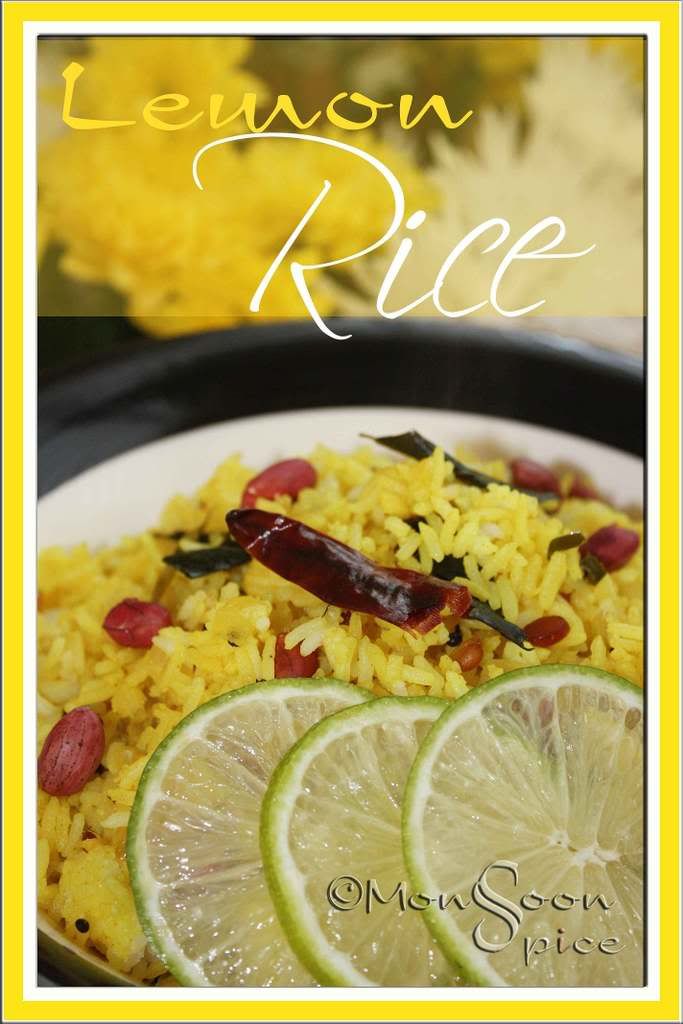 It was first of June in early 90's, one of the worst days for many school kids. It was the day when schools would reopen after two months of adventurous summer holidays. Dressed in new uniform with shining new boots and socks and cart load of new text books and notes on our bags, we kids would drag ourselves to school half heartedly. The thought of no more sleeping late at night and getting late in the morning, no more picnic lunches in mango groves and climbing the mango trees, no more sling shots and biting into raw or juicy stolen mangoes was enough to dampen our spirits. To top it all on every first day to school it would rain like it never rained before.

It was one of those Monsoon Days, when heaven opens its door to the heated earth to bring down the high mercury level, giving it new lease of life. Although these heavy pours would cut down our out door play time, we kids loved playing in the rain and getting drenched from head to toe. Many a times we would 'forget' to carry our umbrella and come back home with slush mud covered boots and bucket full of water dripping from our uniforms. Sometime Amma would scold us and most of the times she would shake her head knowingly and rush us into bathroom. After leisure warm bath where half the time spent on splashing the water at each other and screaming at top of our voice, me and my sister would scrub ourselves dry with warm towel and snuggle into fresh cloths. Once dressed we would run to kitchen and sit on the long two wooden stools facing the kitchen counter and chatter non-stop telling our Amma everything that had happened at school. Amma would smile at us and make our evening snacks while listening to who got punishment for being naughty at school and how much we scored in our surprise tests. With in few minutes she would place two big steel bowls filled with evening snacks and steaming cup of coffee/Bournvita filled to the rim of steel glasses.
One of my favourite evening snacks was Chitranna or Lemon Rice. It's a simple rice dish more commonly made using left over rice from afternoon lunch or dinner. Sometime Amma would add few vegetables to make it healthier and colourful and usually she would add finely chopped onions to give it a nice crunch and sweet note. This delicately lemon flavoured rice was instant hit with me because of roasted peanuts tossed into it. I would hold the hot steel bowl containing lemon rice and let the steam rising from it tickle my nose. Aromatic curry leaves and crunchy dals in tadka is what makes it flavourful and the lime juice adds nice zing to it. And that gorgeous yellow colour from turmeric would well compliment the green colour from chilli and red roasted peanut with skins. This was one dish which added little sunshine to those monsoon days and proved once again that simple food is what comforts me the most during rainy days.
Today while eating it from ceramic bowl instead of steel one and eating it with a fork in place of fingers, I can't help but think of my childhood. The aroma, sight and flavour of this simple, down to earth Lemon Rice was enough to bring back a flood of drenched memory of monsoon days, my home and my Amma lovingly cooking it for two little girls in pig tails and big smile on their face. Amma, this is to you with all my love. And this is my entry for lovely Nags who is hosting
Saas, Bahu Aur Sensex Contest
to celebrate spirit of Indian women.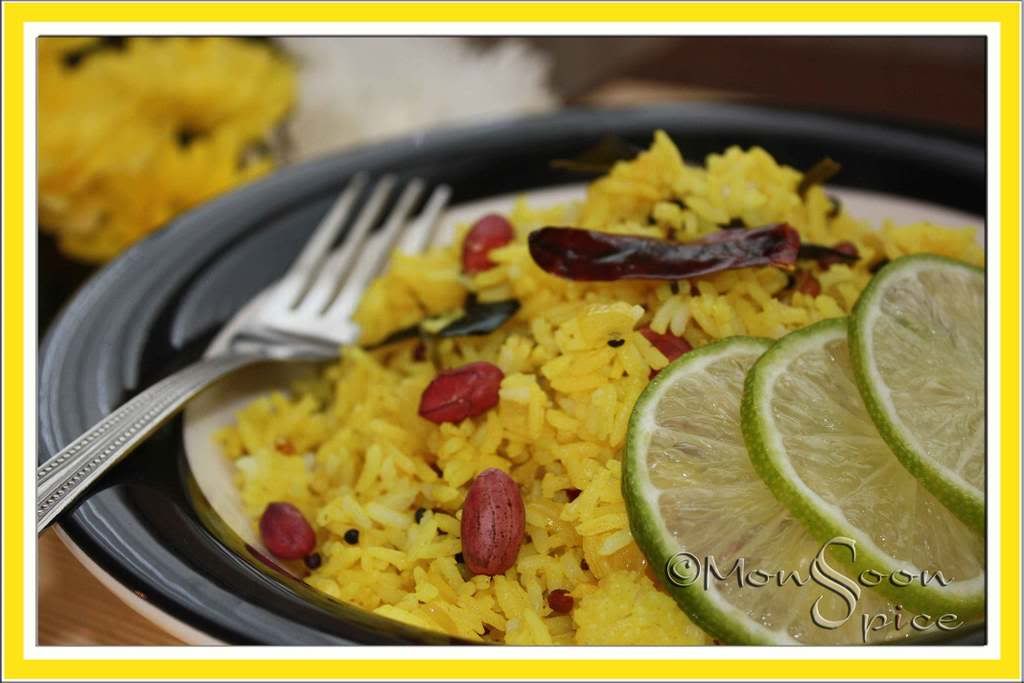 Print This Recipe
---
Chitranna/Lemon Rice

(Lemon Flavoured Rice with toasted Peanuts and Spice & Curry Leaves Tempering)
Prep Time: 5 mins
Cooking Time: 10 mins (If using leftover rice) & 30 mins (If using freshly cooked Rice)
Serves: 3-5
Recipe Source: Amma
---
Ingredients:


2 cups of Rice, washed, rinsed and cooked (or you can use 6-7 cups of cooked, left over rice)
1 large Onion, finely chopped (Optional but recommended)
2-3 Green Chillies, thinly sliced (Adjust acc to taste)
½ cup Roasted Peanuts
1 tsp Turmeric Powder
Juice of a fresh Lemon/Lime (Adjust acc to taste)
½ tbsp Sugar (Optional, but recommended)
Salt to taste



For Tadka/Tempering:


1 tsp Mustard Seeds
1 tbsp Channa Dal/Split Chickpeas
½ tbsp Urad Dal/Split Black Lentils
1-2 Dry Red Chillies, halved
Big pinch of Hing/Asafoetida
10-12 fresh Curry Leaves
1 tbsp Oil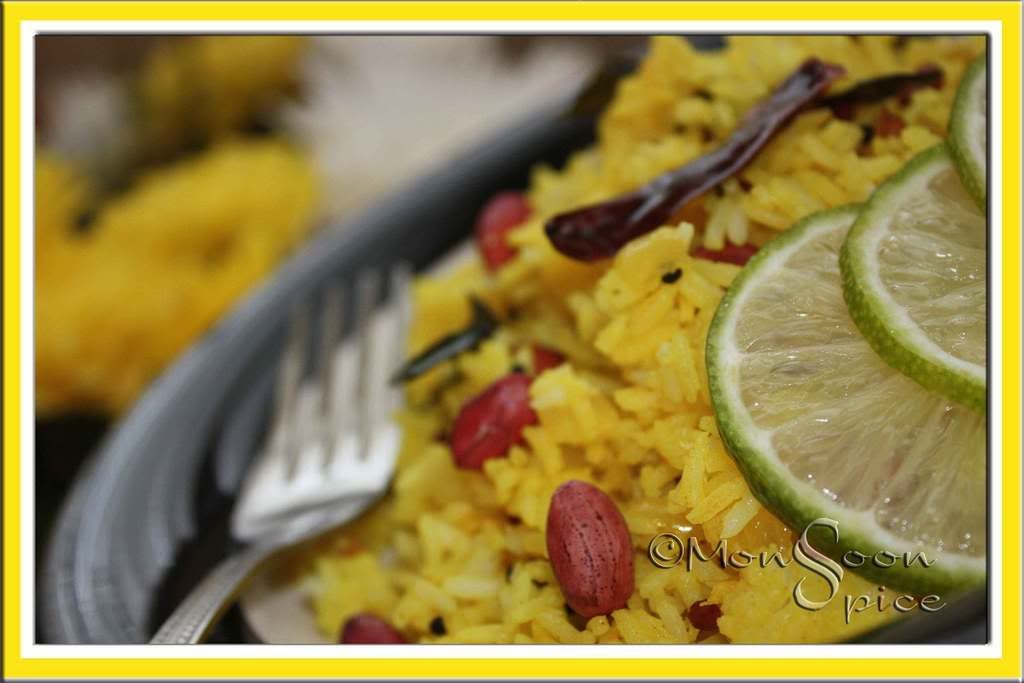 Method:
Cook rice with enough water and fluff it with a help of a fork so that each grain is separated. Keep it aside to cool.
Heat oil in a pan and add mustard seeds to it. When mustard starts to pop and splutter, add channa dal, urad dal and halved dry red chillies. Sauté it on medium heat till dals turns light golden brown. Now add hing and curry leaves and saute it for few seconds.
Add finely chopped onion and sauté it on medium flame till onion turns translucent, about a minute or two. To this add green chillies, turmeric powder and sugar and mix well.
Add cooked rice, freshly squeezed lemon/lime juice and salt to taste and mix well till each grain of rice is heated through.
Switch off the flame and toss roasted peanuts and mix well. Adjust the seasoning before serving hot with chilled Raita and enjoy.