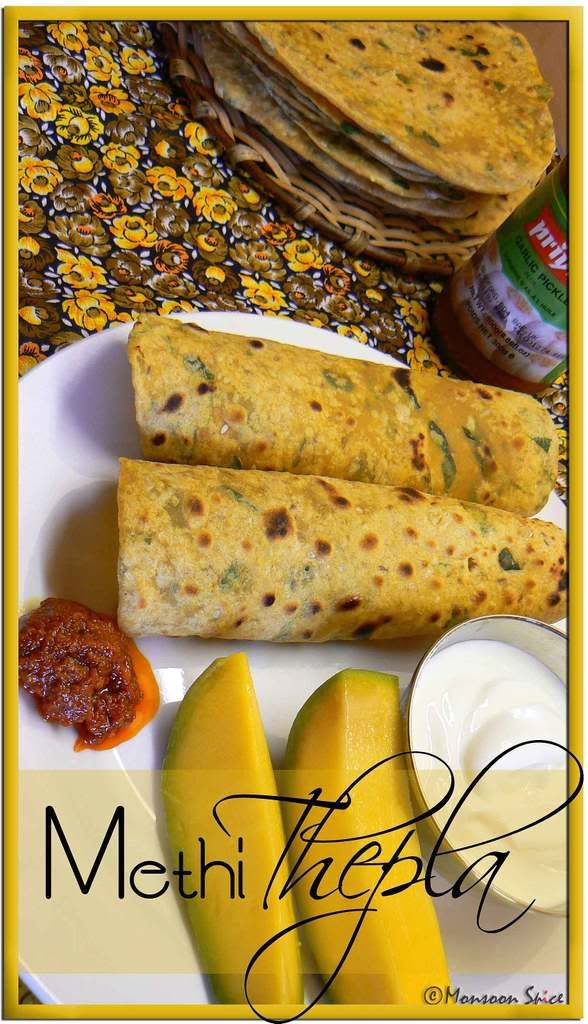 Methi Thepla with Yogurt, Priya Garlic Pickle & Mango Slices
My friend was surprised when I told him I find cooking very relaxing and therapeutic. How can getting out pots and pans, chopping and grinding, sautéing and stirring be considered therapeutic, especially when you have to not only cook, but also wash, wipe and put them away was his question. Well, cooking becomes just a task or chore when you think it that way. For me cooking is more than day to day chore. While I find chopping vegetables and fresh herbs quite relaxing, the heady aroma of roasted spices makes me slow down and enjoy little pleasure of life has to offer. The steam coming out of pots and pans gives me free facials every day and the flexibility of adding or substituting any ingredients of my choice gives me a sense of freedom. The colour of various fresh leafy, green, yellow, red, orange and multi-colored fruits and vegetables fascinates me and makes me happy. The process of transforming raw, solitary ingredients into a savoury amalgamation of flavour, taste, smell, texture and colour is always magical. And the ultimate pleasure is when you are rewarded by ohh's and ahh's, mmm… its so good, comments coming from the people you love busily licking the food you cooked. This kind of therapy is inexpensive, fun and also tasty! Well, not every task or chore gives you this kind of pleasure. Do you think I am right? What makes you relax and enjoy?
These days I am having real rough time at office. With project deadlines to meet I feel emotionally drained and exhausted by the time I reach home. I find solace in my kitchen with my HD next to me. By the time we finished cooking our dinner I was calm and relaxed and enjoying the moment. Food cooked was simple; Methi Thepla served with bowl of cool Yogurt, Garlic Pickle and sweet Mango Slices. Simple task as picking the leaves from big bunch of fresh Methi/Fenugreek Leaves can be therapeutic and cheer you up and punching and rolling of dough can take away all the frustration and leave you content. Now that's something I prefer rather than sitting in one dark corner and sulking!!!
Here is the recipe for simple Guajarati flat bread called Methi Thepla which is one full meal by itself. You can serve it alone or accompanied with just Pickle or Yogurt and hence without any doubt it serves as an excellent travel food. Fresh Methi/fenugreek leaves are mixed with few spices and wheat flour to form stiff dough and rolled out and roasted. Uses or Methi/Fenugreek Leaves are many as they are high in iron and minerals content. Read more about them
here
and
here
. This is my entry for Valli's
Roti Mela
and Priyanka's
SWC-Gujarati Cuisine
. Methi Thepla also goes to Susan's
Beautiful Bones
, an event focused on bringing awareness about
Osteoporosis
.

Print This Recipe
---
Methi Thepla

(Gujarathi flat bread made with fresh Fenugreek Leaves)
Prep Time: 15-20 mins
Cooking Time: 30 mins
Makes: 15 medium sized Theplas
---
Ingredients:




3 cups Wheat Flour/Atta (I used Pillsbury Chakki Atta)

½ cup Gram Flour

1 packed cup fresh Methi/Fenugreek Leaves (just the leaves, no steams)

1 tsp Turmeric Powder

1 tsp Jeera/Cumin Powder

2-3 Green Chillies, very finely chopped or minced

½ tbsp Garlic, very finely chopped or minced

½ tbsp Ginger, very finely chopped or minced

½ tsp Red Chilli Powder (Optional)

1 tbsp White Sesame Seeds

1 tbsp Oil

Salt to taste

Warm water as needed

Other Ingredients:

Wheat flour for dusting

Rolling Pin

Ghee/Oil for roasting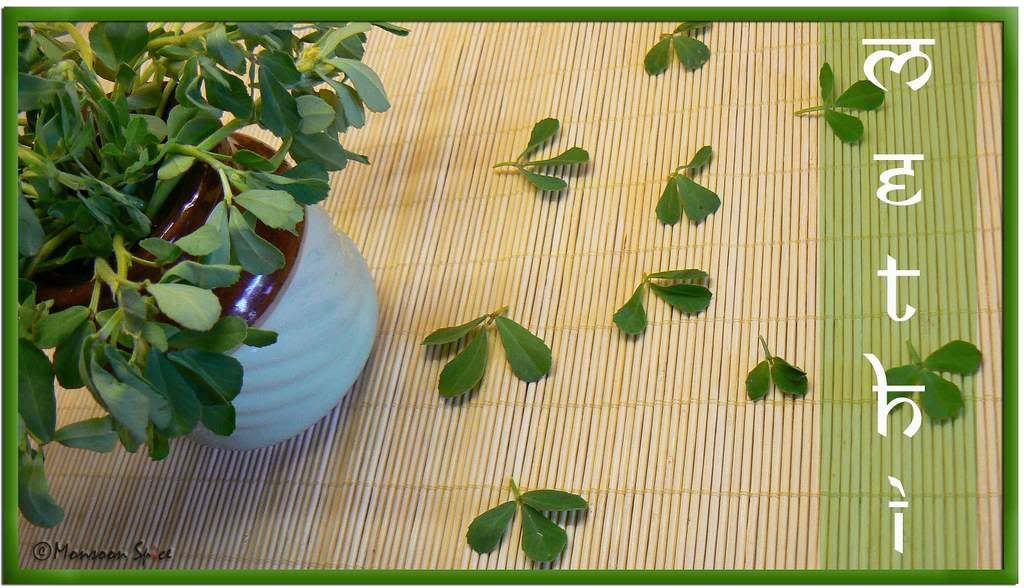 Methi/Menthe Soppu/Fresh Fenugreek Leaves
Pick just the leaves from a bunch of methi/fenugreek leaves and wash thoroughly.
Mix in all the ingredients listed above and form stiff dough by adding little water at a time. Keep it aside covered for about 20-30 minutes.
Knead the dough again for about one minute and make large lime sized balls.
Roll the balls on wheat flour covering it well and press it down with hand. With the help of a rolling pin, roll it into circle to form a roti with ½ cm thickness. Dust off the excess flour.
Mean while heat a griddle/tawa and place the thepla on it. Cook on both the sides at medium to low heat till both the sides are cooked well and few brown spots start to appear.
You can apply the ghee/oil if needed and serve these Methi Thepla hot with chilled Yogurt & Pickle or with a curry of your choice and enjoy.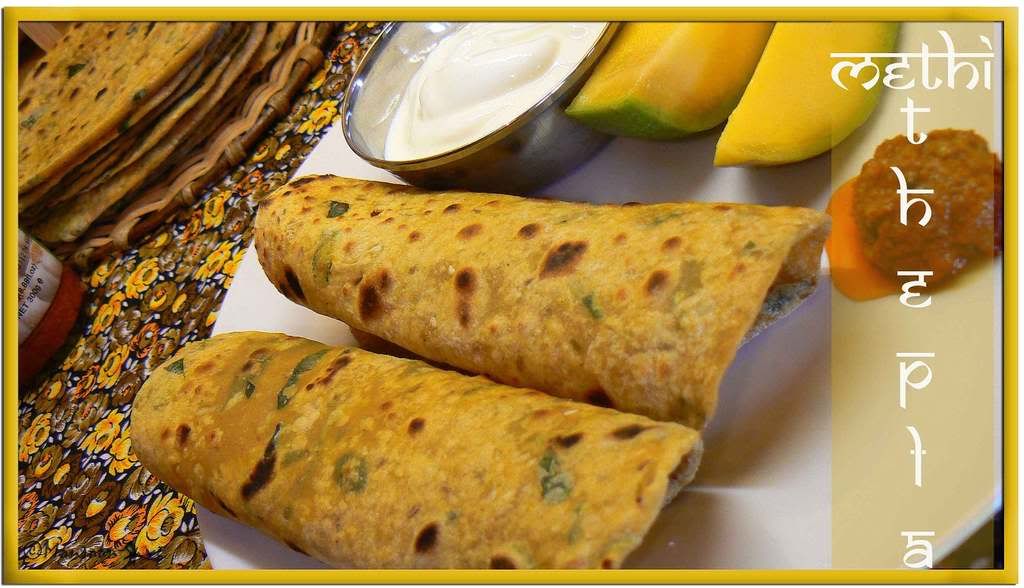 ---
Note:


Special thanks to Prema of My Cookbook and Srimathi of Few Minutes Wonders for passing me "

The Yummy Blog Award

". I really appreciate it girls :)

Other Indian Flat Breads on Monsoon Spice are

---
Reminder:

MBP-Street Food
ends on 24th of June, 2008. Start patrolling the blogs and cook your favourite Street Food that your tummy begs and heart desires and spread link love.
Deadline: 24th June, 2008
Please go through the guidelines and include all the required information in your post and mail when sending me your entry. Don't forget to add Your Name, Your Blog Name, Name of the Dish you cooked, Perm Link of the entry, Perm Link of original recipe along with the gorgeous Photo of final dish.
Click Here
or on the logo to find out more information on this event.