Cream of Broccoli Soup with Garlic Baguettes
BEAUTIFUL Soup, so rich and green,
Waiting in a hot tureen!
Who for such dainties would not stoop?
Soup of the evening, beautiful Soup!
Soup of the evening, beautiful Soup!
Beau--ootiful Soo-oop!
Beau--ootiful Soo-oop!
Soo--oop of the e--e--evening,
Beautiful, beautiful Soup!
Beautiful Soup! Who cares for fish,
Game, or any other dish?
Who would not give all else for two
Pennyworth only of Beautiful Soup?
Pennyworth only of beautiful Soup?
Beau--ootiful Soo-oop!
Beau--ootiful Soo-oop!
Soo--oop of the e--e--evening,
Beautiful, beauti--FUL SOUP!
-Lewis Carroll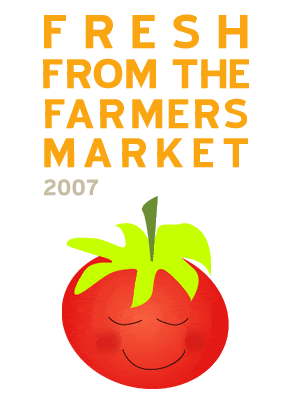 Remember this poem from Lewis Carroll's magnificent creativity Alice in Wonderland? The story has always intrigued me ever since I was a small kid. I loved the strange and absurd things that happens in the wonderland and the amazing creativity behind it that never failed to take me to my own wonderland, playing with Dinah and singing and dancing with bizarre characters from Wonderland. Oh yes!!! I grew up as a kid with wild imaginations, just like Alice. I laughed at absurdity and loved Alice's curiosity and cheered her courage when faced with difficult phases. Carroll opened the new world, a wonderland, to me and made me see the beauty in the unknown.
---
"If I had a world of my own, everything would be nonsense. Nothing would be what it is, because everything would be what it isn't. And contrary wise, what is, it wouldn't be. And what it wouldn't be, it would. You see?"
---
At first, the story of Alice in Wonderland would sound quite mundane. However, if you read the story carefully you will realise its not just any ordinary child fiction. Alice in Wonderland is a story filled with underlying philosophy and many secrets. It's these strangeness and nonsensical ideas which are quite compelling. Remember the annoyingly witty Cheshire Cat? That's one character I loved to hate. He would put Alice in trouble and yet his wittiness and that stupid grin never failed me to grudgingly adore him. Some characters made me laugh and some scared me, some of them are funny and others are rude. However, all the characters are quite colourful and will always remain part of my childhood memories be it stupid Dodo or foul tempered Queen of Hearts and her diminutive husband the King of Hearts or eccentric White Rabbit and many more…
Coming back to present from my wonderland, I was singing "Beau--ootiful Soo-oop!" while making Cream of Broccoli Soup and soon hubby dear joined me when slurping this warm and delicious bowl of soup. Simple soup with few ingredients and very little preparation needed is a joyous song to my soul ;) Little chunks of broccoli are simmered in hearty vegetable stock and milk and lightly flavoured with garlic and a peppercorn is sure to win everyone's heart. When served with herbed garlic baguette it becomes one satisfying meal all together.

Print This Recipe
---
Cream of Broccoli Soup
Prep Time: 10 mins
Cooking Time: 20 mins
Serves: 3-4
---
Ingredients:


1 small Broccoli (approx 3 tightly packed cups)
½ medium Onion, very finely chopped
1-2 Garlic Flakes, very finely chopped
1-1½ tbsp Corn Flour
1 tbsp Butter/Oil
¼ cup Cream (optional, I used single cream)
1 cup Milk
4-5 cups Vegetable Stock (Broth)/2-3 Veg Stock Cubes
Salt & Pepper to taste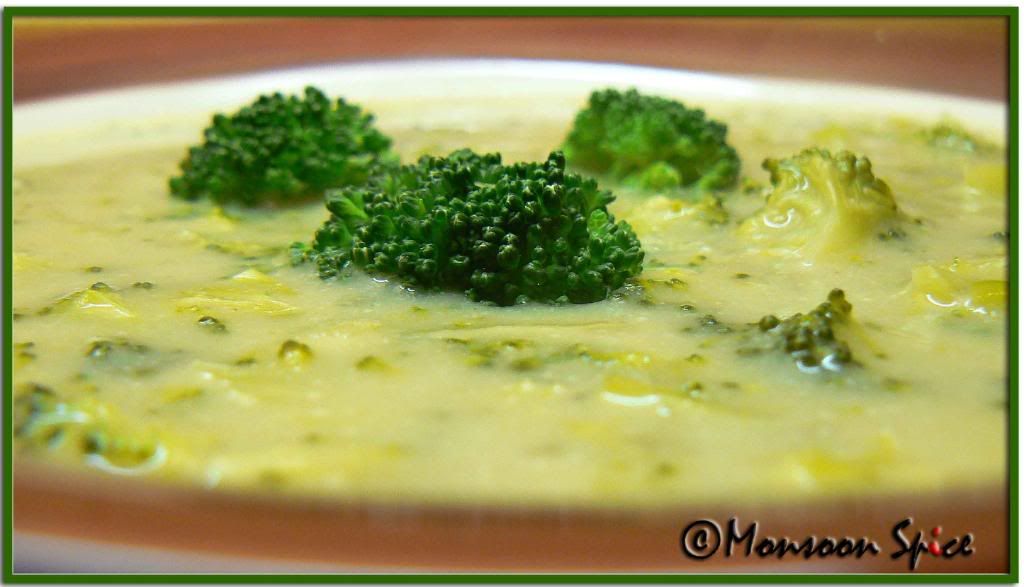 Method:
Chop the broccoli head and stems to very fine pieces and keep them aside.
Heat butter/oil in a pan and add finely chopped garlic flakes and sauté them till they turn light golden.
Now add very finely chopped onions and sauté them for 2-3 minutes over a medium flame till the raw smell disappears and they turn light golden.
To this add vegetable broth and finely chopped broccoli. Cover and cook for 10 minutes till the broccoli becomes tender.
At this stage you can cool the stock completely and blend it into smooth puree without any lumps. Or else if you like some body to the soup and don't mind the broccoli pieces like me continue the following steps.
Add milk, salt and pepper to taste and simmer the flame. Keep stirring the soup for few more minutes so that the milk doesn't curdle.
Dissolve cornflour in ¼ cup of cold water without forming any lumps and pour slowly to the soup. Keep stirring the soup so that no lumps are formed.
Add cream and simmer and cook for another 5-10 minutes till the soup thickens and bubbles are formed on the surface. Serve hot with garlic baguettes and enjoy.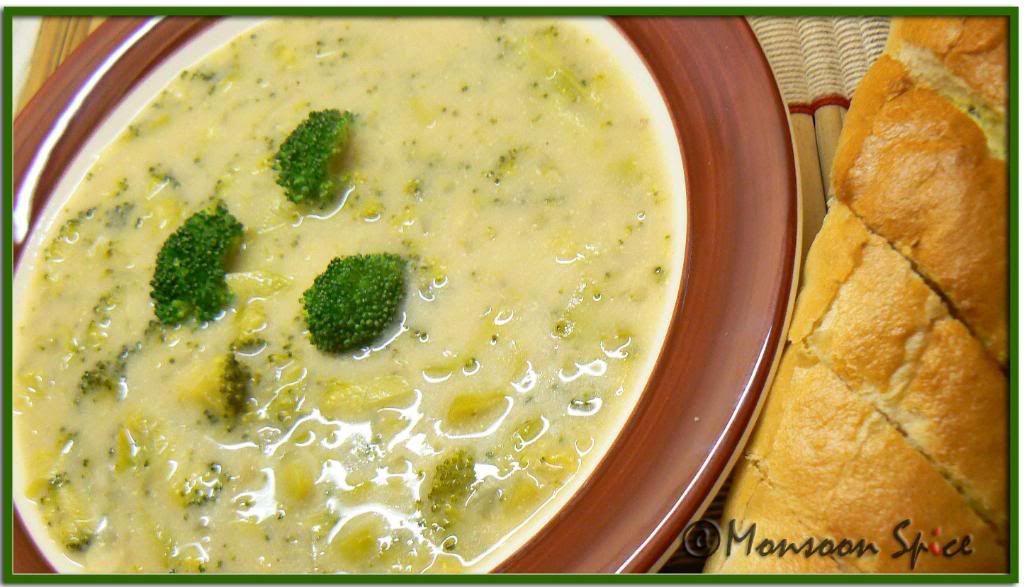 Cream of Broccoli Soup with Garlic Baguettes
---
Tips:
If you prefer thick soup then increase the amount of corn flour used.
Adding fresh cream gives extra smoothness and body to the soup. Addition of cream is optional if you don't prefer heavy soups.