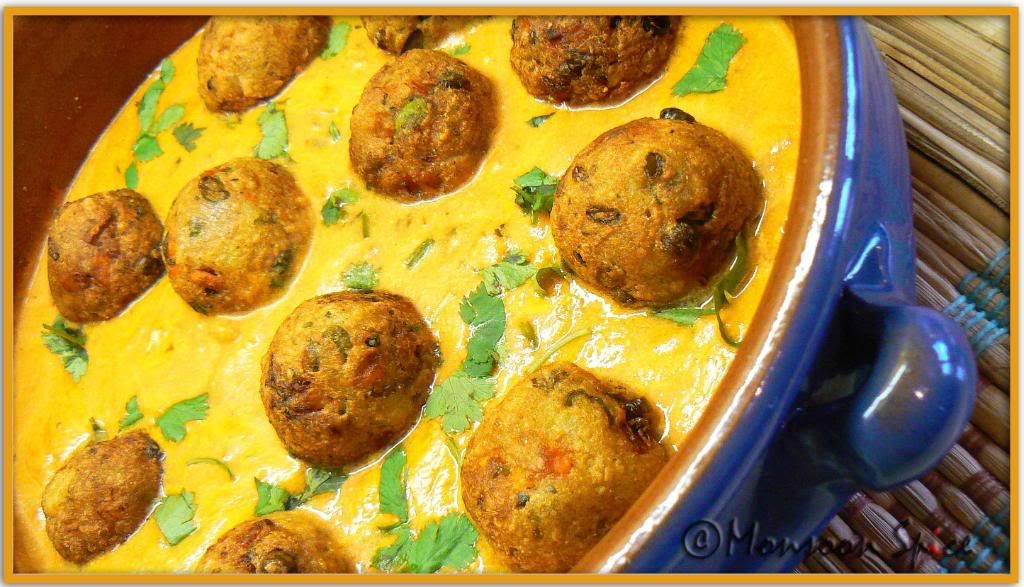 Paneer Koftas in Creamy Saffron Gravy
"When the trees their summer splendour
Change to raiment red and gold,
When the summer moon turns mellow,
And the nights are getting cold;
When the squirrels hide their acorns,
And the woodchucks disappear;
Then we know that it is autumn,
Loveliest season of the year."
- Charlotte L. Riser
It's fall now as I write this. While walking back to home I noticed the change around me. There is nip in the air, colourful leaves are floating around, the dusk is rapidly approaching on the once bright and blue sky, birds are chirping the last of summer's song… Summer has come to an end… A wave of nostalgia hit me as I carefully folded my summer dresses and strappy sandals and removed my tall boots and long coat from cupboard.
I am going to miss bright sunny spells on my face, lazy weekend afternoon's BBQ with friends, wearing flowing summer dresses, biting greedily the big crescent of watermelon, licking the ice cream melting down my arm… But the changing colours of leaves thrills me thinking of celebrating Diwali and Christmas with friends and family, smell of apple and pumpkin pie baking in oven, sipping a hot bowl of soup, curling with loved one sitting close to fireplace… Autumn is the season of transition, a season where change is brought before all our senses. How beautifully the leaves grow old!!! Its pleasure to watch fruit trees lavishing their hues on fruits when other trees lavish upon their trees makes me merry. I feel like a Queen when I tread upon carpets of gold and crimson, of brown and bronze leaves, woven by the winds and rains while we slept… I welcome autumn the way I feel, with Paneer Kofta in Creamy Saffron Sauce. Royal and bursting with autumn colour… A dish fit for royalties…
The word kofta is derived from Persian kūfta. In Persian, کوفتن (Kuftan) means "to beat" or "to grind" or meatball. (Source: Wiki) In vegetarian versions of koftas different vegetables like Potato, Cabbage, Beetroots, Spinach, Paneer etc are minced and mixed with different spices. These spicy vegetable balls are then deep fried or grilled or baked and then served with rich creamy, spicy and aromatic gravy.
Unlike vegetables koftas, panner koftas have creamy texture. Grated paneer is added with vegetables of our choice and spices and then deep fried. When deep fried or baked, they are golden and crisp and have rich melt-in-mouth taste. These Koftas are then served with creamy gravy of onion and tomatoes and a pinch of saffron to give it a rich look and flavor. I used fresh homemade Paneer to make this koftes and don't hesitate to use store bought Paneer if you don't have homemade ones in hand. This is my contribution to lovely Sunita's Think Spice: Think Saffron event. I am also sending these koftas to Margot of Coffee & Vanilla who is hosting Vegetarian Awareness Month.
---
Paneer Koftas in Creamy Saffron Gravy
Prep Time: 30 mins
Cooking Time: 20-30 mins
Serves: 4-5 People
---
For Koftas:

2 cups Paneer, crumbled or grated

2 medium Potatoes, boiled, peeled and mashed

½ cup Green Peas

1 small Carrot, grated or very finely chopped

5-6 French Beans, finely chopped

1 tsp Garam Masala

½ tsp Kitchen King Masala

3-4 tbsp Corn Flour

2 tbsp Cashew, chopped (Optional)

Oil for deep frying

Salt to taste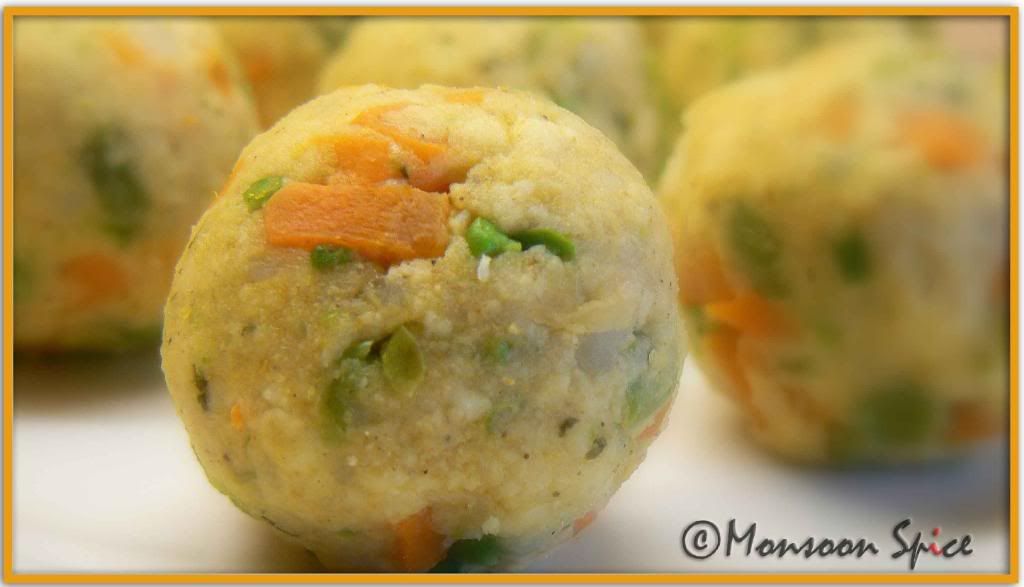 Koftas before deep frying
2 medium Onions, finely chopped

4 large Tomatoes/1 can Tomatoes

8-10 Cashews

2 flakes Garlic, finely chopped

1 inch Ginger, crushed and finely chopped

1 tsp Garam Masala

1 tsp Kitchen King Masala

½ tsp Jeera/Cumin Powder, roasted and powdered

½ tsp Coriander Powder, roasted and powdered

½ tsp Kashmiri Chilli Powder

¼ tsp Turmeric Powder

1 tbsp Kasuri Methi

¼ cup Fresh Cream

1 tsp Jeera/Cumin Seeds

1 inch Cinnamon Stick

2 Green Cardamon

2 Cloves

1 Bay Leaf

A big pinch of Saffron, soaked in 2 tbsp warm milk

1 tbsp Oil/Ghee

2 tbsp Coriander Leaves, finely chopped

Salt to taste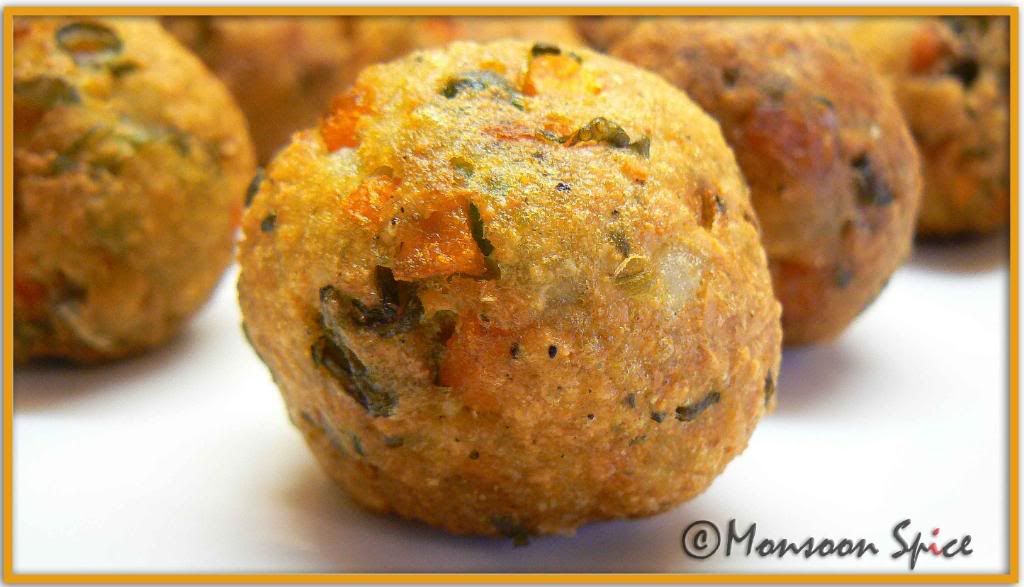 Koftas after deep frying
Method:
For Gravy:
Make a plus mark on tomatoes and blanch them in boiling water for about 3 minutes and peel their skin.
Grind these tomatoes with cashews, jeera powder, coriander powder, garam masala, kitchen king masala, chilli powder and turmeric powder to smooth paste without adding any water.
Heat oil in a pan and add cinnamon stick, cloves, cardamom and bay leaf and sauté it for a minutes on medium flame till you get nice aroma.
Add jeera and when it starts to sizzle add finely chopped onion, kasuri methi, garlic and ginger. Sauté them till onion turns golden brown.
To this add tomato paste, ½ cup of water and salt to taste and cook for 5-7 minutes.
Now mix saffron soaked in warm milk and fresh cream and cook for further 10-15 minutes over a low flame.
Switch off the flame and mix in finely chopped coriander leaves and keep it aside.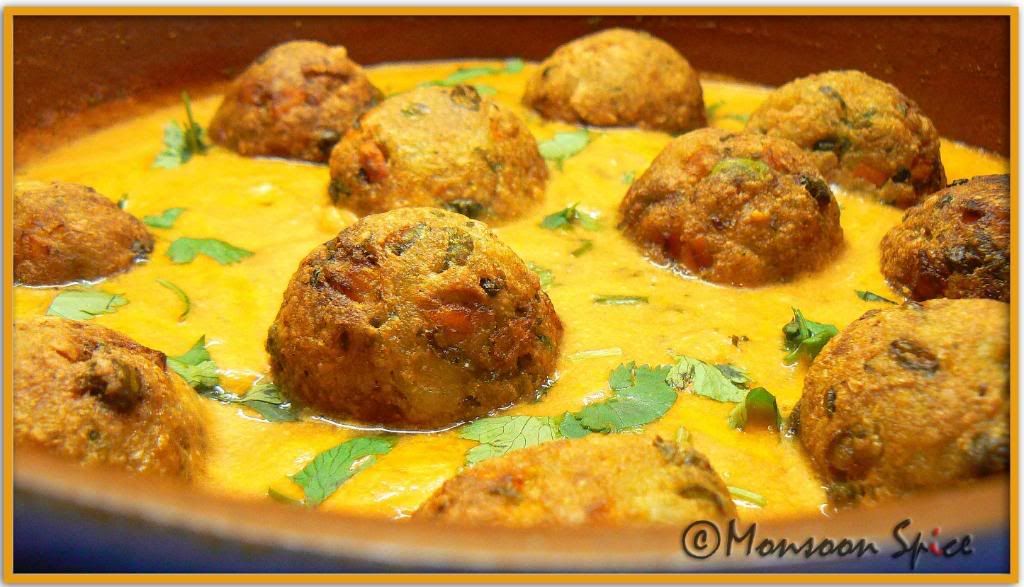 Paneer Koftas in Creamy Saffron Gravy
For Koftas:
Take finely chopped carrot, beans and green peas in a microwave safe bowl and cook for 3 minutes or steam cook them for 5 minutes.
Add them with finely mashed potatoes and grated paneer.
Add chopped cashews, garam masala, kitchen king masala, salt to taste and corn flour and mix them well using your hands. The consistency should be as that of chapatti dough to prevent it from breaking while deep frying.
Make small lemon sized balls and deep fry them in batches in hot oil at slow-medium flame till they turn golden brown and crisp from outside. Alternatively you can also bake them in oven at 175 degrees for about 20-30 minutes till they turn golden brown.Transfer the fried koftas on paper towel.
Just before serving arrange the koftas in gravy garnished with finely chopped coriander leaves.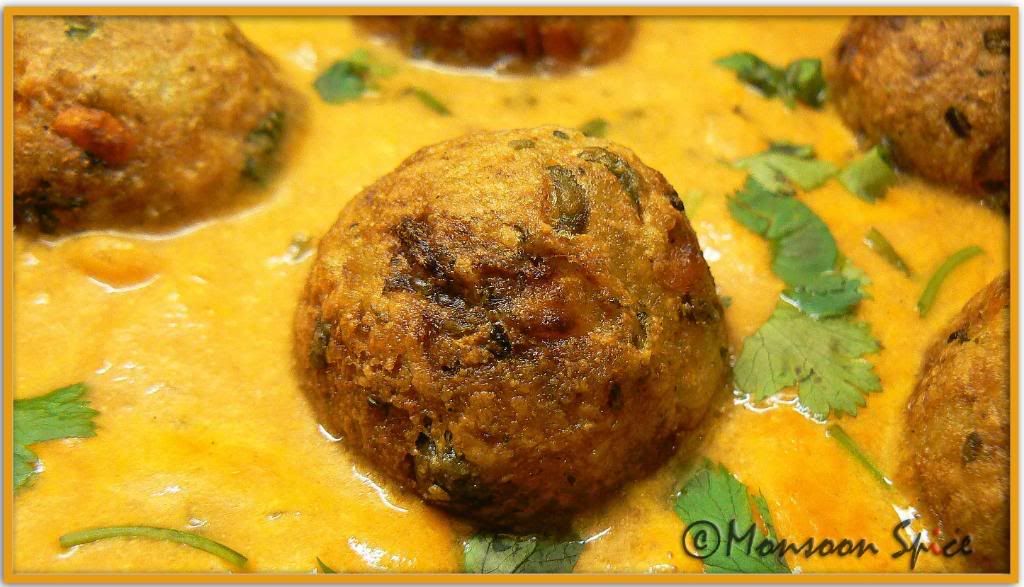 Paneer Koftas in Creamy Saffron Gravy
---
Tips:
When you deep fry the koftas, first make sure that the oil is hot enough before you place them for deep frying.
Place one kofta at a time in a pan when deep frying. If the Kofta starts to break or crumble add about 1-2 tbsp of cornflour and mix well as corn flour helps the paneer and vegetables to bind well and they will not break when you deep fry them.
Always fry the koftas in low-medium flame so that they are cooked well and get lovely golden brown colour.
Other Kofta Recipes from Monsoon Spice: