Bombay-Goa highway, few hungry students, time well past the lunch hours, speeding bikes at 100 kms per hour, hot and sizzling afternoon… With few ten rupees notes stuck in our pocket we obviously didn't dare to enter some plush and expensive restaurants with swanky ambience and attentive maitre d' to greet us with fake smile plasttered. We took a detour to one of the small eat-out joints where you can't expect to see cushioned chairs and tables in an air conditioned room with soothing music playing in the background. There you will hear blaring sound of Bhangra music and see one small shed which is a cooking area with tandoor (earthen oven half buried in ground) in one corner and huge gas burners cooking creamy and delicious Punjabi food in big metal pots. In an open air, the coir woven wooden cots and a big wooden plank served as a seating and table arrangements. Then came our maitre d', a small boy in a blue checks knickers and vest who greeted us by slapping a big steel tumbler of water on the rickety table. When we asked for the menu, the little boy started rattling off without pausing for breath… Dal-makhani Dal-fry Aloo-gobi Palak-paneer Matar-paneer Mushroom-masala... With some training the boy surely could give
Shankar Mahadevan
run for his money with his own album called 'Dhaba Breathless' ;) With in few minutes we were served Roties, red onion and green chilli in a big Thali and array of curries filled in generous sized bowls. It didn't take very long for us to lick the plate clean while the
Daler Mehendi
sang away 'Bolo Ta Ra Ra' in the background.
Yes my friends, I am talking about a Dhaba, which is a small road side restaurant offering quick service to truck drivers and people like me who can go on and on with my love affair with Dhaba food. Originally located on major highways, where they were supposed to cater to truck drivers on long distance travels, these dhabas have now become a popular option with students, professionals and even families. For students like us Dhaba was a god sent gift which not only served delicious food but also at very reasonable cost.
This month's RCI did took me down the memory lane and I have been cooking Punjabi delicacies one after the other. One Punjabi food I always loved is
Dal Makhani
. The whole Urad dal and Red Kidney beans simmered in creamy gravy of butter, onion, tomatoes and spices with a liberal dose of cream is something to die for. Butter, spices and cream??? Oh!!! Did I hear some grumblings from my weight conscious friends? You can substitute the cream with yogurt and reduce the amount of Butter to make equally delicious healthier version of
Dal Makhani
. But I do love to indulge in luxury of rich Indian food once in a while and forget about my expanding waistline ;)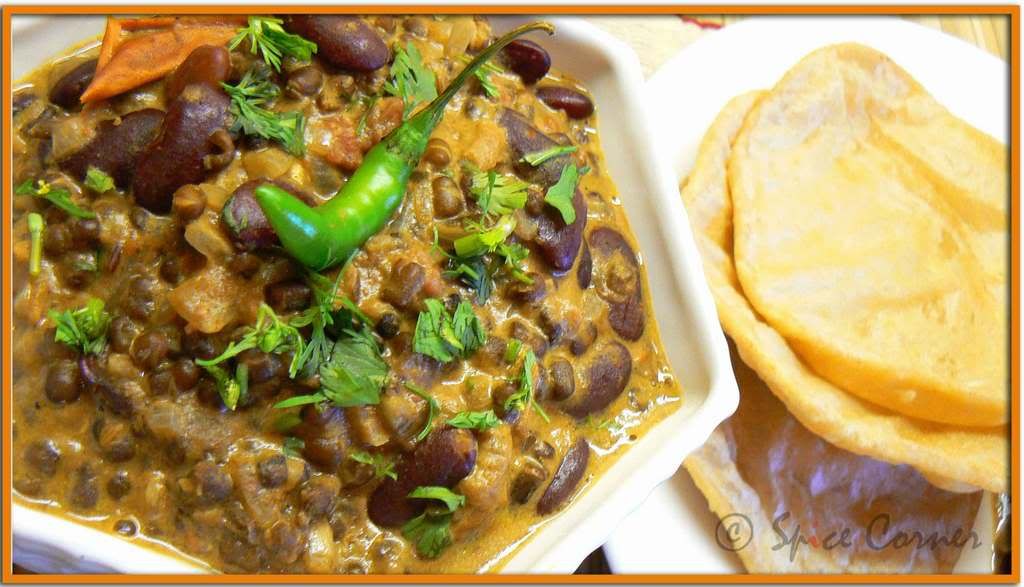 ---
Dal Makhani
Prep Time: 10-15 mins (excluding soaking time)
Cooking Time: 30-45 mins
Serves: 3-4
---
Ingredients:
1 cup whole Urad Dal/Black Lentils
½ cup Rajma/Red Kidney Beans
2 medium Onions, chopped very finely
2 large Tomatoes, finely chopped
1 tsp Ginger-Garlic Paste
2 Green Chillies, slit
2-3 tbsp Coriander Leaves, finely chopped
½ tsp Turmeric Powder
½ tsp Coriander Powder
½ tsp Kashmiri Chilli Powder
½ tsp Anaar Daana Powder/Amchur Powder (optional)
½ tbsp Garam Masala
1 tsp Jeera/Cumin Seeds
1 tbsp Kasuri Methi(optional)
2-3 tbsp Butter
½ cup Cream/1 cup Yogurt, beaten
Salt to taste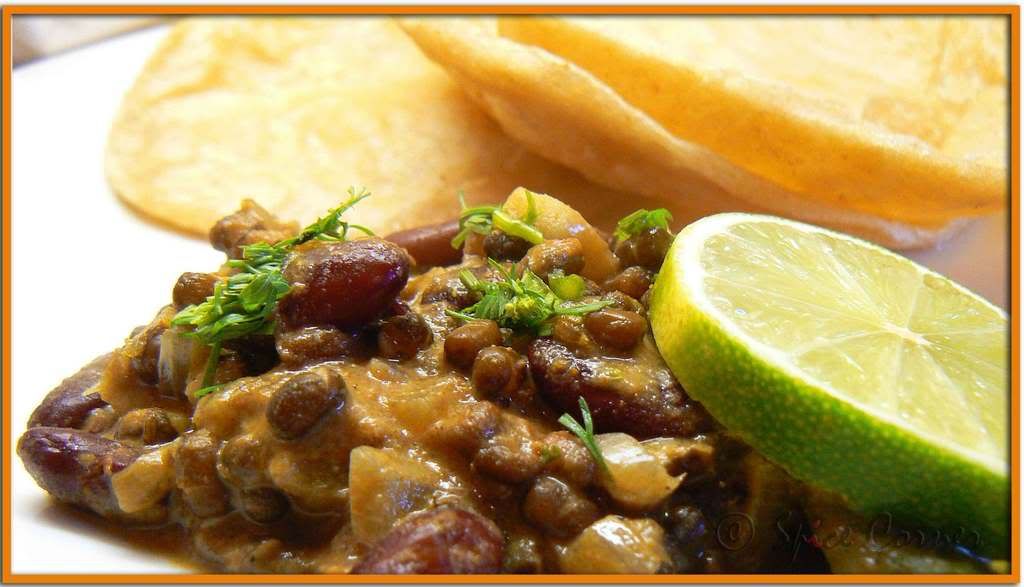 Method:
Soak whole Urad dal and rajma in 3 cups of water overnight.
Next day pressure cook the soaked lentils in 3 cups of water with salt, turmeric powder for about 2 whistles or 15 minutes(approx). Cooked dal should feel soft to touch.
Let the pressure cooker cool down completely before opening the lid. Stain the water and keep it aside. Now lightly mash the cooked dal with a ladle or masher and keep it aside.
Melt about 1 tbsp of butter in a pan and to this add cumin seeds. When the cumin seeds start to splutter, add slit green chillies, kasuri methi and ginger-garlic paste and sauté it for around 30 seconds.
Now add finely chopped onions and sauté them over a medium heat for around 2-3 minutes till they turn golden yellow.
Mix in finely chopped tomatoes and sauté it for around 3 minutes.
Add coriander powder, kashmiri chilli powder and garam masala and sauté it for a minute or so till you get nice aroma.
Mix the cooked dal with about one and half cup of water (use the reserved dal water also). Add remaining butter, amchur/anaar daana powder and mix well.
Cover the pan and cook on a medium-low heat for about 15-20 minutes till the gravy starts to thicken. I have found that the more time you cook the dal, tastier it is to eat. Adjust the seasoning as per your preference.
Mix in the cream or yogurt and cook again for another 5 minutes in a low heat. Garnish with finely chopped coriander and serve hot with Roties or Rice or Poories(puffed Indian bread) as I did.
---
Did You Know?
T
he Vedic and Epic period was socially and culturally prolific in the Punjab. During this period, the Hindu scriptures, the Rig Veda and the Upanishads, were composed in the Punjab.
T
radition maintains that the sage Valmiki composed the Ramayana near the present location of Amritsar.
I
n legend, Krishna delivered the divine message of the Bhagavad Gita at Kurukshetra.
E
ighteen principal Puranas were written in the region. The authors of Vishnu Purana and the Shiva Purana belonged to Central Punjab.
A
ncient Punjabi Culture during the period of the Indus valley civilization is one of high sophistication and many world firsts, such as the world's first planned cities. Ancient Punjabi
C
ulture is a counterpart of ancient Chinese culture, Mesopotamian, Egyptian and of ancient Greece.
(Source: Wikipedia)
---