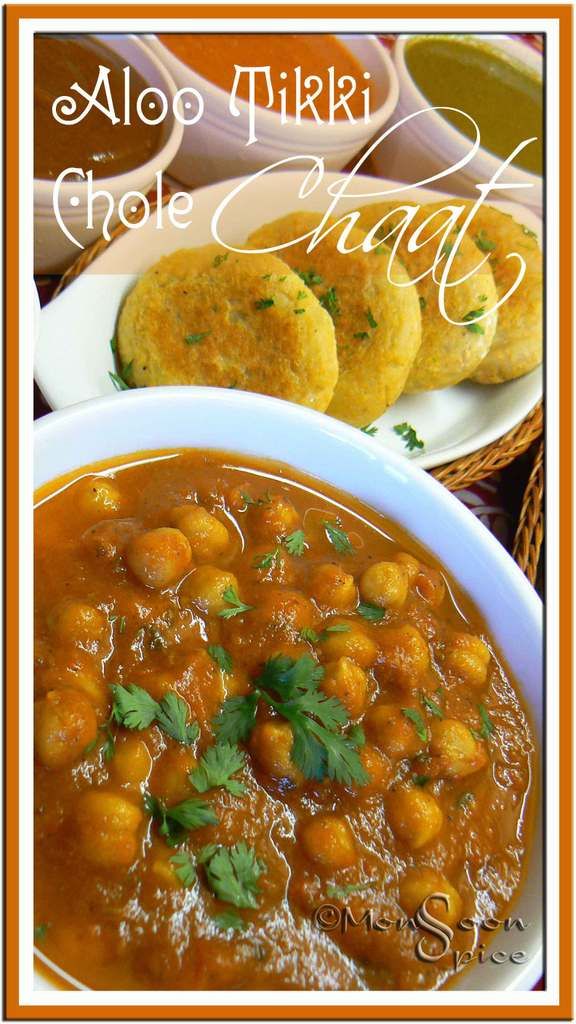 Aloo Tikki-Chole Chaat
Inside a small restaurant with double glazed window you will find a number of posters of Bollywood stars smiling at you. There are small granite tables with pickle and chutney trays on top and matching red velvet cushioned chairs. Large framed photograph of Guru Nanak is hung just above the cashier's desk and a small table fan is rotating gently. The aroma of food being cooked inside the kitchen is intoxicating and people are busy savouring plates of Naans, Curries, Chaats, Indian sweets & Kebabs. Come out of the restaurant you will find women in colourful saris and salwar kameez, men wearing colourful turbans and kurtas, pavement food stalls selling Samosas, Chaats and Jalebi, small shops selling mobile phones and bright fabrics in rainbow colours hanging in shop fronts. Add to this the Bhangra music and sweet smell of incense and spices is in the air. Am I in India?
Welcome to Mini India in London a.k.a Southall. For one moment you will forget that you are in West London and feel you are walking on the streets of any Indian market. No one can be blamed for getting confused as you can hardly see any Goora face among all Indian, Pakistani and Bangladeshis. Chandini Chowk, Apna Baazar, Garam Chai, Pooja Ghar, Jalebi Junction etc are the few of hundreds of Restaurants, Spice shops, Chat shops in Southall. It is a food Mecca for people like us staying away from home as the food smells and tastes very close to what we find back home. Ranging from south Indian Idli and Dosa served on Banana leaves to North Indian Chaats and Naans served on road side, you will find almost all the colour and flavours of India. So if you are visiting London, don't miss our own Mini India.
Having eaten (read stuffed or hogged) varieties of Chaats till we could hardly move our sweet seats, surprisingly we were craving for more Chaat after we came back home. So we set to create same magic in our kitchen with something we could make very quickly. And thankfully we had made Chole for dinner two days back and we had enough quantity of 3 delicious chutneys (Spicy Red Chilli Chutney, Green Mint Chutney & Sweet Date-Tamarind Chutney) stocked from our previous weeks Chaat party. So we set to create Aloo Tikki-Chole Chaat by making fresh batch of Aloo Tikkis. I made Tikkis with just boiled potatoes and few spices and with in no time hot, sweet and spicy batch of
Aloo Tikki-Chole Chaat
were ready to please our taste buds. If preparing every thing from scratch it might take more time and effort but trust me when I say it's worth all the hard work. I am giving here detailed recipes for Aloo Tikki, Chole and all the chutneys used to make this delicious Chaat. Make it during leisure and enjoy. And don't forget to make big batch of aloo tikkies as you can easily freeze them and when ever heart desires. This delicious plate of much loved Indian street food makes its way to Lucy of Nurish Me who is gust hosting
My Legume Love Affair-Third Helping
started by dear
Susan of The Well Seasoned Cook
. So without any delay, here we go…

Print This Recipe
---
Aloo Tikki-Chole Chaat

(Potato cutlets served with spiced chickpeas and delicious chutneys and topped with onion and crunchy Sev)



Prep Time: 15-20 mins
Cooking Time: 30-35 mins
Serves: 4-6
---
Ingredients:




For Chole:


1 cup White Chickpeas/Kabuli Channa, soaked over night and cooked or 1 can Chickpeas, rinsed and drained
1 tbsp Kasuri Methi
1 tsp Garam Masala
½ tsp Amchur/Dry Mango Powder
1 tbsp Oil
1 tsp Jeera/Cumin Seeds
¼ tsp Hing/Asafoetida (Optional but recommended)
Salt to taste



Ground to Smooth Paste:




For Onion Paste:


1 large Onion, roughly chopped
½ inch Cinnamon stick
2 Green Cardamoms
2 Cloves
½ inch Ginger, peeled
3 cloves of Garlic



For Tomato Paste:


3 large juicy Tomatoes/1 can chopped Tomato
2-3 Green Chillies (Adjust acc to taste)
1-2 tbsp Tomato Paste (Optional)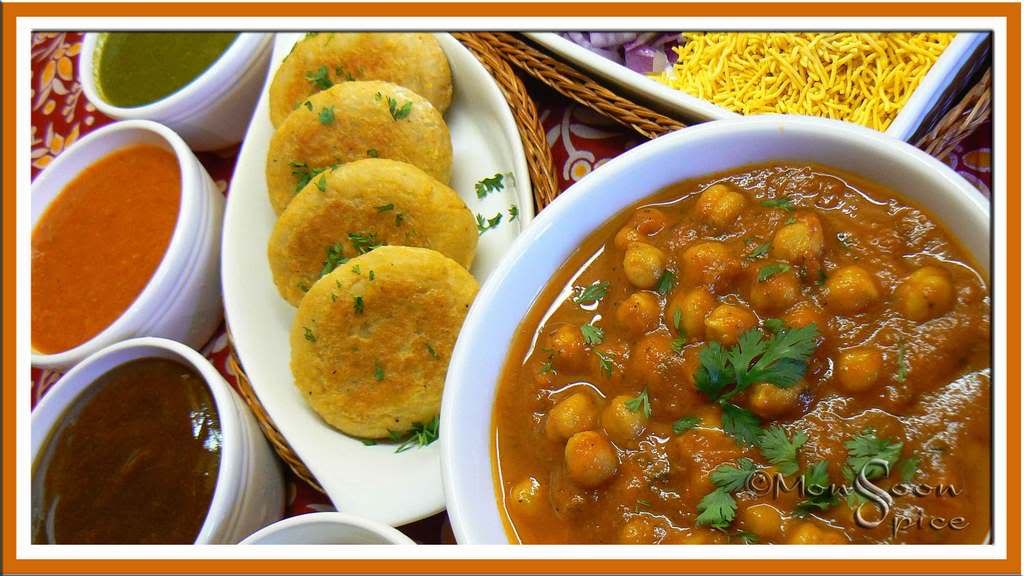 For Aloo Tikki:


3 large Potatoes
½-¾ cup Bread Crumbs/2-3 Bread Slices
½ tsp Garam Masala
1 tsp Roasted Jeera/Cumin Seeds
¼ tsp Jeera/Cumin Powder
¼ tsp Coriander Powder
1 tbsp Corn Flour (Adjust acc to requirement)
Salt to taste
Little Oil, for pan frying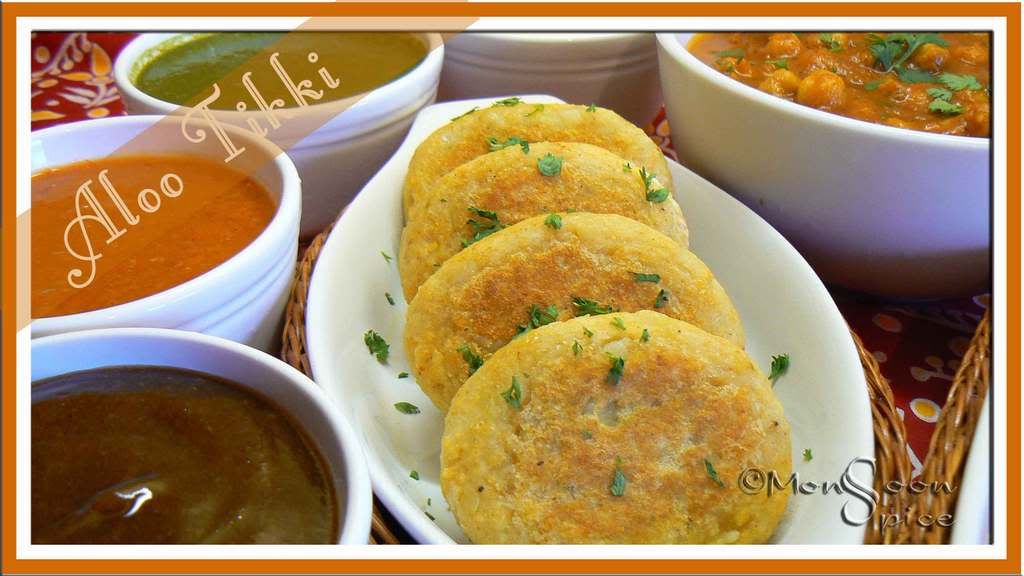 For Sweet Tamarind-Date Chutney:


1 lemon sized Tamarind Pulp, soaked in water
6-8 Dates, pitted
½ tsp Red Chilli Powder
4-6 tbsp Jaggary (adjust acc to taste)
Salt to taste



For Green Mint Chutney:


1 packed cup Mint Leaves
½ packed cup Coriander Leaves
4-6 Green Chillies (adjust acc to taste)
1 tsp Jeera/Cumin Seeds
¼ tsp Tamarind Paste
Salt to taste



For Spicy Red Chutney:


10 Dry Red Chillies
2-3 Garlic flakes
1 small Tomato (Optional, it helps in grinding the chillies to smooth paste)
½ tsp Tamarind Paste
1 tsp Jeera/Cumin Seeds
Salt to taste



For Curd/Yogurt Filling:


3 cups Yogurt, beaten till smooth
1 tsp roasted Jeera/Cumin Powder
1 tbsp Sugar
Big Pinch of Black Salt/Kaala Namak or Salt



Other Ingredients:


1 medium Red Onion, chopped
½-1 cup Sev
2-3 tbsp Coriander Leaves, finely chopped
Plate of Aloo Tikki-Chole Chaat
Method:
For Chole:
Heat oil in a pan and add hing and cumin seeds. When it starts to sizzle, mix in onion paste. Keep stirring at medium heat till the onion paste turns light golden brown and becomes little dry, about 6-8 mins.
Add garam masala, kitchen king masala, kasuri methi and stir for few seconds. Now mix in tomato paste, amchur powder, and salt to taste. Cook the gravy in medium heat, for about 5-7 mins, stirring in between.
Mix in cooked chickpeas and add about a cup of water. Reduce the heat and let it simmer for about 15-20 minutes, stirring in between. Add more water if needed and adjust the seasonings.
Garnish with coriander leaves and it is ready to be served.

For Sweet Tamarind-Date Chutney:
Grind all ingredients listed to very smooth paste adding very little water at time. This paste should be little thick not runny.

For Green Mint Chutney:
Grind all the ingredients listed to smooth paste adding very little water at time. Adjust the number of green chillies according to taste. I personally like little hot. Make sure that the chutney is not very watery.

For Spicy Red Chutney:
Grind all the ingredients to very smooth paste adding very little water at time. If you find it difficult to grind, add small tomato (tip learnt from my favourite Chaatwalah).

For Curd/Yogurt Filling:
Beat the curd/yogurt till its smooth without any lumps. Now mix in powdered roasted cumin, sugar and salt to taste.

For Aloo Tikki:
Cook potato till tender, peel and mash well. Keep it aside till it is slightly cooled.
If using bread slices, dip the slices in cold water and squeeze to remove the water. Crumble them with hands and add to the mashed potatoes. If using bread crumbs, directly mix with mashed potatoes.
Mix in garam masala, roasted cumin seeds and powder, coriander powder, salt to taste and corn flour and combine well. Adjust the corn flour as per requirement as it helps in holding the shape of tikkies while frying.
Make a small lemon sized balls and press them down. Shape them into round or oval shape (about 1 cm thick round or oval tikkies).
Heat tawa/griddle and place tikkies on it. Add about 1 tsp of oil for each tikkies and fry them on medium to low heat on both the sides till they turn golden brown. Repeat till you have cooked all the tikkies and place them in a paper napkin to remove excess oil. Alternatively you can also bake the tikkies till they turn gold and crisp on both the sides.

How to Assemble and Serve:
Place 2-3 Aloo Tikkies on serving plate. Pour 1-2 ladles full of Chole. On top of it, drizzle spoonfuls of Spicy Red Chutney, Sweet Date-Tamarind Chutney, Green Mint-Coriander Chutney & Spiced Yogurt. Now add spoonfuls of chopped red onion, Sev and chopped coriander leaves and serve immediately.

---
Notes:
Store leftover Aloo Tikkies in zip lock bag and freeze it upto a month. When needed place them on hot griddle or oven and cook till it is heated through on both the sides.
You can also freeze the chutneys upto a month.
Other Chatakdar Chaats to tempt you




See another variation of Aloo Tikki